The paradigm of IT consulting services has undergone a massive transformation to become much more extensive with the constant addition of new innovative technologies. Advanced technologies like the Internet of Things, Big Data, Artificial Intelligence, Machine Learning, Business Intelligence, etc., have significantly automated routine business processes allowing companies to streamline human interaction and augment the overall client experience. One can witness the same escalation and optimization in product development services and project management, reducing development costs and allowing teams to deliver projects within the stipulated time.
GoodFirms, an IT Research and Rating Company and Trusted Software Listing Agency, has recently placed Computools at the top of the Leaders Matrix program under the Top Firms for Flutter Application Development category. The company has earned this peak position by building quality software products for a wide spectrum of industries. With multiple office locations in the US, Canada, UK, France, Germany, Poland, Ukraine, Japan, and many more, the company provides the best-in-class IT consulting services, digital-first product development, and a dedicated development team.
For the year 2023, Computools has been Named by GoodFirms as the Best Company to Work With
When you search for the best IT services companies to execute your ideas proficiently and create innovative products, Computools can become a viable and profitable selection. Apart from being a top-rated mobile and web development firm, the company offers exceptional software reengineering, architecture, testing, integration, DevOPS, and many more. It has been named by GoodFirms as the Best Company to Work With in 2023.
Computools – Vision, Strength & Scope
Computools is an ISO:9001 and 27001 certified company that has been implementing the best development practices to decrease IT operational costs and provide more scalable and sustainable solutions.
Computools has efficiently and dedicatedly catered to the requirements of every business domain ranging from large, medium, and small enterprises, including startups. The company gained a lot of appreciation for developing a web application for a renowned and leading Japanese electronics company. It also recently developed a mobile application for a mid-size manufacturing company that builds equipment for the counting and storage of banknotes. The company also takes pride in successfully creating a mobile application for a startup platform that offers the trade of share stocks.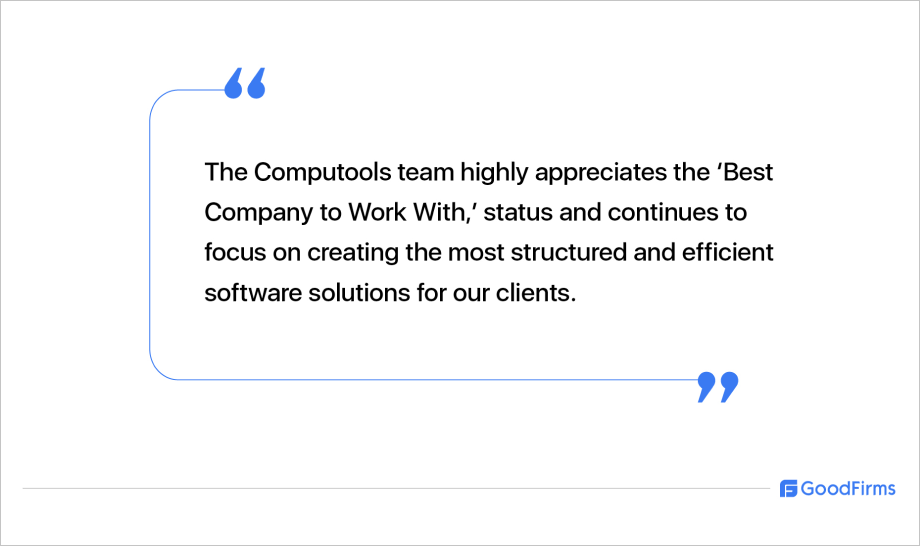 We have constantly been growing as a company since our inception in 2013 and reaching new heights, says team Computools.
Here are a few reviews about Computools.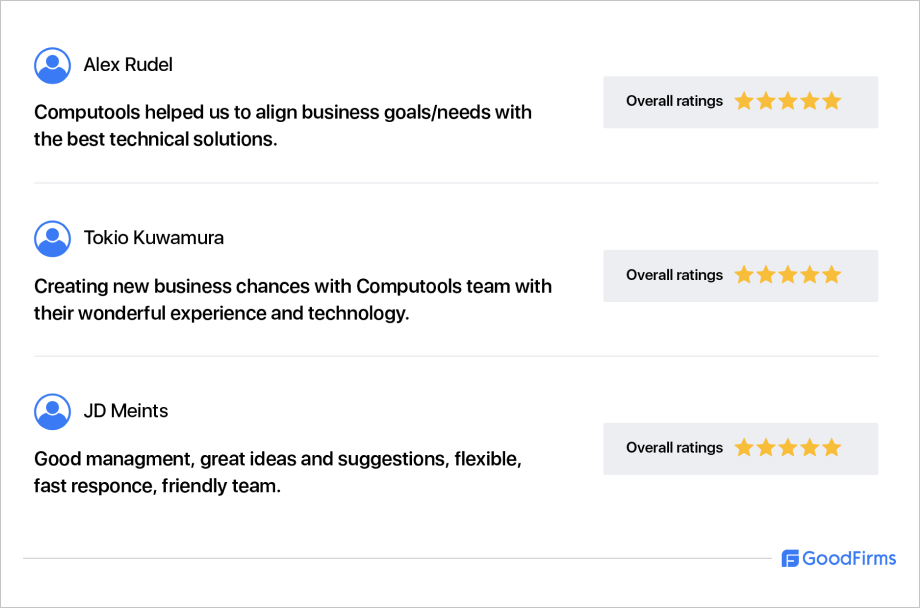 Why is Computools the Best Company to Work With?
Any firm that wishes to establish its mark in the IT and software development industry must keep itself updated with groundbreaking formulas that drive innovative practices forward. It must literally focus on improving its standards and performance by undertaking the best tools and developing a proactive approach to surpass clients' expectations. Computools has achieved better results, delivering projects as promised.
One of the prime reasons we have placed Computools at the top of the Leaders Matrix program is the company's commitment to dedicatedly serving its clients by creating a win-win situation for them. The 5-star ratings on our platform suggest that they maintain a high rate of customer satisfaction, says GoodFirms.
Reputed Brands that Trust Computools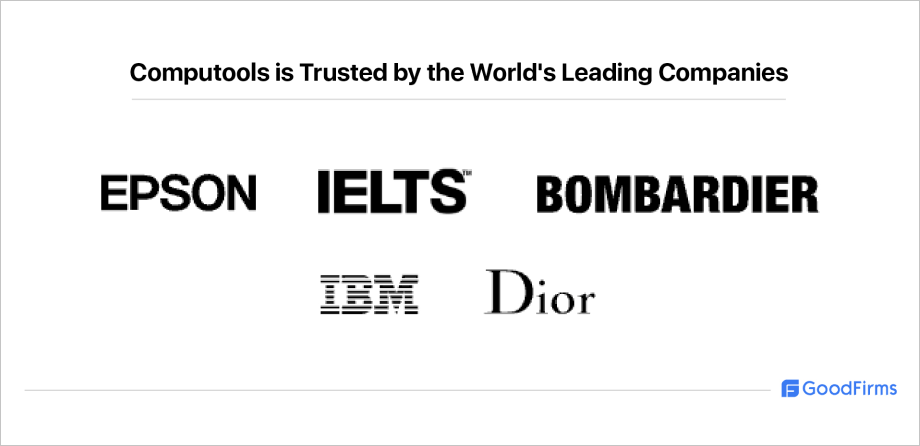 About the "Best Company to Work With" Badge
"Best Company To Work With" is an exclusive program run by GoodFirms where the Leaders Matrix companies are recognized with a Badge, an exclusive article about the Company, and a supporting PR. Such recognition stands as a support to developing trust and authenticity within the B2B community. It also allows the participating companies to improve their ranking – rank higher in the Leaders Matrix categories, receive inbound backlinks from the GoodFirms LeadersRoundtable podcast campaign, and get a certified Badge saying, "Best Company to work with."
About GoodFirms
GoodFirms is a B2B research, review, and listing platform helping businesses accelerate their digital journey and maximize modern technology's value. The company connects service providers with service seekers through a comprehensive and thoroughly researched fact-based list of the best services and solutions. Recognized as the most reliable source for the B2B market, GoodFirms has world-class experience with partners across the globe.
Computools is a full-service software company that helps businesses innovate faster by building the digital solutions or bringing the tech products to market sooner. Discover our collaborative approach and industry expertise that spans finance, retail, healthcare, consumer services and more.
Contact us →