With the advent of the Internet, single people got another way to get to know someone – diverse dating sites. However, in recent years, all industries have been moving towards mobility – online dating has also moved to mobile phones and other gadgets. Now you can meet someone using one of the simple applications. Statistics show that every year the number of single people of various ages who use the application to find a suitable partner is growing. Despite the wide popularity of Tinder and similar applications, there is still room for new products in this niche.

Would you like to launch a new kind of dating apps that promises instant user engagement?
Contact us →
Top Dating Apps for Online Meetings
A wide variety of applications can confuse a beginner who is only immersed in the world of online dating with the help of new technologies. Many top charts describe the advantages and disadvantages of the most popular online dating apps. And all of them recognize Tinder as the best dating app with endless possibilities for finding a partner. There are also plenty of other popular dating apps, like Match, Plenty of Fish, OKCupid, Hinge, Grindr, Bumble, Coffee Meets Bagel etc.
The use of the application may depend on various reasons: demography, age, popularity, interface, capabilities. Each dating application aims to offer the user something original, interesting and unusual. However, some new dating apps copy their predecessors in many ways, leaving only one highlight, but especially important. This can be a targeted audience, for example, an application for dating and searching for an LGBTQ+ partner.
Mobile online dating apps are as convenient as possible for several reasons: they are always at hand; it is easy to add photos, reply to messages or follow a new friend; they have a wide user base, which ensures a wide selection for everyone. However, as users of mobile dating apps admit themselves, the main things in applications are ease of use, that is UX/UI and the provided features.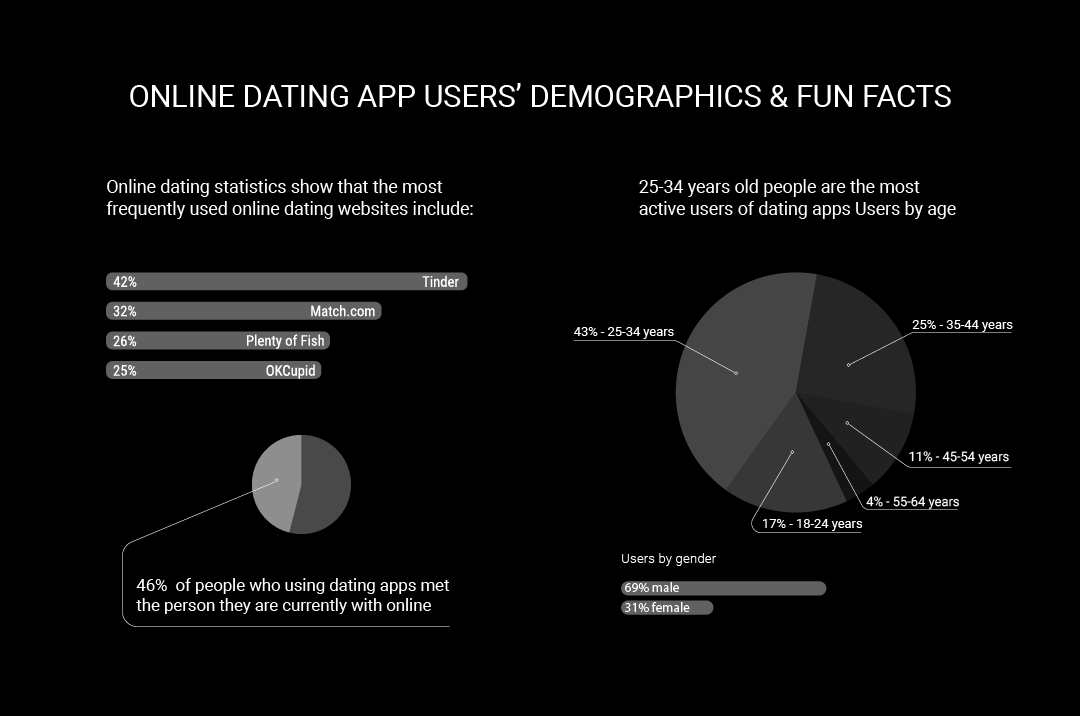 It's no secret that Tinder is one of the most widely used, most saturated apps and it's changed the way people date. Although the application has a reputation as the best place to hook-up and one-time meetings, it is also a program that helps to find someone for a long-term relationship that ends in a marriage. Moreover, from the moment of launch, this application remains the best and most demanded among swipe dating apps.
The principle of action in the application is as simple as possible and adapted for mobile phones. Tinder shows to the user a photo, name, and age. He can tap on the photo to see additional information regarding the person. The user can choose to swipe right (to like), left (to pass), or up if he wants to use one of his precious "super likes" to show other users he really-really like them. If he and another person have both swiped right on one another, a screen will appear showing that they've matched and inviting to send a message. The free option comes with limited swipes, and the user will have to pay per month for unlimited swipes.
OkCupid is another one of the biggest names in the dating biz, with years of history and experience to pull from. After creating a username, the user will start his OkCupid journey by filling out a very long profile, which he can link to his Instagram account. He can answer questions, giving both his answer and what he'd like his potential match's answer to be — creating a percentile score that reflects compatibility between users. The user can also choose to make his answers public and note how important they are to him, so prospective matches can see for themselves how compatible they're likely to be.
Bumble looks eerily similar to Tinder but functions a tad differently. The big catch with Bumble is that when opposite genders match, the woman must message the guy first — and she has 24 hours to do so. Guys can extend matches for 24 hours, if they're really hoping to hear from a woman, as can ladies, if they want to initiate something with a match but just haven't had the time during the first day. For same-gender matches, either person can initiate the conversation first.
Profiles are concise and settings are also pared down, like with Tinder, but swiping up allows to scroll through additional photos instead of super-liking someone. Bumble also checks the boxes for usability, a slick user interface, and easy setup. In addition, the relatively ballsy move of designing a dating app specifically with women in mind pays off. It's the only app that clearly states plainly and prominently that it prohibits pornographic material, requires its users to respect one another, and has a code of conduct in place specifically to make it a safe and friendly place. That is why it is one of the popular android dating apps.
So, now that several of the most popular applications have been reviewed, and their main advantages were found out, time to move to another step. Let's find out how to create a dating app.
The Best Way to Create an App
Many life hacks and blogs state that everyone can create an application using the designer constructors and templates available on the network. However, this tip is suitable for a small internal or individual use application. If it comes to a large-scale project, as a dating application, the best solution would be to contact a team of professionals. The true experts will develop mobile app, taking into account the basic needs of the customer, the target audience and many other factors. Mobile app development companies cope with a similar task the best.
The app development process can be divided into several main stages, which make up the development life cycle. It all starts with the planning that underlies each project to create a new application.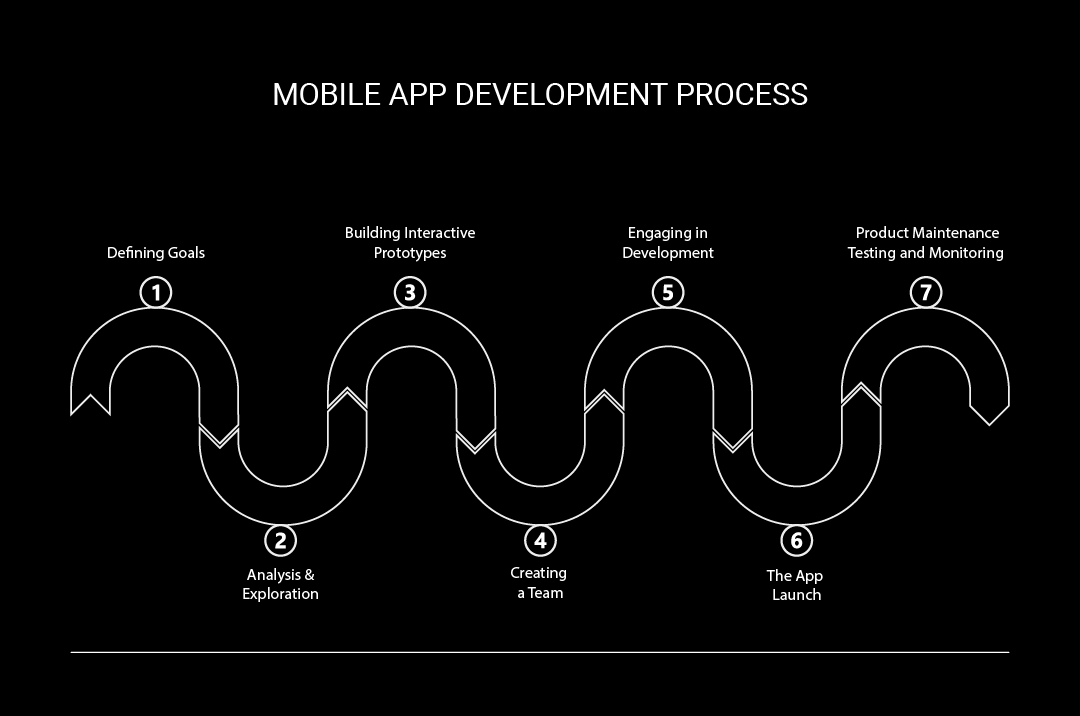 Defining Goals
Defining the main goals of the project and the sub-goals that must also be achieved is the core of application development. At this stage, all potential stakeholders are identified, as well as their needs and ways to satisfy them. Also at this stage, the app creation ideas are defined and redefined.
Analysis & Exploration
Next is an in-depth analysis. This stage includes marketing research of the target audience, identifying the problem and finding ways to solve it. Ready-made solutions, solutions used by competitors, the degree of their productivity and success are also carefully studied. Specialists calculate potential risks and obstacles; solutions are being sought for them.
Building Interactive Prototypes
An interactive prototype is a convenient and effective tool for building the most convenient user interface. It is also used to determine and verify the necessary functionality of the application. Often, thanks to the prototype, new options are added, previously negotiated are finalized or deleted. The mobile app design also starts at this stage. For the dating app design, several prototypes can be created at once.
Creating a Team
The team is created when the technology stack is already defined and all the necessary application options are determined, the project specification is created. For each project, the team must be selected individually. This is explained quite simply: as a rule, it requires narrow specialists with expert knowledge and experience in such projects. Therefore, an individually created team will work more efficiently. In the process, the team can be supplemented with the necessary members.
Engaging in Development
Cross-platform app development is the most popular in recent years. This way greatly saves time and costs for developing an application that is available on Android and iOS at the same time. This allows to simultaneously run the application on all platforms, update it and maintain. Moreover, this allows reaching the maximum potential audience in a short time.
The App Launch
The application launches only after a thorough check and several tests, manual and automatic. As a rule, development is carried out according to the Agile methodology, which involves constant checks and debugging of the code during the development process. However, final tests are required for any projects. Moreover, before starting the application, they are checked for compliance with the app stores on which they will be placed.
Product Maintenance, Testing and Monitoring
After launching the application, work on it does not stop. If you turned to professionals, of course. Full-cycle companies offer further maintenance, testing and updating of the application. Over time, the application may need optimization or additional functions, it is better when its developers are engaged in these improvements.
Depending on the required functionality and complexity of the application, the mobile app development cost will be calculated. Besides, further maintenance and support of the application are negotiated separately. Among international companies, it is considered the normal practice to offer annual support for an application after its release. Mobile app development services offered by freelancers will cost fewer investments, however, the quality of the app may also be worse.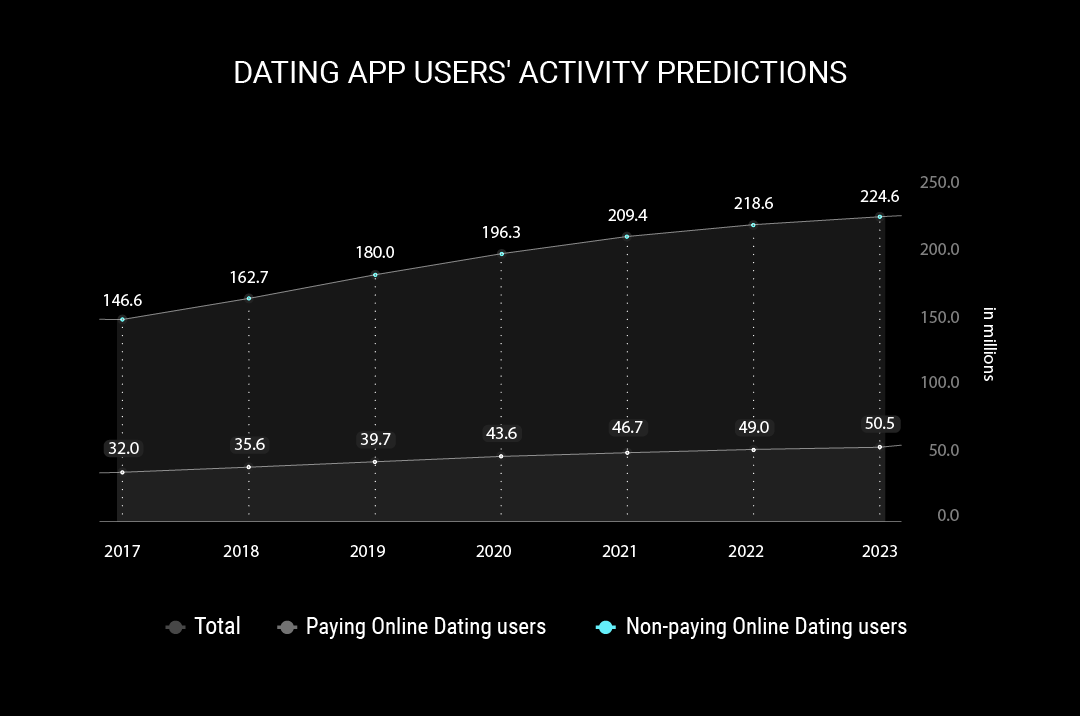 Tips to Create Online Dating Apps Like Tinder to Meet User Expectations
The main reason for dating apps for all ages to fail is to deceive users' expectations. Typically, this is due to inconvenient interface, poor functionality and support or security breach. Many say that meeting online over time will replace real-life dating, however, apps help to arrange real-life meetings. This is one of the secrets of their popularity. Here are some useful tips to create a friendly application that meets user expectations.
Join In
You need to think of some fast and easy ways for users to sign up. Major services allow consumers to use their social network or Google accounts to enter the application. It lets them save time and avoid annoying registration processes. The more convenient your sign up form is the more users are likely to choose your dating app from tons of other products on the web. No one likes inserting password and email. It is boring. The best bet is to provide access with only one tap choosing a social or Gmail account.
Some applications let users sign up using their Facebook profiles. On the one hand, he does not have to fill in the profile for the dating app from scratch. It will use Facebook data automatically. On the other hand, none of the Facebook friends will ever know that he is using a dating app, as no information in the timeline will be displayed. Anonymity is another essential feature customers expect from the application.
Matching Algorithm
It is this thing that makes your application catchy and engaging. Several most popular and widely used algorithms, which vary slightly from application to application, have already been created, but there are also quite interesting and unique ones. In order for your application to become popular, you will have to make enough efforts in this area.
Some developers say that dating apps do not need any matching algorithm. They offer simple ways to find people using allocation or preference match. Well, both are actually the types of matching algorithms as well. On the other hand, some popular applications like Hinge will never let you keep in touch with people you do not know. The service lets you contact only friends or people you already know. The app does not have any matching algorithm but is still very popular.
Dine app is another good example of a dating app with a unique matching feature. The application can be integrated with Yelp and automatically arrange a romantic date in a restaurant. A user only needs to pick of three venues he or she likes. A system looks for a person with the same preferences and arranges a date for both users. A great feature to really stand out from other dating services.
Messaging
The importance of efficient and intuitive messaging within a dating app cannot be overvalued. The entire point of your product is to let people communicate with each other. Otherwise, there is no sense in building a dating application. On the other hand, apps like Tinder let users choose whether they want to keep playing with their match or contact him or her. Most subscribers prefer to keep on playing rather than love SMS messaging.
So, you do not have to limit yourself with some typical solutions for a dating app. You can think of your own method of interaction between users, other than free love text messaging. They can send each other gift cards, images or take part in a contest to know each other better. Just make sure a chosen feature is entertaining and engaging.
App Monetization
As a rule, mobile dating service are free. However, users will have to pay if they want an extended list of features. You can monetize your dating app using several proven strategies including premium accounts, in-app purchases, advertising. The first two methods are the most preferable ones in case you do not want to make your users annoyed with the app. Premium accounts may include various features. Some users might be eager to pay in order to view more profiles or get access to an extended list of options like emojis or something like that. In-app purchases may include special gift cards, presents, videos and more.
It is predicted that applications that help find love online will only become more popular over the years. Such data is provided by experts based on the study. To create a popular application that will fully meet the expectations of users, carefully study the process of creating the application, go along with the developers all the way, be as involved in the process as possible. Moreover, you can safely use the tips listed above, take the initiative and use your imagination. For example, you can add dating tips for beginners or new interactive features in the app.
Computools engineers have experience in creating a wide variety of applications, including for dating. If you have any questions or suggestions, email info@computools.com.
Computools is an IT Consulting and Software Solutions Development company that helps businesses innovate faster by building the digital solutions or bringing the tech products to market sooner. Discover our collaborative approach and industry expertise that spans finance, retail, healthcare, consumer services and more.
Contact us →