Innovation is the core success factor in the fast-changing business world. It is stated by the European Innovation Management Academy (IMP³rove academy) experts. Recently, Computools has successfully passed the assisted IMP³rove Assessment compliant with the European standardization documents and got an appropriate certificate.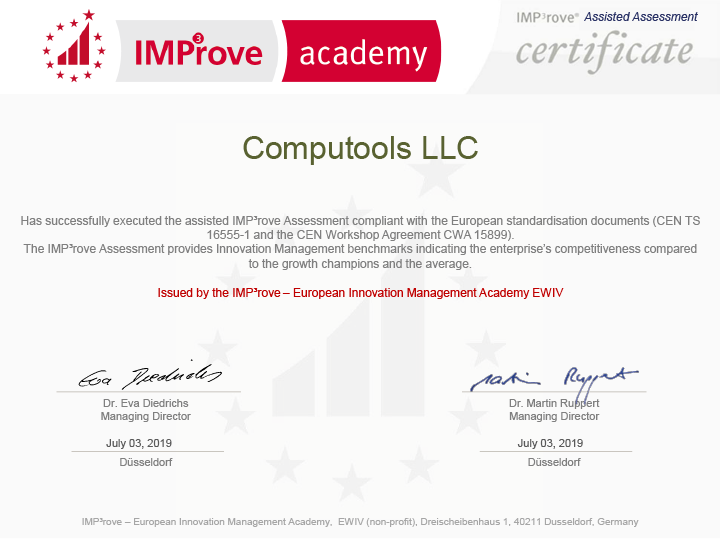 The main goal of this assessment is to determine the innovative potential of the company, to predict its success and capabilities. The Computools was assessed on five dimensions: Innovation Strategy, Innovation Organization and Culture, Innovation Life Cycle Processes, Enabling Factors and Innovation Results. Experts noted especially high rates in three parameters: Innovation Strategy, Innovation Organization and Culture and Enabling Factors.
Computools Innovation Strategy gives the firm direction and focuses on all innovation management activities for maximum impact concentrating on ensuring that the most promising innovation projects are pursued. To implement the set goals, the latest technological developments are constantly being studied, new solutions based on them are being developed. Computools always stays relevant and thinks a few steps ahead.
Innovation Organization and Culture of Computools cover the gearing of organization and innovation networks towards innovation management and the embedding of innovation management in the company's culture. The Computools' leaders strive to build the most thoughtful and comfortable culture of the company, which takes into account the talents and skills of each employee, clearly regulate his place in the company, and not limit, but stimulate growth, development and creativity of everyone.
Computools pay special attention to Enabling Factors, involving a variety of factors such as IT, project management, intellectual property rights or human resource management that is leveraged for increasing the business impact of innovation management. So, employees are provided with administrative support to get external (public) funding; direct recognition with the help of managers; are allowed to use the company's facilities for free to test and develop their own ideas, etc.
IMP³rove Academy offers innovation management support services on a global scale, integrates innovation management assessment, training and certification as well as consulting and technical assistance for innovation actors. Based on their ten years' experience and a holistic approach to innovation management, they have set the standard for innovation management assessment and related support services.
European Innovation Management Academy is perceived worldwide as the knowledge hub that continuously and significantly contributes to the wealth and competitiveness in Europe and beyond. Comprehensive assessment of a company's innovation management performance by IMP³rove Academy are highly valued by the global business community, as unique databases and international networks, advanced research and value-creating innovation management are used to prepare them. 
Computools is a full-service software company that helps businesses innovate faster by building the digital solutions or bringing the tech products to market sooner. Discover our collaborative approach and industry expertise that spans finance, retail, healthcare, consumer services and more.
Contact us →