According to recent studies, business is increasingly shifting toward mobile technology. So, it is predicted that 70% of all transactions, purchases, and orders will be completed via mobile phones by 2025. This phenomenon is associated with the fact that the Millennials generation actively uses a pocket gadget to interact with the outside world. So, it is they who will dictate the trends for the coming decades.
Mobile versions of sites and individual applications appear every day. They are designed to solve various needs and problems: from financial to medical. However, consumer services companies also adopt this trend to the needs of their industry. So, the appeared apps for restaurants managed to make noise and change the communication between the consumer and the restaurant. Let's consider exactly how mobile applications can be beneficial for restaurant owners and visitors.
5 Challenges Restaurant Apps for Owners Meet
One of the main issues that need to be decided by the owner is how to increase sales in a restaurant. Market research shows that today it's not enough to conduct a targeted advertisement or offer an original menu. You should be where the consumer expects to see you – in the mobile phone. However, in order to fully satisfy all the customers' expectations, you will probably need internal optimization.
The customized restaurant app development should take into account the needs of your institution, however, applications such as 'Ambur' or 'Crunch Time' can provide you with a full range of necessary options.
1. Internal restaurant management
The main task of the restaurant apps for owners is to help automate internal processes, control orders, table turnover, and transaction movement. The minimum set of functions is predefined by industry, but specialized functions should be tailored to the needs of your restaurant.
Implement a system that allows the waiter to input the customer's order in just a few clicks. Displaying such an order immediately in the application in the kitchen will allow to quickly begin to execute it, reducing the time it takes to process the order significantly.
Monitor and control the status of the bar and the status of the execution of orders using only the application on your tablet or phone. Reduced paper workflows, automated reports, and alert messages will allow you to be more creative.
2. Brand Loyalty
Another interesting fact: 25% of users tend to trust restaurants that have their own page on the Internet. It is assumed that this percentage increases if the restaurant also has an application.
Mobile apps for restaurants allow to distinguish them from competitors. More recently, it was enough to have a high rating on the sites of recommendations and reviews, to be in the lists of applications for booking or home delivery. Now a separate application is a sign of a solid market position and a serious bid for success. Thus, the restaurant fully confirms its desire to become even more convenient and close to its consumers. Such actions increase loyalty to a brand.
However, promoting the application is as important a step as developing it. Offer bonuses and coupons to those who installed the application and place an order through it. So, you will increase the flow of customers and significantly increase your reputation.

Want to enhance your restaurant business with comprehensive mobile apps?
Contact us →
3. Customer engagement
If you are wondering, how to get more customers in your restaurant, then the app is your quick answer. Many visitors before going to a restaurant prefer to study its menu, interior, number of tables and reviews. The application makes this information accessible and open. Get really closer to your potential visitors: provide comprehensive information and offer interactive action.
This can be a room tour of the restaurant (using VR technology), or the opportunity to independently "assemble" the dish from the proposed ingredients. Your application should solve not only your needs but also customers. Only then you can really succeed.
4. Tables turnover
The modern restaurant reservation app is quite simply arranged. For example, 'Waitlist Me' makes waiting for tables easier for customers and staff. This application is convenient for both parties: the owner of the restaurant and visitors, as it meets their requirements. The owner is able to track customer age, gender, party size, and any special needs or requests such as high-chairs or booster seats for kids. While the client receives a notification when his table is ready and arrives at the restaurant by this time, instead of a long wait at the bar.
You can also increase the turnover of tables by offering discounts and bonuses when ordering a place in the so-called slow hours. Or reward your customer for last-minute orders. This is one more way to increase the flow of customers and your profits from the restaurant business.
5. Delivery Service
Delivery services are ready to bring food from any restaurant, however, domestic delivery is another way to satisfy customer needs. The reason for about 15% of refusals from visiting the restaurant is the lack of free tables. Restaurant delivery service will help not only to keep these customers but also to get new ones who prefer restaurant food in their home environment.
The simpler the ordering system, the better. Do not oversaturate this service with options and capabilities. Let your consumer choose the dish, time and place of delivery and pay for it online. Yes, payment through the app is as important as being able to receive the delivery on time. Keep this in mind when adding such a service to your application.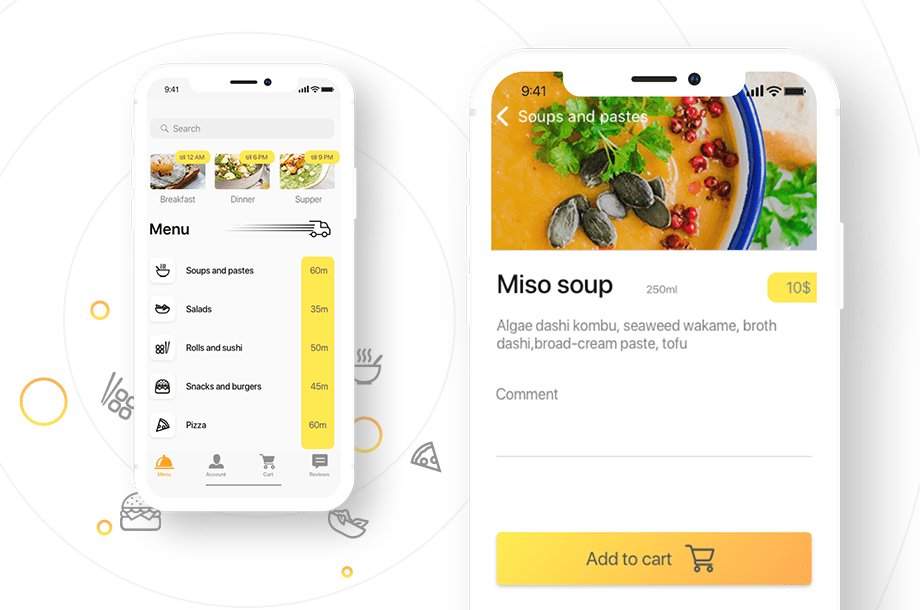 5 Ways A Restaurant App Can Benefit Visitors
Only a customer-oriented restaurant business is able to withstand fierce competition in the market. Despite the fact that applications for restaurants are divided into two groups, for owners and for customers, both of them are designed for one purpose – to fully satisfy the clients' needs. Easy navigation, custom functions, and attractive design are the must-have features of any application. Let's explore, what features should be in applications for restaurants.
1. Easy localization
There is a separate category of applications that shows restaurants nearby based on the location of the consumer. This function can be successfully used in the native restaurant application. For example, you can send push notifications to your users if they are 50 meters from your establishment. Invite them to visit the restaurant, providing information about happy hours, bonuses and current promotions. So, you not only show the location of your restaurant but also gently demonstrate the importance of the client for you. In the sending of such a message, it is important to consider the personal preferences of the client. For example, if he is a vegan, do not send him messages about happy hours to order meat dishes.
This experience has already been applied by the Bookatable application, sending push notifications to users who have passed in the vicinity of one of the restaurants. Thus, they were able to reach application users who could have looking for a place to have a bite but did not know exactly where to go. By helping to completely eliminate or speed up the decision-making process, the restaurant was able to attract more visitors, which allowed them to expand the business.
2. Menu access and preview
Familiarization with the menu is one of the most popular features of the restaurant nutrition app. Pay particular attention to the presentation of your kitchen. A high-quality photo makes a difference. Equip your application with attractive photos of ready-made dishes. However, focusing on visual content, do not forget about the text component. Be sure to indicate the composition of each dish and the origin of the products (local, farm). Also, add the visible marks of vegan and vegetarian food.
Your menu should be as informative and simple as possible. If you add filters for easy searching, try not to overdo them.
3. Table reservation
Restaurant reservations can also be made available in two simple clicks by mobile's screen. Add this feature to your restaurant app and let visitors choose the date, time and table bye their own.
This option can also be supplemented with information about the restaurant's workload at certain hours or the ability to receive notifications about a free table.
Advance reservations for a few days, weeks or months are not very relevant for most mobile phone users. Offer table reservations during hot hours or restaurant coupons for bookings during slow hours. The client will not spend time waiting and searching for a suitable place for lunch, and you will receive a full room throughout the day.
4. Pre-ordering
Another reason for complaints from visitors is the too long waiting time for dishes after ordering. The pre-order feature will help solve this problem.
Allow consumers to place an order in advance so that by the time they arrive at the restaurant their dishes were already waiting for them, and not vice versa. This will allow them to enjoy delicious food, and you will receive regular grateful customers. Another plus for restaurant owners is that the faster you serve customers, the greater the flow in the end you get.
The pre-order function is also suitable for takeaway restaurants. If your menu consists of sandwiches or other dishes that are convenient to take for a snack, the opportunity to order customized dishes in advance significantly increases your flow of consumers. While the client remains satisfied with fast and quality service.
5. Reviews, ratings, notes
Particular attention should also be given to the restaurant review app. The opinion of others has a great influence when choosing a good restaurant. Large applications with reviews contain information on many restaurants in the city or the whole region, duplicating the design of web pages on the Internet. Reviews and ratings within the customized application of a particular restaurant will be most useful for those who come to you for the first time, stimulating their interest and increasing loyalty.
Add the opportunity to evaluate the dish on a five-point scale, to evaluate the service and general atmosphere of the restaurant. This information will be taken into account by the visitor when choosing exactly your place for a romantic dinner or business lunch. Based on the received assessments, the owner of the restaurant will be able to develop measures to improve services, supplementing or changing the menu.
A restaurant app with useful features and a catchy design can significantly increase your income by attracting new customers and retaining existing ones. You can easily beat your competitors by offering users a whole new experience. Implement new ways of communicating with your consumers to stay on the same page with them and always be where they are. It will bring global prosperity to your business.
Reach out to us at info@computools.com to build a custom app for growing your restaurant business.
Computools is a full-service software company that designs solutions to help companies meet the needs of tomorrow. Our clients represent a wide range of industries, including retail, finance, healthcare, consumer service and more.
Contact us →