Businesses and enterprises seeking to support their software commonly opt for Agile software development, which states that the product is first released as an MVP and then regularly updated. This approach offers downright flexibility in billing as the product owner can control the amount of scope to be added to the existing software. However, how clients pay for development services and further product updates varies depending on the pricing model.
What Are the Most Convenient Payment Models for IT Projects?
The choice of a payment model strongly affects the frequency and amount of money an IT project consumes month by month. Most custom IT service providers offer multiple payment models to fit a particular client's billing cycle and structure.
want a free consultation with computools's expert team?
Contact us →
Below is a list of the different payment methods software development providers offer to clients:
TIME & MATERIAL (T&M).
The Time & Material payment model often stands at the core of Agile software development. The idea of T&M is that the client pays for the hours the development team spends working on their project; that is, they pay solely for the team's effort put into product implementation.
• Creates a transparent pricing procedure and doesn't tie the project to a specific date. The team focuses on delivering a quality product and doesn't feel pressured by scope. Developers have enough time to process software requirements and build a reliable product that meets client expectations.
• Fits well for projects that are prone to changing product requirements. Should the client's priorities change, it's possible to make alterations and add necessary features because the scope of work remains dynamic throughout the entire project lifecycle. Besides, the cross-functional team is trained and skilled in embracing changes whenever they arise. The idea is high responsiveness to changes.
• Puts the client in control as the coordinator of the project. Moreover, the client is welcome to monitor the development process and provide feedback on demos presented at the end of sprints. It's worth noting that the client or their team is expected to take part in the project and be present on calls at least biweekly. Their role is to assess progress, suggest improvements, and/or give feedback.
Simply put, T&M implies that payments are made as long as deliverables presented by developers to the product owner create genuine value to their business. This payment model is neither bound by milestones nor scope limits, making it extremely attractive to most businesses.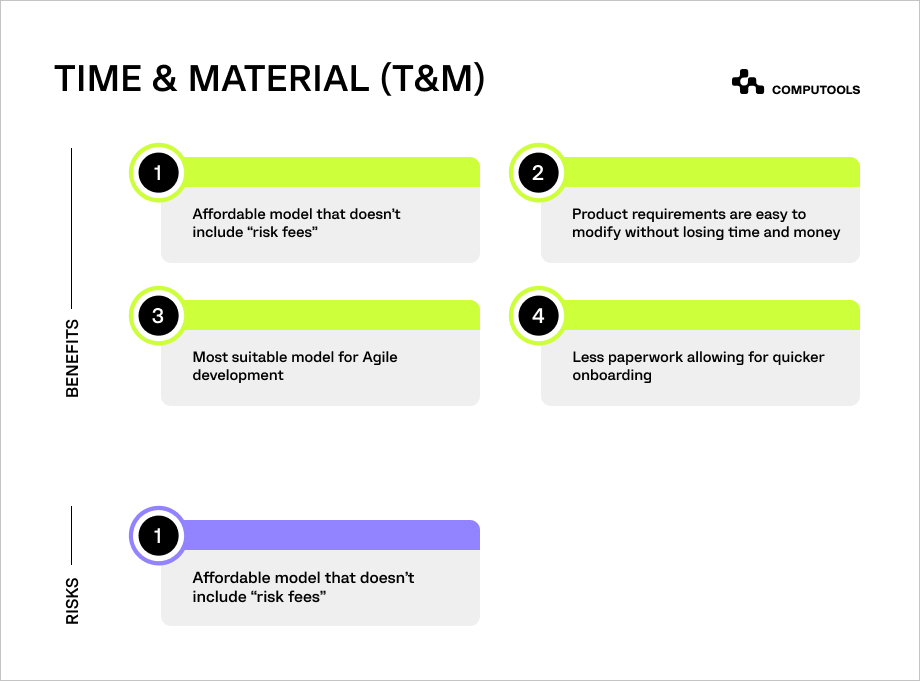 SPRINT-BASED PAYMENT
The Sprint-Based payment model is similar to T&M in that it also charges for the number of hours developers spend working within one sprint (in most cases, that's two weeks).
• Fits best for projects based on traditional Scrum methodology; the client hires a cross-functional team that works on their product and delivers a new increment upon sprint completion.
• Relies on a fixed cost per sprint; the team has its project objectives for each new sprint, but the payment for their effort is pre-determined and scheduled in advance.
• Works with changes relatively flexibly. Future sprints are planned according to the client's requirements.
In other words, Sprint-Based pricing focuses on efficient product development rather than a fixed scope to be delivered within a specific timeline. It's best for when the client seeks to deploy new functionality regularly and prefers to have their product frequently updated instead of waiting until the full development cycle ends.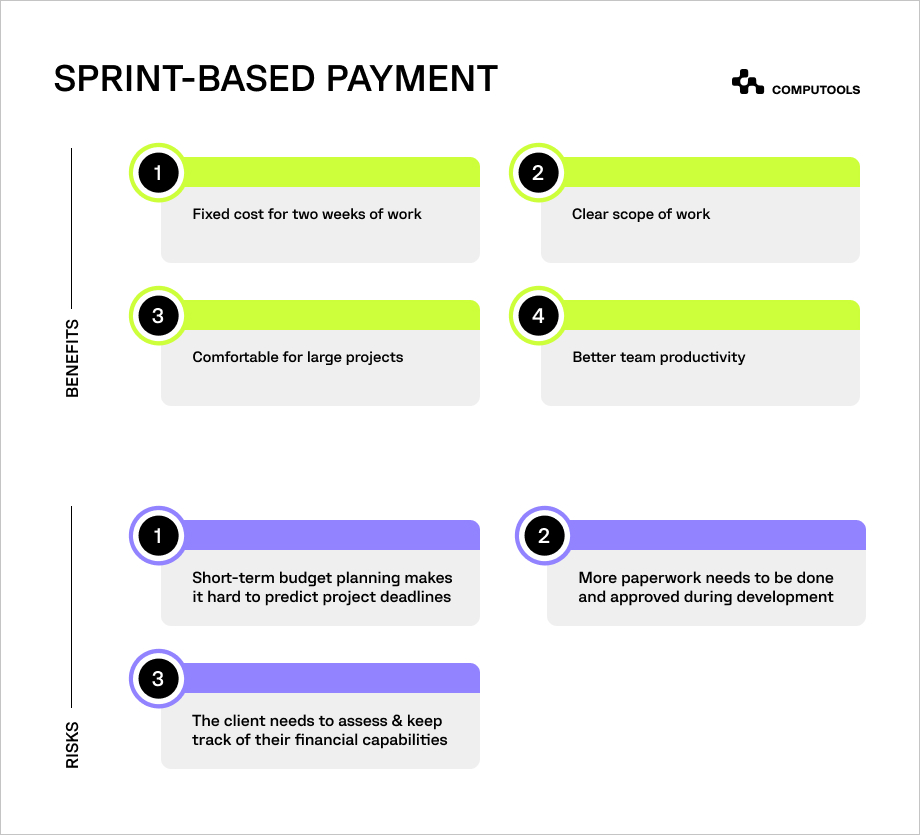 FIXED PRICING
The Fixed Pricing payment model is a good option for clients that have pre-determined project deadlines and need to get their software developed by a specific date.
• Requires a pre-defined scope of work that's agreed upon beforehand. The development team estimates their cost, so the client knows how much it'll take to deliver the product. However, since risks are not transparent at the outset, the development team has to increase the project budget and extend the discovery phase by 30-40%.
• Requires developers to consider all possible scenarios and risks during the planning stage because any error resulting from misalignment between the client and the development team's vision will entail substantial costs.
• Makes introducing changes extremely difficult, time consuming, and expensive. Once the development team starts developing the predetermined (and budgeted) scope of work, all changes need to be reevaluated and budgeted again.
• Allows the client to freeze the project at the end of each milestone, keeping the client in full budget control.
In short, this payment model works well for short-term projects with fixed timelines and transparent roadmaps.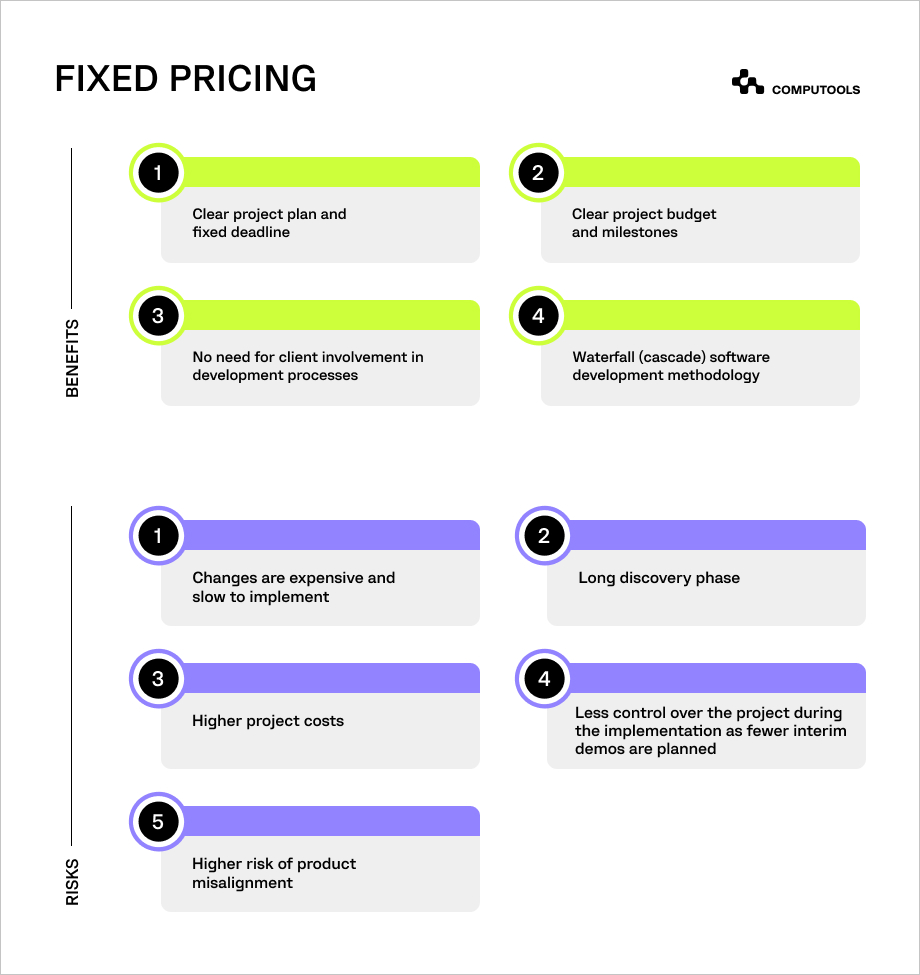 FIXED BUDGET, FIXED DEADLINE, FLEXIBLE SCOPE (FFF)
The FFF payment model is Computools's hybrid approach to assessing project costs and billing procedure, which combines the advantages of the Fixed Pricing and T&M models. The FFF model is a good choice for companies that don't want to go with fixed pricing due to its higher budget and less traceable risks and yet want to have some clarity on how costly software development is going to be.
• Gives insight into the project's cost and needed budget before getting started.
• Requires a close relationship with the client and product owner.
• Gives clarity into the development team's specific team roles, their allotted hours, and their scope of responsibilities.
• Makes implementing changes easier than the Fixed Pricing model with the introduction of an annex (additional paperwork); however, it's still quicker and more flexible.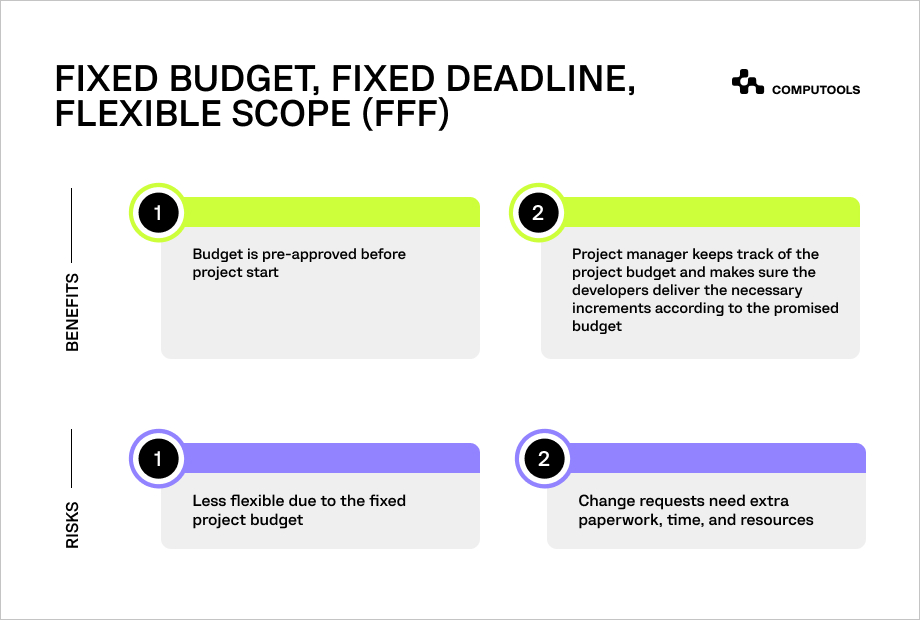 What Is Computools's Preferred Payment Model?
Computools is a multifaceted company that works with IT projects of different sizes and complexity. We support our clients in their business initiatives and seek to provide comfortable payment terms on which they're willing to collaborate.
Since the software development process requires utmost flexibility given volatile market conditions and unique client requirements, we opt for Time & Material pricing. It benefits our partners and our team. Under T&M, we only charge the client for hours developers devote to their tasks; the risk of underdevelopment is much lower than any other pricing because the team is less constrained by fixed scopes and timelines.
Our long-term partnerships have proved that T&M works best for SMEs whenever they wish to change their product priorities along the way or want to release their product live as soon as possible. This payment model is easily compatible with Agile development and allows building or supporting software as long as required on the client's side.
Should you have more questions on payment terms for any kind of IT project, please email us at info@computools.com. We're offering free consultations on payment models and which would work best for you and your business.
Computools is an IT Consulting and Software Solutions Development company that helps businesses innovate faster by building the digital solutions or bringing the tech products to market sooner. Discover our collaborative approach and industry expertise that spans finance, retail, healthcare, consumer services and more.
Contact us →