Virtual and augmented reality have become more popular in recent years. All this is associated with the development of technology and the emergence of new gadgets, improved models and the expansion of their opportunities. Also, one of the reasons for the popularity of virtual reality is the development and distribution of virtual reality videos, which provide the effect of presence.
Experts predict that by 2025 the share of VR in the US technology market will be more than 27%. What started with exciting virtual reality games is turning into the most promising technology of the century. Since technology has enormous potential, its distribution in all markets and areas is only a matter of time. So, in healthcare, they have already found several ways to use virtual reality. Thanks to these options the efficiency of employees is increased and costs are reduced; discovered new ways to solve old problems.

Want to innovate your healthcare system with digital solutions?
Contact us →
Virtual Reality Educational Potential
The use of virtual reality for medical training is one of the most obvious ways to apply technology. Opportunities that have opened up for doctors all over the world make it possible to conduct preliminary training of complex operations on virtual simulations. This method of training doctors and medical personnel has already proven its effectiveness. Simulations increase the speed of reaction to unforeseen situations, allow to consider and anticipate several scenarios for one operation.
Global healthcare news reports new discoveries in the medical field every day. Most of them were made through the use of virtual reality technology. Physical experiments are costly and risky. Special programs and applications are able to simulate the situation and predict its outcome.
So far, not many medical schools use virtual reality technology as the basis for conducting student learning. However, many training clinics equip their centres with hardware equipment and software so that interns can get all the necessary skills. In one of the US hospitals, 3D imaging of the patient's organs is used for a more detailed study. This allows to consider all possible options for surgery, to better prepare for treatment and choose the best option.
Besides, according to healthcare plans, VR is used to train nursing staff. So, they can hone their skills and increase speed if there is a necessity to apply emergency and resuscitation procedures. The same program is designed for paramedics. Different levels of complexity and a variety of scenarios make learning intensive and effective.
The combination of virtual reality and healthcare has many advantages for the entire industry as a whole and individual hospitals. However, it is believed that no simulation can replace the practice needed for doctors. Experience with VR application has proven that technology can complement it harmoniously and even enhance.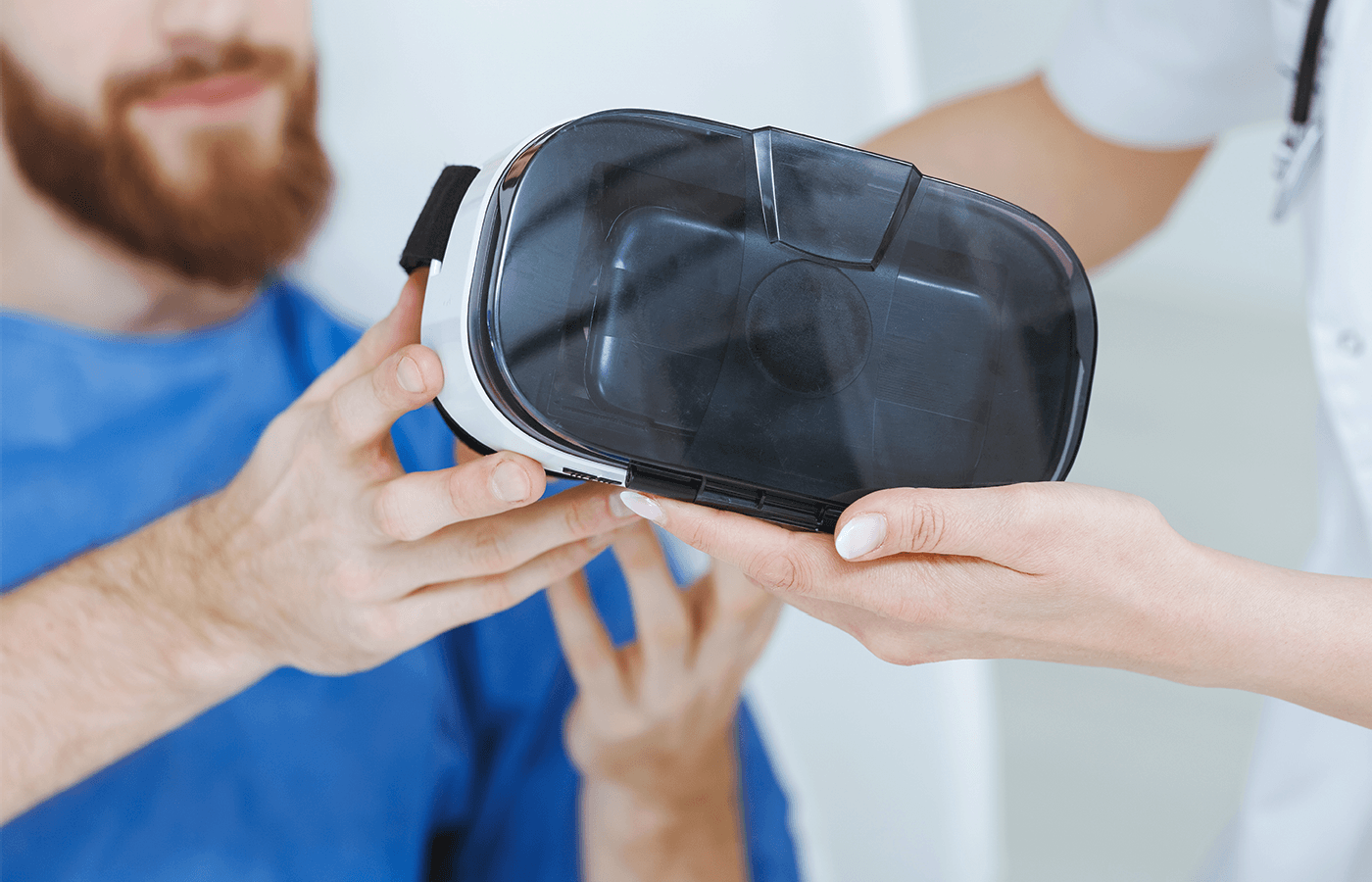 VR For Patient Information Management System
Virtual reality companies took care not only of staff training but also of creating the most convenient system for managing medical records.
Ordinary paper cards are gradually becoming a thing of the past. The combination of cloud storage technology and blockchain allows to safely store patient medical data in electronic medical records. However, this also creates another problem: the accumulation of a large amount of data complicates the navigation on them. What is more, there is an increased risk of missing out on something important of the patient's medical history.
Many claims that AI and Big Data do better on this job. However, the decision is made by the human and often the doctor needs to see the full picture to draw the right conclusions. Application of the virtual reality apps allows to interactively work with the patient's medical data: highlight problem areas, remove unnecessary, supplement data.
Thanks to this system, the effectiveness of treatment and the rate of its assigning are increased. Thus, the entire healthcare system is transformed and improved.
Moreover, the newly developed virtual reality applications and programs allow to literally look inside the patient. Data after scans (CT and MRI, for example) and analyzes are entered into the system and projected onto the patient's virtual body. The focus of inflammation and problem areas are highlighted. Focusing on these signals, the doctor makes a diagnosis and prescribes the necessary treatment.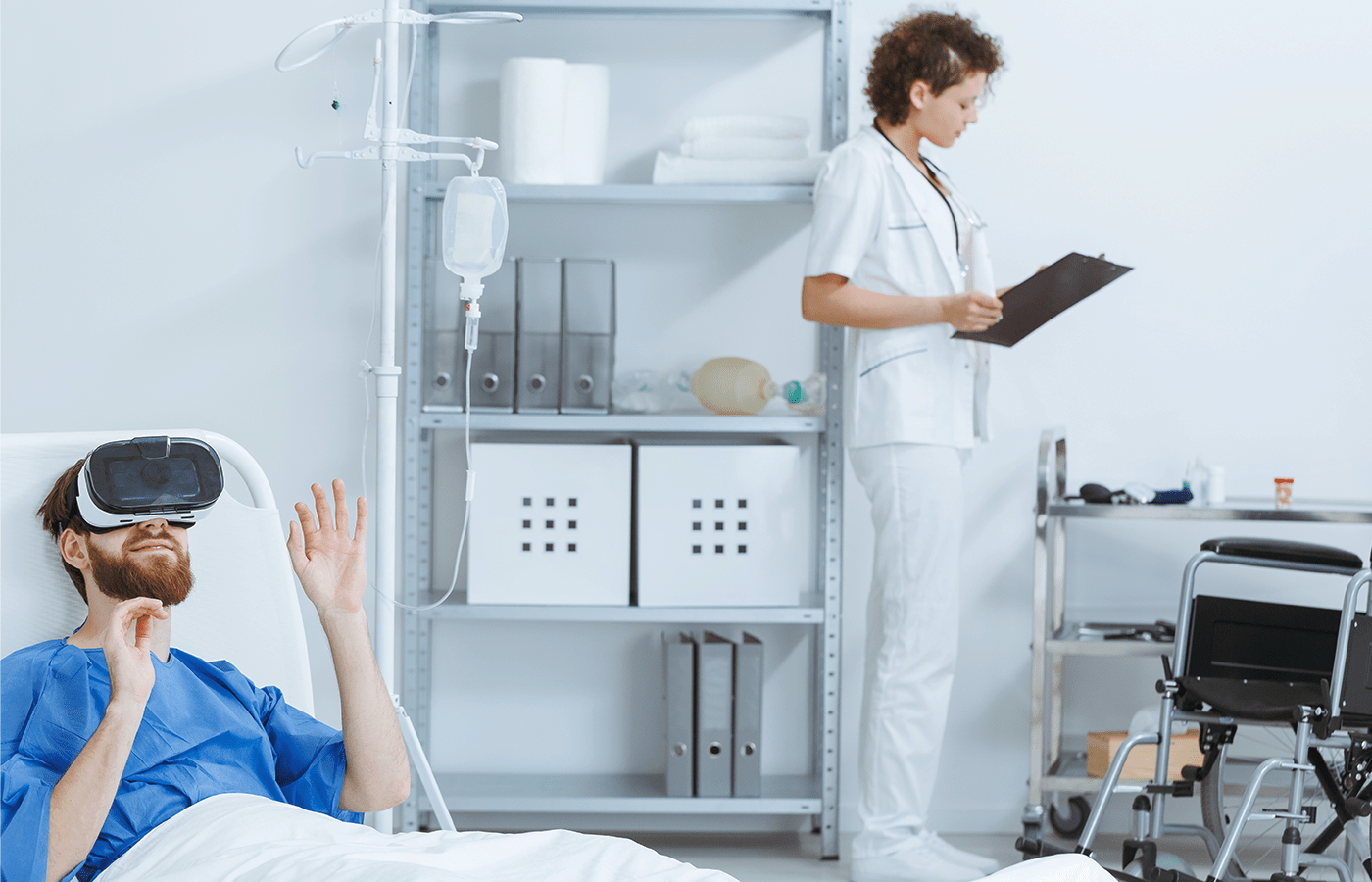 Virtual Reality as A Treatment
The possibilities of virtual reality in healthcare are not limited only to the training and processing of medical data. This technology is also widely used for medicinal purposes. For the first time, VR was used to treat mental health problems; in recent years, the range of applications has been expanding.
It may sound fantastic, but virtual reality can reduce pain. This technology began to be used in cancer and burn centres, where patients constantly experience pain during treatment. Practice shows that due to the distraction of senses and redirection of visual simulations, patients use lower doses of pain medication. This is especially true for children and people who can not be on medication for a long time. Perhaps soon, VR will be able to treat chronic pain.
Some medical procedures require patients to remain motionless or maintain a certain position for a long time. Only medical personnel know how difficult it is to fix a patient in one position. Especially if this patient is an active child. VR glasses and the connected program can quite effectively distract the patient and help maintain a pose.
Post-traumatic syndrome and other disorders are difficult to treat. Psychiatrists have repeatedly stated that many injuries require deep treatment, which can take years. However, the latest technologies have greatly simplified this process and make life easier for people with post-traumatic stress disorder. Special programs teach them how to use exercises to reduce stress and help to adapt to a new environment.
The technology has proven effective in treating injuries to military veterans who spent a long time in battles. Also, virtual reality is used to treat a variety of phobias: fear of heights, depths, crowds, closed spaces etc. It also fits for home healthcare and training. Unfortunately, healthcare insurance does not yet determine VR as a treatment that can be used for certain diseases and injuries. However, with the development of technology, legislation is also being transformed.
Despite the rather widespread use of VR in medicine, this is only the beginning of the expansion of the market by new technology. Many companies, manufacturers of hardware and software, seek to offer more new healthcare opportunities. Built-in displays, glasses, gloves – all this is constantly being improved and updated to improve the user experience.
Besides, to the incredible sensations that doctors and virtual reality testers have noted, this is also a way to increase efficiency, reduce costs and risks. Training surgeries' programs, training programs with various levels of difficulty allow better preparation of medical personnel. At the same time, associated costs are significantly reduced. That's why the use of virtual reality in medicine will only increase over time.
Discover the true potential of your project with our experts. Inquire at info@computools.com.
Computools is a full-service software company that helps businesses innovate faster by building the digital solutions or bringing the tech products to market sooner. Discover our collaborative approach and industry expertise that spans finance, retail, healthcare, consumer services and more.
Contact us →