Healthcare in 2019 is undergoing a series of great changes same as other industries around the world. The use of the newest technologies allows to improve the medical service and solve a number of challenges facing healthcare industry. These challenges include the processing of patient's medical data, the correct diagnosis, the choice of an effective treatment, and the training of personnel. In addition to this, cybersecurity is also a major medical problem. Experts have already shared their ideas on how to solve the problems described above.
Electronic Medical Health Records
Electronic Health Records (EHR) in conjunction with Electronic Medical Records (EMR) have been steadily increasing in use over the last 15 years. With the adoption of EMRs, the increase in EHRs has grown exponentially.
EHRs are a broader view of a patient's collective individual EMR experience and contain a historical 360-degree view of a patient's medical history. While the exchange and sharing of this EHR data has been a primary focus in recent years (through Continuity of Care Documents (CCD) and Consolidated Clinical Document Architecture (C-CDA)), the massive collection of clinical data by large health systems and treatment centers (public, private, and academic) has moved into the realm of big data.
World medical record system is still a dream, nevertheless, medical organizations and hospitals need a reliable and effective eco-system of storing patients' data. What is more, they need to analyze it fast, send to colleagues and keep secured. Today health systems continually face the dichotomy of medicine: improving patient outcomes and maintaining effective operating costs. It is difficult to maintain both and to give the highest level of satisfaction to a patient at the same time. Patients want to be seen fast, get good treatment and spend less time attending doctors.
How the Latest IT Technologies Meet Healthcare Problems?
The treatment plans for a patient are determined by the physicians and their patients based on what is known about the patient and their medical history. Healthcare predictive analytics allows physicians quickly and accurately determine the best treatment plan for any given patient based on their medical history and demographics.
The doctor can't take to account all the information about his patient: race characteristics, a given gender, specific medical history, problem lists, allergies, etc. But the computer program based on predictive analytics can, and do even more. Such as, find other patients within a population cohort that are similar; find and analyze the treatment plans given to these patients. Based on this information a patient could be directed to the most accurate treatment plan for their given conditions based on their existing conditions and the observed outcomes of other patients in the cohort. So predictive analytics won't replace a doctor, but it would become a necessary tool, which helps in their daily work.
Healthcare data analytics can be used to automatically populate EMRs or Personal Health Records (PHR) that can be consumed by the EMR. With this information, a patient can immediately be given the best treatment plan for their age, race, gender, BMI, etc. that includes exercise plans, diet plans, and any assistive medications based not only on the population cohort but on the highly visible and measurable results of those plans.
Artificial intelligence in healthcare is getting increasingly sophisticated at doing what humans do, but more efficiently, more quickly and at a lower cost. One of AI's biggest potential benefits is to help people stay healthy so they don't need a doctor, or at least not as often. Well, the use of AI in consumer health applications is already helping people. AI is already being used to detect diseases, such as cancer, more accurately and in their early stages. The use of AI is enabling review and translation of mammograms 30 times faster with 99% accuracy, reducing the need for unnecessary biopsies.
AI also allows going through naturalistic simulations in a way that simple computer-driven algorithms cannot. The advent of natural speech and the ability of an AI computer to draw instantly on a large the database of scenarios, means the response to questions, decisions or advice from a trainee can challenge in a way that a human cannot.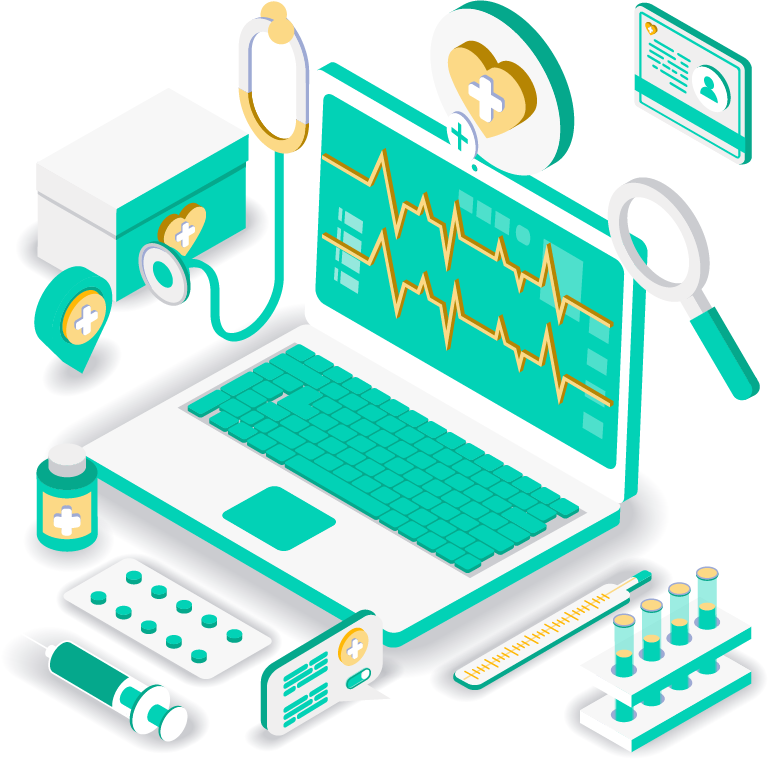 Healthcare CyberSecurity
Recent incidents have shown the critical importance of taking effective action to ensure cyber safety. More and more companies make it into the headlines following security breaches. The healthcare sector remains a high interest for attackers since the information during the breath can be extremely valuable. The high level of personal data stolen can be used to create a string of attacks on an individual after the main breach.
Even with the amount of anti-ransomware technology rising, cybercriminals have been launching focused attacks. The ransomware infected the hospital's key systems which caused the data to be scrambled and, in most cases, shut down completely. Without their data and information, the hospital was forced to turn away patients and cancel surgeries. People were advised to seek medical attention only in the case of an emergency. This is why healthcare data security is so important.
Here are five main cybersecurity challenges in healthcare:
1. Cyber attackers use malware and ransomware to shut down devices, servers, and even networks. In some cases, ransom is demanded to decrypt of data.
2. A large amount of healthcare data is stored in the cloud, it can be a weak spot for the security of healthcare organizations.
3. Phishing attacks are sending mass amounts of emails to obtain sensitive information from users.
4. Encryption of blind spots where hackers can hide from the tools meant for detecting breaches.
5. Employee error can leave organizations susceptible to attack through weak passwords and unencrypted devices.
Technology challenges in healthcare can be easily solved by implementing the latest innovative solutions that were developed by leading companies and specially designed for certain purposes on the outsourcing.
How to Reduce Cyber Security Risks in Healthcare?
Experts claim that Installing and maintaining anti-virus software are essential for safeguarding healthcare systems and sensitive data. It will help to find weaknesses in the cyber security of the hospitals and other medical organizations. However, they also offer some other effective ways to reduce security risks in healthcare in 2019:
– Establishing a culture with emphasizing on training and educating every member of the organization to protect critical data. Employee onboarding must include best practices for the use of a computer including software and operating system maintenance. Use of strong passwords and changing them regularly can ensure data security up to an extent.
– Protecting mobile devices used in care providing through encryption and other protective measures. The mobile devices used for work and access to database must have a firewall.
– Regular backing up of files can help in quick and easy data restoration. Storing the backed-up information away from the central system also is effective.
– Limiting network access. Controlling physical access by keeping devices and critical information in secure memory areas.
The problems described above are only a part of the challenges facing the healthcare industry. The offered innovative solutions can help in achieving the goals of both a single company and the industry as a whole. However, experts also argue that an individual approach and rational management is necessary for choosing the proper solution in a certain situation. Among the biggest healthcare innovations challenges is the lack of funding and slow IT technologies integration process. The faster companies will understand the benefits of applying offered solutions, the faster transformation of the industry will go.
Creating relevant and profitable solutions for the Healthcare industry is our area of expertise. If you ask your question at info@computools.com, you will receive detailed answers and consultation.
Computools is a full-service software company that designs solutions to help companies meet the needs of tomorrow. Our clients represent a wide range of industries, including retail, finance, healthcare, consumer service and more.
Contact us →