It is common knowledge that the mobile market has grown significantly over the last years, especially in Asian regions. Why? It provides non-binding casual gameplay with the opportunity to play anywhere with your portable device, whenever it's on a subway or during breaks at work. Compared to computers and consoles, mobile phones and mobile games are more affordable for people worldwide. So, you might have noticed that the biggest gaming franchises are slowly moving to mobile platforms. Anyways, the mobile game market develops faster than the PC market, as you don't need to create super-quality effects because phones will not just handle such overload. Likewise, mobile game development software scales up quickly, some of which enabling games without knowledge of coding or programming.
The gathering below offers a list of the best mobile games of all kinds, which everyone should try.
1. Minecraft
This first one out of the top mobile app games on the list is a great and powerful Minecraft, the most successful video game franchise all over the globe. It came to mobile platforms entitled 'Pocket Edition' in 2011. Minecraft is a sandbox video game created by Swedish game developer Marcus Persson mostly known as Notch. It caught on quickly as the gameplay allows for limitless opportunities to create anything you wish with square blocks in an endless procedural world. Besides, there is a multiplayer option that lets players show off your creations. All these features made Minecraft the best-selling and recognizable game all over the history. Pocket Edition is a full port of the desktop version of Minecraft to mobile phones which lets you create whatever you want and anywhere you want. The mobile version can be purchased both in the AppStore and the Play Market for 7$.
2. PUBG Mobile
PUBG is a Battle Royale game with 100 players on a map and only 1 winner. It's a survival mode where players are dropped on a map where each player is required to find loot and kill the other players. 'Blue zone' is a circular area that appears on the map. As the game evolves, the map becomes smaller in size until only one player remains. This last one is a winner.
This game concept was innovative and for this reason became extremely popular. Unlike the desktop version, the mobile one is available at no cost. It also provides new game modes, such as Mini Zone, War mode and Sniper mode, and Zombie mode. PUBG Mobile can be downloaded through the Play Market or the AppStore depending on your device.
3. Fortnite
Fortnite is mostly famous for its Battle Royale game mode. This game with amazing cartoon graphics and dynamic gameplay has been repeatedly ranked among most popular games across the globe. The utmost affection for Fortnite is the reason why many experts compare its effect to that of drugs. Along with other top game franchises it now operates on mobile platforms as well. Fortnite can be downloaded on the official Epic Games page for both iOS and Android.

Looking for a full-service IT company to design 2D & 3D games at your request?
Contact us →
4. Call of Duty Mobile
It is another representation of Battle Royale by Tencent. Most mechanics and gameplay are by default in accordance with Battle Royale rules, with a few new features. Call of Duty is sort of a hero-shooter, which means you have to pick a character with a preset of skills and abilities. Similarly, compared to PUBG, the gameplay is much faster and more dynamic. If you are playing in a team, you should wisely choose your character combinations, as some of them provide a considerable tactical advantage, while others don't.
5. Diablo Immortal
Controversial Diablo Immortal developed by Chinese company NetEase is a Diablo spin-off that is expected to be released on mobile by the end of 2020. If you are not familiar with the Diablo universe, it's an action RPG with a giant story about nephalems, the children of an angel and a demon, and an endless war between them. Diablo Immortal will tell us what has been happening between Diablo 2: Lords of Destruction and Diablo 3.
Despite the negative hype around the game, the problem is more rooted in the marketing campaign than the game itself. That's why in any case you should give a shot to Diablo Immortal too, as Blizzard Entertainment is well-known for its best and most quality games.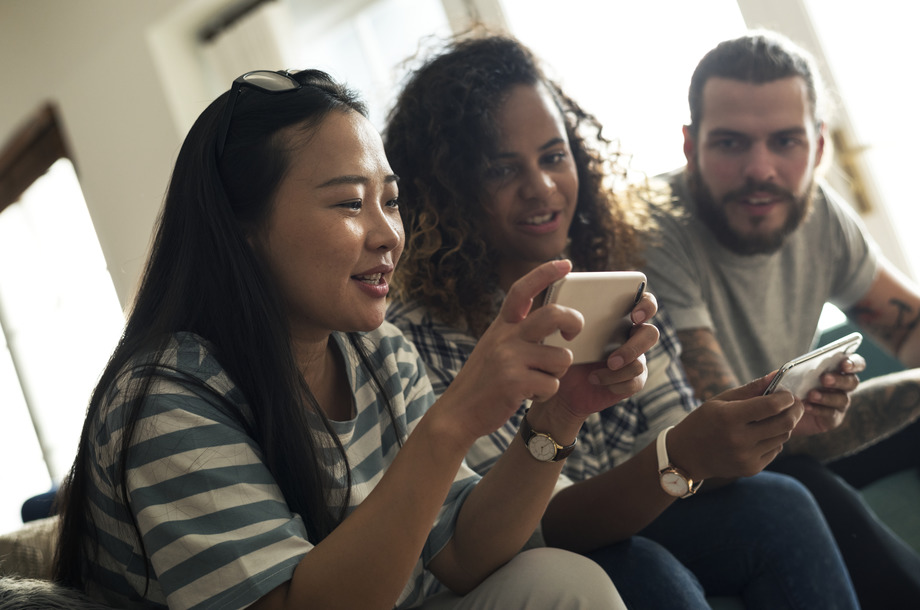 6. Hearthstone
Hearthstone is a free cross-platform cards collecting game developed and published by Blizzard Entertainment. Hearthstone is based on the great and powerful World of Warcraft universe, driving its characters, monsters, voices and history and transporting them to a board. The game is duel-based. You will need to collect a deck of special synergistic cards to build up your strategy. There are general cards and cards that belong to a special class. By winning a game, you will be awarded gold, which you could use to buy card-packs to fulfill your collection and build more decks and strategies.
7. Grand Theft Auto
Many top mobile game developers started developing their mobile game versions, including Rockstar that developed Theft Auto. GTA is a series of action-adventure games that became famous because it brings you to a city, like a sandbox, where you are allowed to do what you want: hire cars, complete missions, rob banks, and bring destruction and it gives lots of fun at times. If you aren't familiar with any of them, this could be a great chance for you to try it out.
8. DOTA Underlords
DOTA Underlords is one of the best examples of the auto-chess genre on mobile. Originally, the auto-chess genre came from DOTA 2's custom game mode made by Drodo Studio and picked up by Valve to upgrade and enhance it as a standalone game that was ported to both iOS and Android. This is a strategy game, though not related to chess. The players receive a board and a set of random characters, driven from DOTA 2. Each round you are given a new set of random characters and the point is to make a good combination of them depending on their skills.
Each round your characters are fighting against random opponent's characters and the game ends when one player lasts. There are also many similar games on the mobile market, as this genre brought really much innovation and hype, making a good reason for developers to create such popular gaming apps like Teamfight Tactics from Riot Games.
9. Don't Starve
Don't Starve is a sandbox survival game with lots of magic and science tricks. It tells a story about scientist Wilson, who was trapped alone in a world full of dangerous monsters and conditions. The goal is to survive and find those who've trapped you to get free. Don't Starve's costs 5$ on Google Play and the AppStore.
10. The Wolf Among Us
The last game among the top app games is The Wolf Among Us. It is an interactive story game by Telltale Games, which tells about Bigby Wolf, the Sheriff of Fabletown, where strange things start to happen. Depending on your choices, the game's ending will be different. The story is really impressive and interesting, especially if you replay it making different decisions. The game is available on Google Play and the AppStore. The first episode is free, and the next ones cost 5$ each or 15$ for all together. Telltale Games is currently involved with the other most popular game franchises and are planning to port them to mobile platforms too, so follow the news to discover new cool interactive fables from the developers.
Game development is a priority activity for Computools. To receive more inquiries about the technologies used to build top-notch mobile games, get in touch with the company's representatives via info@computools.com.
Computools is a full-service software company that helps businesses innovate faster by building the digital solutions or bringing the tech products to market sooner. Discover our collaborative approach and industry expertise that spans finance, retail, healthcare, consumer services and more.
Contact us →