To remain competitive in the rapidly evolving digital landscape, businesses must adopt new technologies and methodologies at a rapid pace. In recent years, there has been a significant shift towards prioritizing user experience (UX) design over regular user interface (UI) design. As UX design can make or break a website, modern companies must explore UX solutions, understand how to incorporate them, and leverage their benefits. Custom UX/UI design services prioritize the user, making interaction with your product a seamless and enjoyable experience for customers. If you want to increase your profits (increasing profit via great design), why not prioritize UX design?
By putting your users at the center of your design process, you can create products that meet their needs, exceed their expectations, and foster brand loyalty. Don't let outdated design practices hold you back from achieving business success. Embrace new technologies, prioritize UX design, and watch your business thrive in today's digital landscape.
Is UX Design a Necessity or an Opportunity?
The growing number of companies utilizing UX design and the increasing awareness of its best practices indicate its importance. To keep up with emerging trends, it's essential to have a UX designer or team dedicated to creating exceptional user experiences for websites or apps. Companies that fail to prioritize UX practices consistently lose customers to competitors with more appealing and user-friendly digital products. As a result, companies are building dedicated teams focused exclusively on UX research and development. Such teams can make extensive improvements to a business's digital presence with significant returns on investment.
By adopting UX practices, even smaller companies can remain competitive in the digital landscape, avoid common mistakes, reduce support needs, increase customer loyalty, and enhance website layouts. Ultimately, prioritizing UX design can be the key to success in today's digital business environment.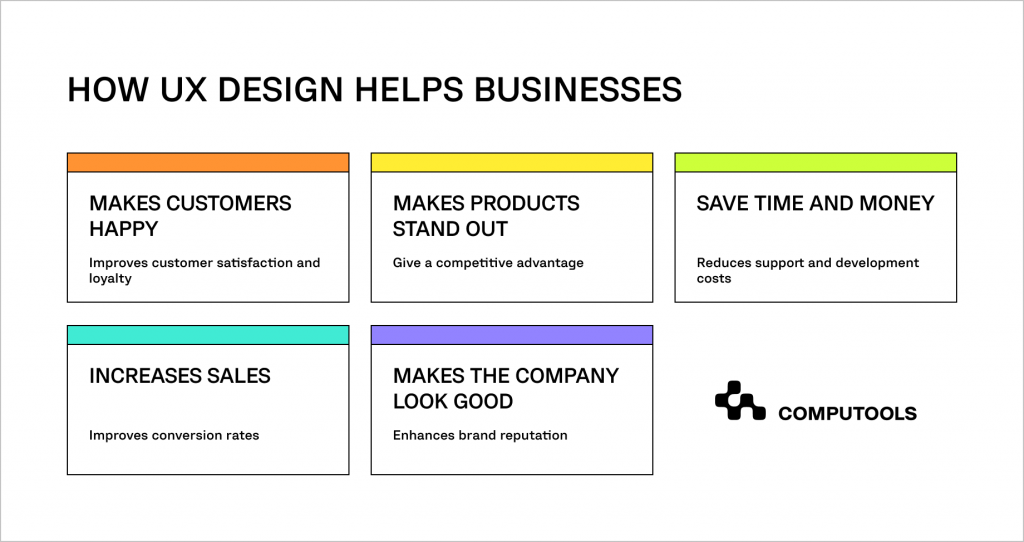 What's at Stake in UX Design?
Businesses must prioritize creating a positive user experience in order to stand out in a crowded marketplace with endless options for customers. By investing in user-friendly applications or websites, companies can develop brand value, increase customer satisfaction and retention, and ultimately generate more profits.
The foundation for great UX design is a deep understanding of the target audience and their expectations for the product. Armed with this knowledge, businesses can create an aesthetically pleasing and intuitive user interface that meets users' needs across all devices.
Consistency in web design is also crucial, as inconsistencies can damage a company's reputation, marketing strategies, and revenue. Prioritizing well-designed UX can benefit a business in several ways, including:
• Improved customer acquisition
• Improved customer retention
• Streamlined development
• Increased performance
• Higher user engagement
How to Implement UX?
Forbes highlights that UX design is all about a positive experience when using your product or service. It's important; critically important, to take into consideration UX design from the start of a project since it can be expensive and time-consuming to make changes later on. Think about outsourcing UX/UI design services to assure your project has a strong design-based foundation. Here are some useful recommendations for putting UX design into action:
1. Conduct thorough research and analysis to identify your target audience and determine what your customers require from your product or service.
2. Examine the user journey in detail. Identify the steps that customers take to achieve their intended action and pinpoint any sources of confusion.
3. Use all available data and feedback to enhance the user experience. Test your product or service with actual users and take their feedback into account.
4. Ensure that your project has adequate resources. Double-check that you have the necessary tools and personnel to execute your UX design effectively.
Make UX a priority in your business strategy and start reaping the benefits today!
Contact us →
Usability Over Visual Appeal
Businesses are capitalizing on the advantages of UX and investing in UX research and development. UX design can significantly improve website usability, which is crucial for retaining, converting, and meeting customer needs. Poorly designed websites typically have low customer interaction rates. Employing sound UX design principles can help businesses avoid several common mistakes that negatively impact website usability:
1. Neglecting functionality: While visually appealing designs are great, functionality is a necessity. Simple, usable websites that are easy to navigate are more likely to be revisited by customers, while poorly functioning sites are likely to be avoided.
2. Ignoring legibility: Websites must be designed to be easily read, incorporating commonly used layouts, fonts, and link placements to improve readability.
3. Confusing layouts: Websites and apps must be designed to guide visitors to their intended destination. Too many options on a single screen can be overwhelming and confusing.
4. Issues with handling traffic: Websites must be designed to load quickly to avoid losing users' attention.
5. Poorly placed ads: While advertising is necessary, businesses must be careful not to overwhelm customers with excessive ads or distract them from relevant information.
6. Inconsistencies between browsers and devices: Websites that do not function well on certain devices can exclude potential customers. Websites must also be optimized for mobile devices to ensure a great UX.
Any design-driven company focuses on strategy, research, feedback, and visual effects. Eventually, a product is successful when the entire company focuses maximum efforts on user experience.
Praise the UX
Any design-driven company focuses on strategy, research, feedback, and visual effects. Eventually, a product is successful when the entire company focuses maximum efforts on user experience. The UX-oriented culture is a practice and another way of seeing hidden things that make everyone take care of the user.
For example, a software engineer can streamline the loading time, use sophisticated animations, and display response indicators in the right places. A business analyst can ensure that the assessment metrics are targeted more at the users than the revenue model. As a result, when the company is structured to promote and support UX, great experiences are developed. Accessible site navigation and functional features are another way to increase profit. It'll definitely attract more customers to your business, which will help you boost sales and profits.
Key Takeaways
• In today's digital world, businesses must showcase their uniqueness through a great UX/UI experience to stand out in their industry and attract more customers.
• Implementing a proper UX design can lead to improved search engine optimization and increased visibility on search engines, providing various benefits to any business, regardless of their market position.
• Visitors to a website or app should be able to easily recognize that they are in the right place, without requiring additional navigation assistance.
Don't let a poor user experience hold your business back! Consult with Computools's experts at info@computools.com to put forward a professional approach!
Computools is a full-service software company that helps businesses innovate faster by building the digital solutions or bringing the tech products to market sooner. Discover our collaborative approach and industry expertise that spans finance, retail, healthcare, consumer services and more.
Contact us →