Today, the concept of MVP is well-known in the digital realm. Although it's mostly associated with technology and software development, the capabilities of the MVP approach are much wider.
When we speak about MVP in business, we mean adaptable and customisable solutions that can fit the unique needs of various industries and provide a systematic way for companies to innovate, gather feedback and create services that resonate with their target audience.
In this article, we'll discuss the purpose of MVP, analyse the pros and cons of the approach, and find out how to avoid the pitfalls on the way to a better product.
MINIMUM VIABLE PRODUCT: WHAT IS IT?
At its core, minimum viable product, often abbreviated as MVP, represents the fundamental version of a new service or solution. Figuratively speaking, we may imagine an MVP product as a functioning car lacking a navigation system and back seats – not exactly what you wanted, but you can get the gist of it.
So, MVP states the essential selling features of a service or product that can capture the audience's attention during the early stages of development.
One should also distinguish between MVPs and prototypes, as they play different roles in product development. Prototypes may be simple mock-ups, or only partially functional models, designed for internal evaluation and visualisation. Prototypes can also demonstrate the technical feasibility of implementing specific features.
Through the integration of functional or interactive elements within the prototype, developers can assess the challenges and complexities linked to the incorporation of these features.
MVPs, on the other hand, are purposefully created for the public, and provide customers with a firsthand understanding of their functionality and benefits, helping businesses refine and improve the final product based on real-world usage and user preferences.
THE IMPORTANCE OF MVP IN BUSINESS
So, what is an MVP in business?
In different areas, MVP may be utilised as an instrument that helps small start-ups and big companies reduce the risks that their primary products and services are off target.
MVP products may help to receive valuable feedback, obtain a better understanding of customer's needs, and generate revenue in shorter terms. MVP also helps to reduce time to market – the time it takes to go from having an idea to launching a product for customers.
MVP development helps businesses to start their product, expand their user base and simultaneously finalise the product.
According to Clayton Christensen, a Harvard Business School professor, 95% of all newly introduced products fail every year. That's why MVP for start-ups is especially crucial.
Most fresh businesses are often short of money, and MVP helps them test their ideas without spending too much. It's like a trial run to see if people like what they're offering.
For bigger businesses expanding their operations, MVP acts as a guide. It helps them understand what people want in the changing market and keeps them updated with the latest trends.
The MVP approach is versatile and can be applied across a wide range of industries, including healthcare, service industries, hospitality, consumer goods, and numerous others. The MVP approach in software development allows these sectors to test new service offerings or product ideas, aligning with user expectations and market needs.
Investors are naturally drawn to businesses that have validated their ideas and show promise. The tangible proof of concept provided by an MVP significantly increases the likelihood of securing funding, propelling the business towards further growth and expansion.
The primary reasons businesses worldwide opt for the MVP approach
1. Swift market entry and customer base building
Implementing an MVP allows businesses to swiftly introduce their product to the market, enabling them to gain a competitive edge and start building a customer base.
2. Minimal investment product testing
MVP testing significantly reduces the financial burden on businesses. It enables companies to validate their product concept and assess market viability with minimal investment, especially when compared with the costs associated with fully developed products.
3. Efficient refinement
As businesses receive real-time feedback and iterate the initial version, they can make enhancements without significant losses. Consequently, the final product, which undergoes gradual improvements, remains competitively priced. This approach ensures that the market value of the product aligns with customer expectations while minimising the financial risks associated with extensive modifications.
These numerous advantages offered by the MVP model make it highly attractive to companies seeking consistent strategies and well-informed decision-making.
THE PURPOSE OF MVP
Data reporting resource Demand Sage estimates that 34% of start-up failures are caused by the absence of product demand.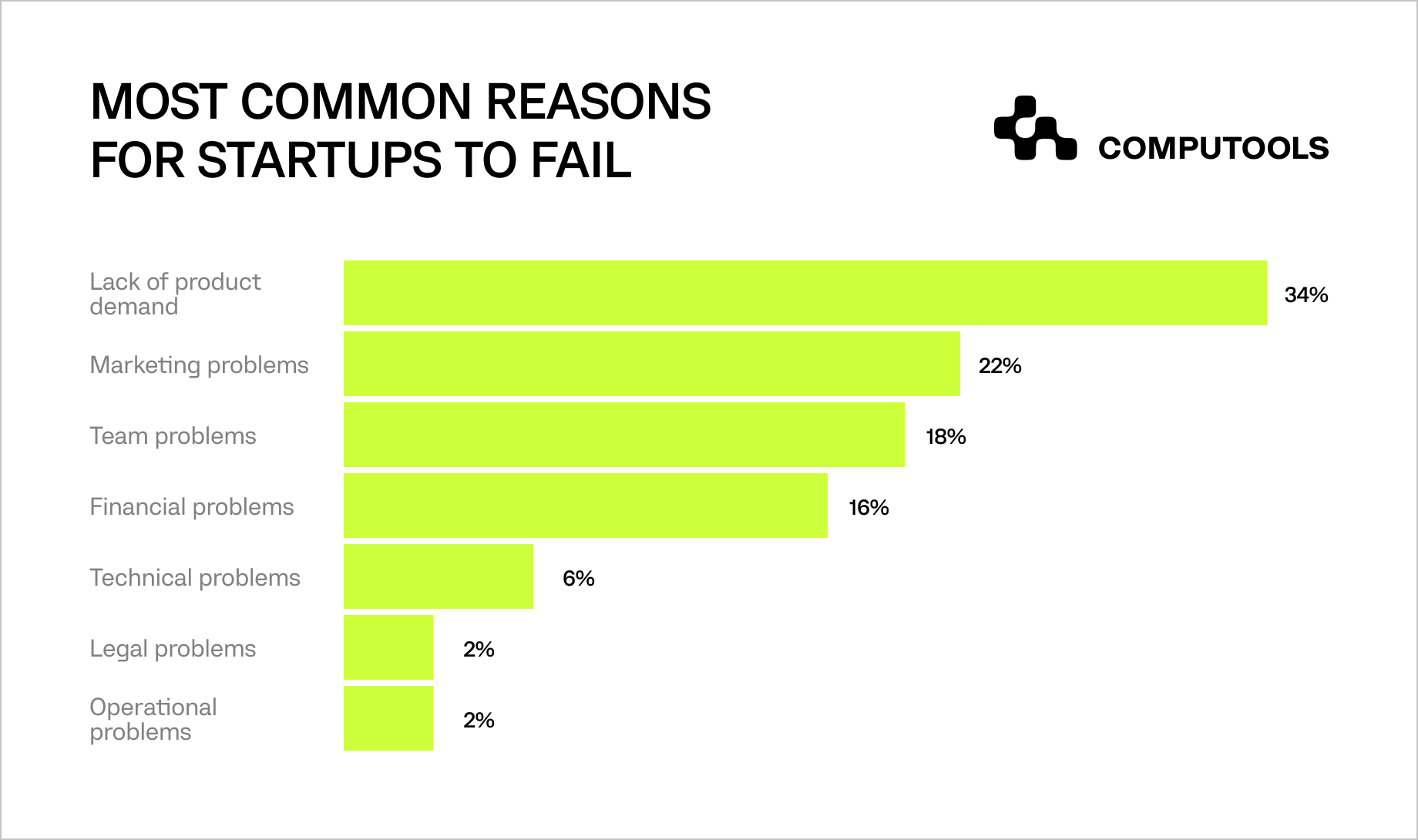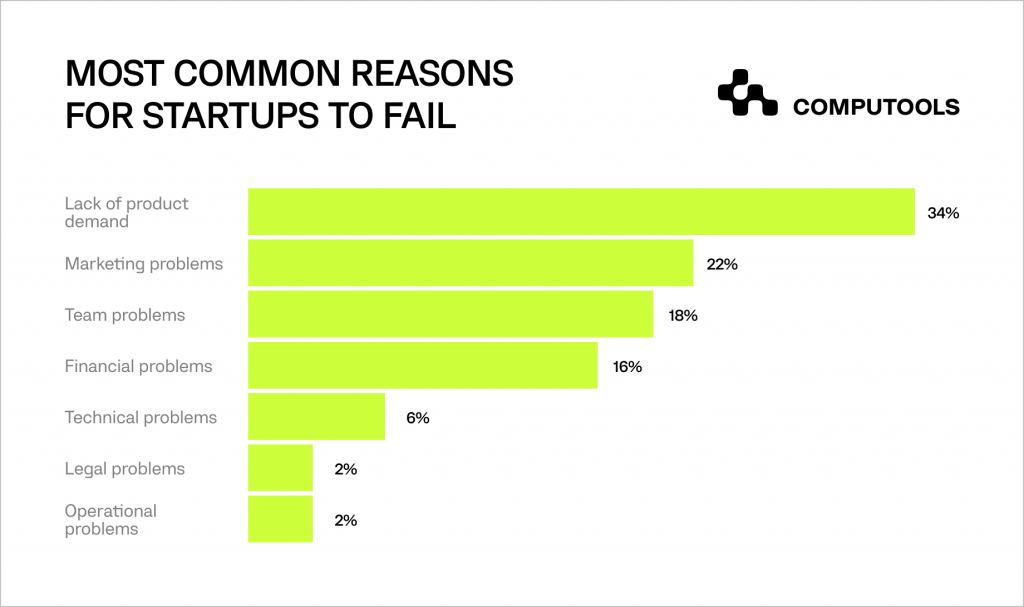 Looking at these unpleasant stats, we can clearly define the main purpose of MVP development – validation. By enabling businesses to test their products with essential features in the market, MVP acts as a strategic shield against the most common downfalls.
In short, the goal of MVP is to test basic business model hypotheses without spending too many hours and resources. Nobody wants to create a useless product, and even less to waste resources and time on an unpromising project. We may say, MVP is all about ensuring there's a genuine demand for the envisioned product.
But MVPs not only act as validation tools, they also serve as feedback generators, allowing businesses to enhance or modify their products swiftly, staying agile in response to market dynamics. In essence, the purpose of an MVP is not just to create a product but to create a product that users truly need and value, ensuring sustainable growth and success in the competitive business landscape.
BENEFITS OF USING THE MVP APPROACH
Knowing how many successful companies started from simple bare-bones products, one can't deny that the meaning of MVP in business is crucial. Adopting this method offers several benefits, making it a vital strategy for businesses, especially start-ups, aiming for lasting success.
Utilising MVP development may help to:
1. Increase the possibility of attracting investments
Investors are naturally drawn to businesses that have validated their ideas and show promise. The tangible proof of concept provided by an MVP significantly increases the likelihood of securing funding, propelling the business towards further growth and expansion.
2. Find the initial target audience
Identifying the right audience is pivotal for any business, and the MVP model provides a unique opportunity to do just that. By homing in on the users who engage most positively with the MVP, businesses can tailor their marketing strategies and product features to cater to this specific audience.
3. Incorporate customer feedback during the developmental phase
Customer feedback is the lifeblood of product improvement. MVPs provide a platform for businesses to interact directly with users, gathering feedback on functionalities, usability and desirability.
This direct communication enables engineers to make real-time adjustments, addressing concerns and suggestions promptly.
Integrating customer feedback during the developmental phase ensures that the final product resonates strongly with the users, fostering a loyal customer base and positive word-of-mouth referrals.
4. Recognise the product's strengths and weaknesses
One of the fundamental advantages of employing the MVP methodology is the clear-eyed evaluation it offers regarding a product's strengths and weaknesses.
By observing interactions and gathering feedback, businesses can find the features that resonate most strongly with their audience.
Concurrently, this process highlights functionalities that might be confusing, inefficient, or less impactful.
5. Analyse statistics and conduct deeper market research
In addition to customer feedback gathered through surveys, we can also gather statistics and real data, which can be even more valuable. This approach allows us to observe not only what the customer says but also their actual actions and purchases, providing valuable insights into their behaviour and preferences.


COMMON MISTAKES MADE WHEN CREATING AN MVP
Now that we've already explored the benefits of using an MVP, let's delve into the typical mistakes and try to get the best from someone's bitter lessons.
Here are the most basic mistakes that you should try to avoid:
1. Complexity
Attempting to incorporate too many features into the MVP can overwhelm both the development team and the end-users. Keeping the MVP simple and focused on core functionalities ensures a streamlined user experience and efficient development processes.
2. Excessive feedback
While feedback is invaluable, there can be a point of diminishing returns. Seeking excessive feedback can lead to a constant cycle of revisions, delaying the product launch. Quality feedback from a targeted group of users often proves more valuable than a sheer volume of opinions.
3. Wrong target audience
Another critical misstep is misidentifying the target audience. Failing to understand the specific demographic that would benefit most from the MVP results in misplaced efforts and resources.
MVP SUCCESS STORIES
Everybody knows that even the best theory is nothing without a good practical case. Let's take a short look at two stories of contemporary market leaders who utilised the MVP concept, turning their initial ideas from fragile hypotheses into thriving multimillion-dollar enterprises.
1. Airbnb
The current Airbnb website has little resemblance to its original version. Nevertheless, the company's first product is widely regarded as a classic illustration of a minimum viable product.
Airbnb's journey began with a simple idea: renting air mattresses to conference attendees. Their first product – the "Air Bed & Breakfast" website – had no maps, selection options or payment features; however, it resonated with people, proving the concept had demand.
Airbnb listened to users, adding features based on feedback. Today, it's a global hit, transforming how we find places to stay.
2. Spotify
In 2008 Daniel Ek and Martin Lorentzon put their initial objective forward: simplify music streaming. Their start-up product development started, leading to the operational debut of the initial prototype, Spotify AB. The MVP focused on delivering an intuitive platform with an extensive music library.
Users appreciated the seamless experience and the ability to create personalised playlists. Spotify's commitment to user satisfaction was evident as they incorporated user suggestions, refining their platform.
Over time, Spotify evolved into one of the leading music streaming services globally, redefining how people engage with music online.
Avoiding common pitfalls and learning from successful examples is vital in MVP development. Starting simple, listening to users and understanding the market are key elements on the way to success.
Interested in creating an MVP? Computools don't just provide a single MVP; instead, we offer a comprehensive development approach centred around the continuous, cyclical addition of new features to your product at any given moment.
This methodology seamlessly integrates all the advantages of an MVP into the ongoing development process, ensuring your product evolves dynamically and efficiently.
If you have any questions about MVP-related processes, please email info@computools.com.
Computools is an IT Consulting and Software Solutions Development company that helps businesses innovate faster by building the digital solutions or bringing the tech products to market sooner. Discover our collaborative approach and industry expertise that spans finance, retail, healthcare, consumer services and more.
Contact us →