The IT field is known for offering the highest-paid job across all sectors. About 300 million tech startups are founded annually, but only one in five ends up gaining a firm foothold in the market. The rapid growth of the IT sector has led to a high demand for programmers, coders, and developers all of which are mainly involved with software development. Plenty of IT companies are poised to train and hire young specialists with no experience. By contrast, startups encounter difficulties in hiring staff because many a startup programmer always has fewer perks and prospects in comparison with their counterparts working in more reputable companies.
If you are the CEO of a startup company that is looking for qualified employees but possesses no relevant technical background to evaluate a potential candidate's aptitude and abilities, this article is aimed at giving the basics of hiring the right workers.
3 things to consider when hiring a programmer
· Look for extraordinary talent. The job market is full of average employees. What you need is to discover gifted and knowledgeable programmers who will kick-start your startup. Don't think of lowering the bar if you have not managed to find a suitable person within a month. You don't meet rare individuals every day. So, be patient and try to use all possible resources to find a valuable programmer for a startup. If LinkedIn is not of much help, turn to other social media or recruiting agencies to expand your search area and increase the chance of running into a competent coder.
· Be open about future challenges. When interviewing potential candidates, you should put an emphasis on the complexity of projects they are going to work on. You should look for a person that is flexible enough to embrace changes during the project development. At this point, you can ask corresponding questions to see whether they are keen on overcoming difficulties and generating solutions.
· Don't count on a CV. A resume just lists a number of skills and working experience an individual has got, but it says little about the candidate's values, aspirations, and willingness to take the initiative in the workflow. For that reason, it is necessary to find out more about their achievements and what they are proud of. This way, you can get to know a candidate better and decide whether their vision complies with your company's goals.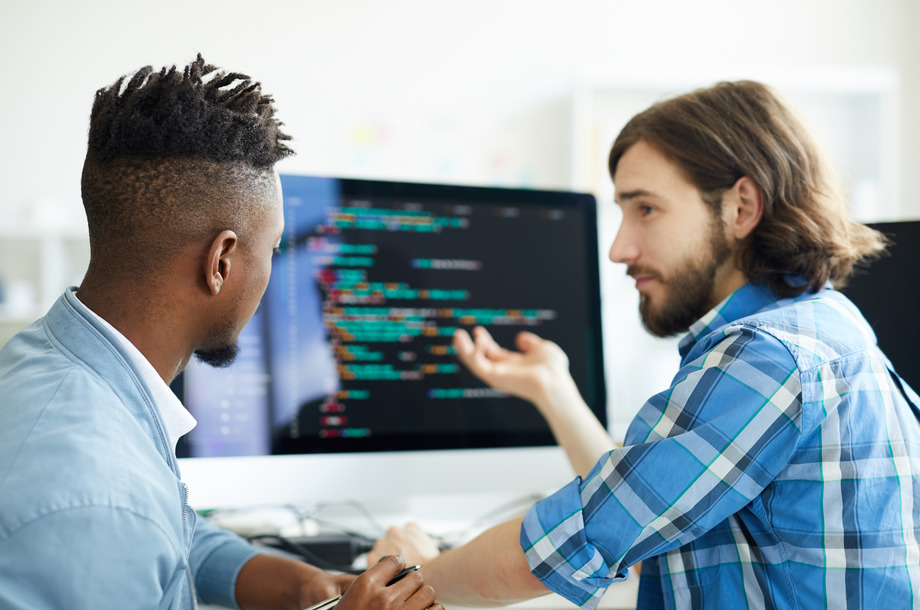 A step-by-step recruitment guide on how to find a programmer for a startup
This is the simplest way of conducting interviews to find coders quickly.
1. Make up the list of questions. Prepare a list of concise questions to use while speaking to a potential programmer. Organize them by topics and try to cover all possible aspects of the programmer's activity.
2. Engage experts in the interview. If you lack technical knowledge, it will be hard for you to assess the candidate's talents. In this case, the best option is to hold an interview alongside at least one professional who possesses the right expertise and can objectively say whether the person applying for a job fits this role well.
3. Evaluate their mindset. Though the programmer's work can be viewed as solitary and not associated with human interaction, the way of thinking appears to be decisive in whether the project becomes a success story. Look into the potential candidate's mindset and see whether he/she has the right approach to coping with challenges at work.
4. Assess communication skills. Not every programmer is expected to be excellent in teamwork. However, they should be good at conveying their ideas as well as building positive working relations. For this reason, you can ask the candidate about their past complexities and what solutions he/she used to mitigate them.

Want to outsource proficient software developers to work on your business projects?
Contact us →
What skills should a good coder possess?
If the person seems to be qualified for a programmer, these skills are considered a must for every coder alongside the requirements mentioned above.
· Good at time management. It is important to be reliable when it comes to working overtime and sticking to deadlines. Whatever the level of expertise, a coder should be disciplined and organized first.
· Able to learn quickly. Every new project is a new journey. A good programmer should be willing to absorb new knowledge and expand their domain of expertise by developing missing skills.
· Positive attitude. Besides deep technical expertise, a programmer should avoid negativity in the work and try to promote positive thinking in dealing with workplace challenges.
Why does any startup company need a team of professionals?
The reason why you should think of looking for programmers is that it gives you a solid ground for growing your business quickly and avoiding the common mistakes that laymen tend to make. By deciding to find an experienced programmer for a startup, you greatly reduce the risk of failing projects as it takes less time to come up with efficient strategies for successful project development. Similarly, your startup is likely to gain the client's affection faster as the quality of the product is no way inferior to what your competitors provide. As such, the decision to find a programmer for a startup is the first step towards building competitive advantage on the market.
For further inquiries
If you are currently reflecting on where to find programmers, feel free to contact Computools's expert group via info@computools.com. They stay up-to-date on the latest digital trends and provide consulting services to companies and enterprises that seek to incite business growth through smart digital solutions. They employ multiple resources and advise on where to find programmers and how to develop smart business models with the help of technologies that can potentially improve your business performance and lead to higher efficiency.
Computools is a full-service software company that helps businesses innovate faster by building the digital solutions or bringing the tech products to market sooner. Discover our collaborative approach and industry expertise that spans finance, retail, healthcare, consumer services and more.
Contact us →