Today, taxi applications have almost replaced traditional taxi services. Due to the abundance of taxi applications and high competition on the market, it's not enough to simply resemble your competitor and launch an app. There's a lot more to getting started in the right way and that's exactly what we're going to help you do. We'll go over how to choose the right business model, analyze competitors strategically, as well as select unique features to stay competitive.
Getting ready
Before jumping into how much it costs to create an app, we need to brainstorm your business idea, discuss the main goal, target audience, how your app should stand out among competitors, any specific features that your taxi app should provide, and the monetization strategy. It can drastically change the approach to the project and set of features.
What's important to understand:
● Do you already own a taxi company? Perhaps you have a set of rules that must be considered? How do you manage your business now?
● How many cars do you have?
● Which regions do you operate in? Do you want to expand your business?
● What are your company's working hours?
● How many customers do you have daily\weekly?
● What/how many languages do your drivers speak?
For the best results, we help you gather your ideas and conveniently organize them using mind maps, create buyer personas, and a business model canvas. It's a must-do step for any successful project.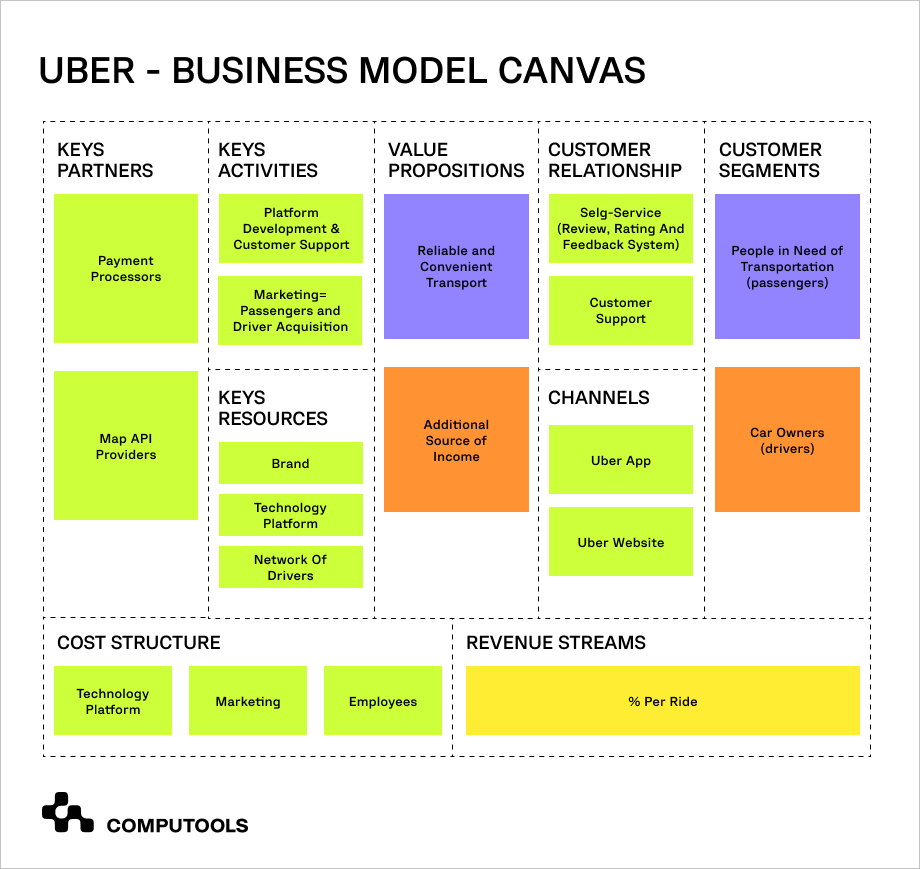 Features
When analyzing competitors, it's important to pay attention to the features and functionality of their apps. We're constantly analyzing sets of applications and here are the most crucial and commonly seen features in taxi applications.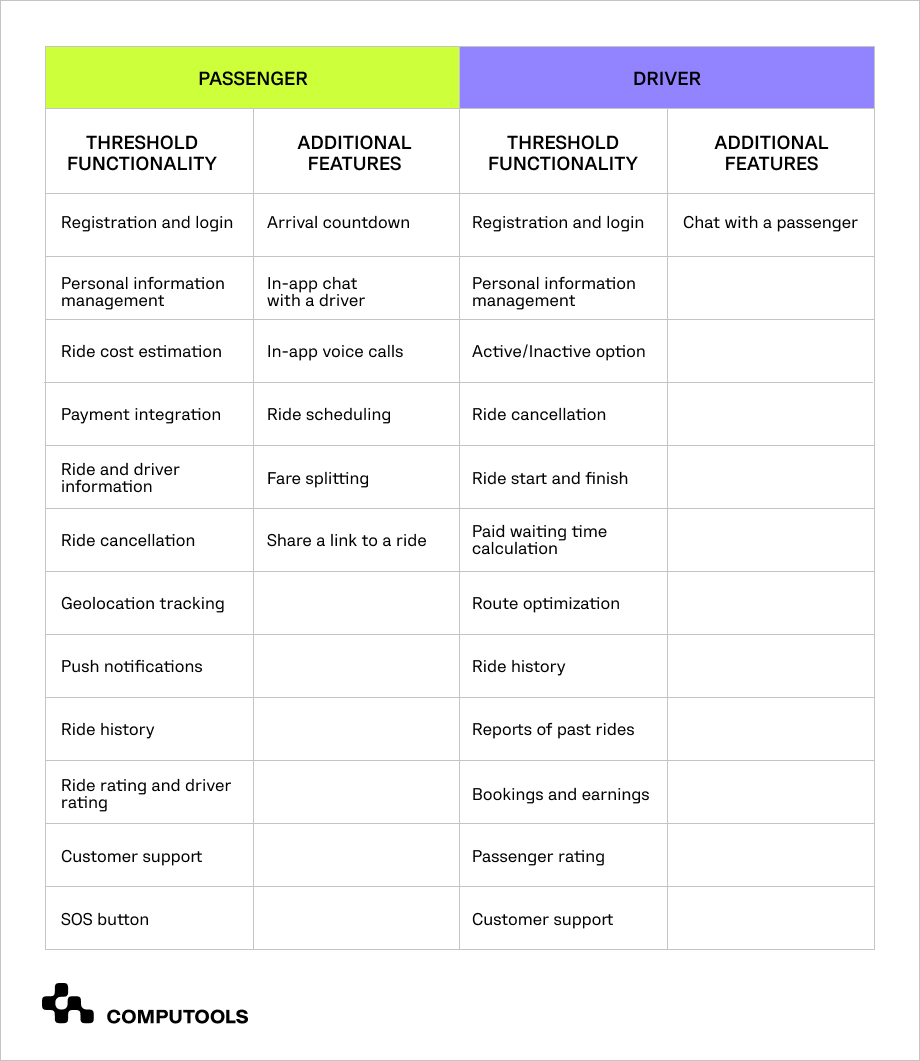 Apart from that, you need:
● An admin portal to manage passengers and drivers, edit vehicles, view ride details and organization reports, and contact the support manager.
● A CMS platform to mitigate conflicts and manage refunds.
What can influence the cost of app development?
When it comes to how much it costs to create an app, you have to understand that it all boils down to the following factors:
Features
The list and complexity of features is a major aspect of how much it'll cost to develop an app. The more features you would like to implement, the longer it takes to build, the longer it takes to build the more expensive it becomes. Desired features are described in the Software requirement specification document during the discovery phase.
However, there's no need to implement all possible features before initial release. For instance, Uber launched an MVP first and then gradually scaled up. Therefore, you can start with an MVP, then analyze users' needs, and plan your development process accordingly.
But to stay competitive nowadays, you can either find uncharted regions where big players like Uber do not operate yet or implement unique features. Depending on your business model, it could be a taxi for children, ridesharing, premium services, etc.
Want to stay ahead of the competition with your taxi app? We`ve got you covered, drop us a line!
Contact us →
Your business type
You may continue developing your current business or start working on a greenfield project. If you want to build a new app based on your business, you may want to transfer your business processes to the app, it may also require integration with other systems that you use.
Technology stack
Passenger and driver portals don't usually require a web app, so you can create a native or cross-platform application.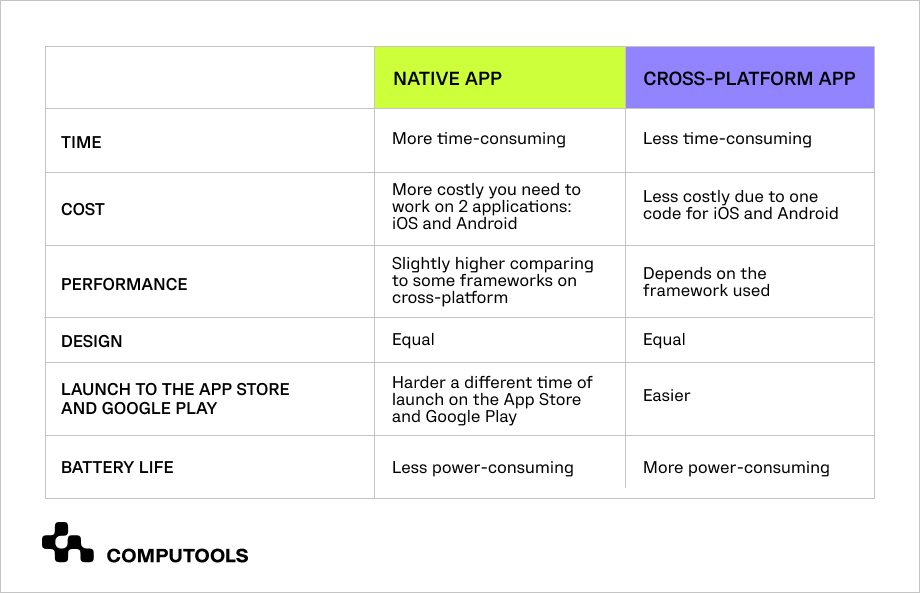 Unless you're looking into AR development, cross-platform apps are almost the same as native ones and there won't be a big difference in terms of business (but a little bit more complicated for developers). Therefore, both native and cross-platform apps are suitable for a taxi application.
How much does it cost to create an app like Uber?
If you want to know how to create an app like uber, there are at least 4 things to keep in mind: you need an app for passengers, an app for drivers, an admin portal, and a CMS platform that includes:
● UX/UI design
● Native iOS and Android app for passengers (front-end and back-end)
● Native iOS and Android app for drivers (front-end and back-end)
OR
● cross-platform app for passengers (front-end and back-end)
● cross-platform app for drivers (front-end and back-end)
● Web app for admin (front-end and back-end)
● CMS system (front-end and back-end)
● DevOps
● Project management
● Business analysis
● Quality assurance
According to our estimates, it'll take 3800 hours to build a cross-platform app like Uber and around 5500 hours for a native app for both OSs. Overall, an Uber-like app's cost will depend on the service provider as well as the team's skills and experience. You can look up the hourly rate of different software providers to get a little more information on the cost to create an app like Uber.
Have more questions about the development process? Not sure where to start? Hit us up at info@computools.com and get a free consultation.
Computools is a full-service software company that designs solutions to help companies meet the needs of tomorrow. Our clients represent a wide range of industries, including retail, finance, healthcare, consumer service and more.
Contact us →