The travel industry is one of the hardest-hit industries by the COVID-19 pandemic, but some research is encouraging. Although travel is still far from pre-pandemic levels, the number of tourists willing to travel is growing.
Companies are also steadily getting back on track; part of this is due to implementing innovations in the travel industry. However, there's still a long road ahead. This article will cover the top travel technology trends in 2023.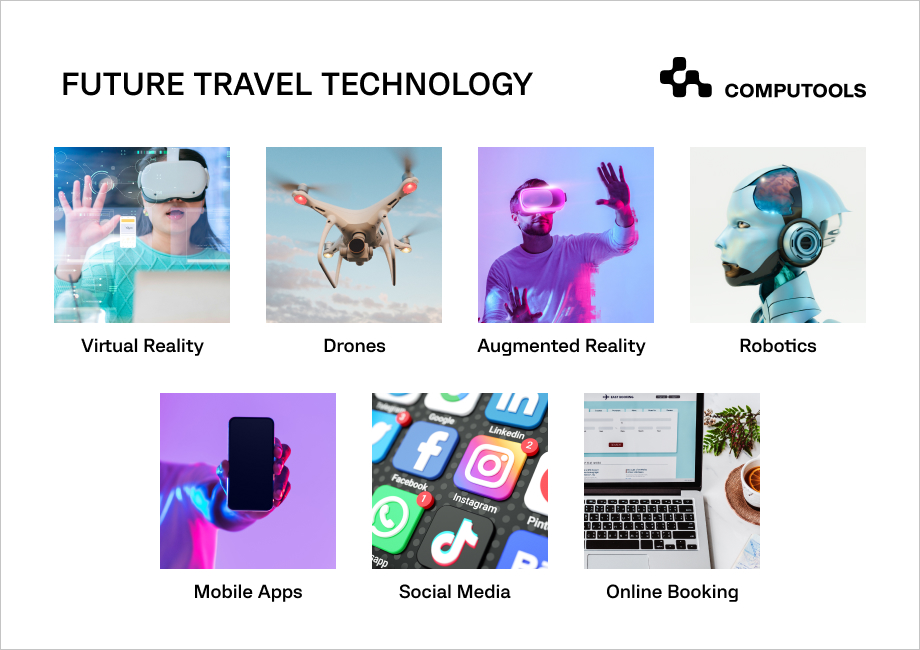 1. Mobile booking
Regarding travel planning and the booking process, we can see a continued trend in mobile bookings. Contactless payments, convenient cancellations, more personalization, loyalty programs, notifications, and insightful customer analytics drive many companies towards implementing mobile booking.
Although some research shows that desktop computers are still the main channel for planning vacations, the data forecasts that in the next year or two, the era of desktop/laptop bookings will end for the travel industry.
Technological advances, the emergence of new features for mobile devices, more affordable phones and tablets, and the growth of mobile traffic worldwide is propelling the adoption of mobile bookings as a common and comfortable practice.
Smartphones in countries like South Korea, Japan, India, and Brazil account for 60% of web traffic. European countries remain the most conservative, but even there, the growth of bookings made from mobile devices continues to increase.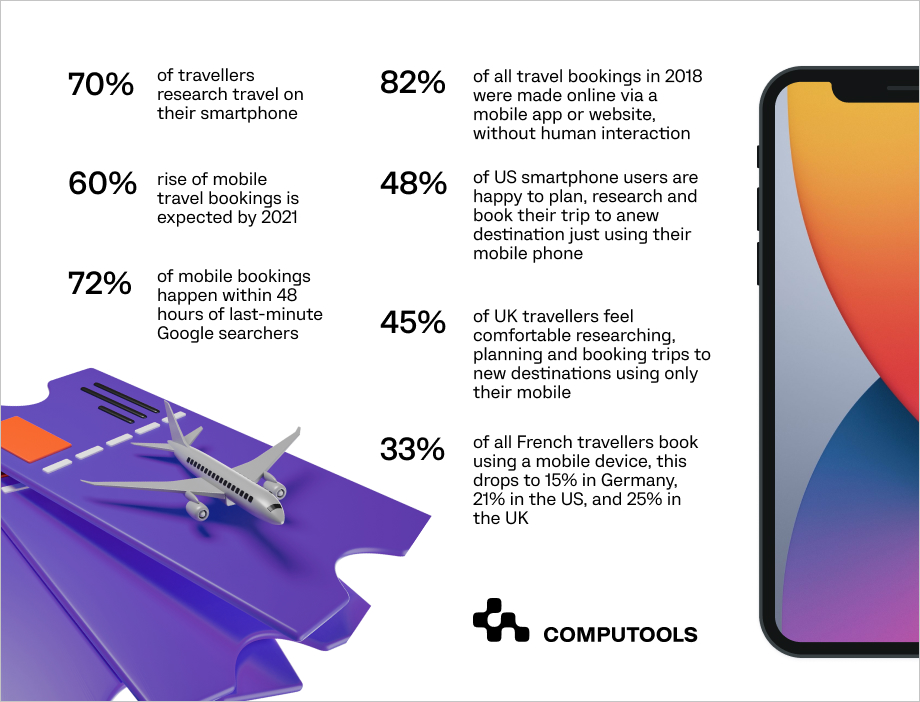 2. ChatBots
In the travel sector, chatbots are widely used because they can supplement mobile apps, making communication with customers and clients easier and more affordable.
Guests don't need to download an app because they can interact with their hotel using a solution they already know and use, greatly reducing development costs and increasing hotel loyalty.
Companies, in turn, can use chatbots to offer reservations in a few clicks, get customer data, and offer assistance 24/7.
In Q4 of 2021, Statista surveyed branded and independent hotels worldwide, identifying that chatbot usage is going to increase by 53% in 2023.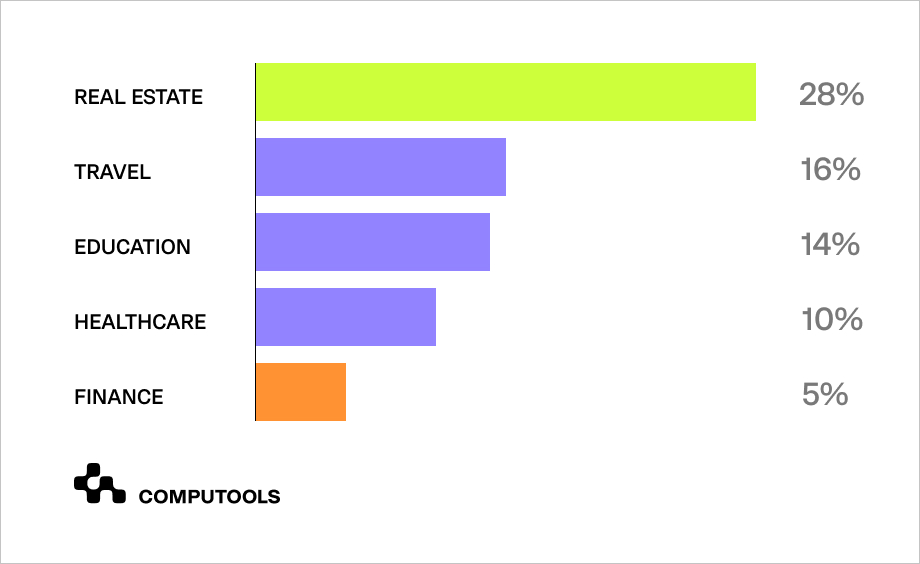 3. Big Data
In 2021, at least 50% of executives in the travel industry said that the integration of analytics tools was a necessary decision for their company and eventually proved to be beneficial for their growth.
With the growing mobile and web traffic, the Internet of things, AI, cloud solutions, and Big Data will gain traction throughout 2023.
These innovations help companies in the travel and tourism industry better understand tourists during vacations and holidays and understand tourist behavior.
Customer booking activities, demographics, socio-economic profiles, activity on social media, weather reports, and other Internet data help tourism, hotel, and restaurant businesses increase profits by personalizing services and offers.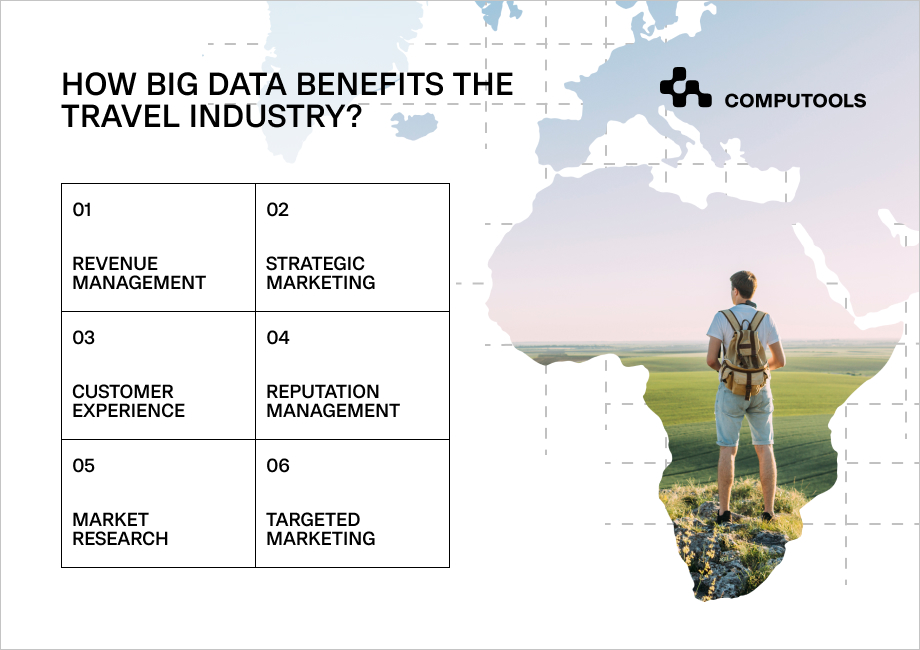 4. IoT
Globally, there are at least two benefits from using IoT technology in tourism.
First, it can help create a personalized experience for customers. Travelers can manage more services through their devices. Different systems can help to manage smart systems, room lighting, elevators, and even electrical circuits in hotels.
Secondly, by collecting the necessary data from these devices, companies can use them to create marketing campaigns.
Security and inventory control can also be improved with IoT.
Smart sensors can warn of equipment wear, water or gas leaks, and the presence of spoiled products in the warehouse. In case of unauthorized intrusion, a security system can call the police.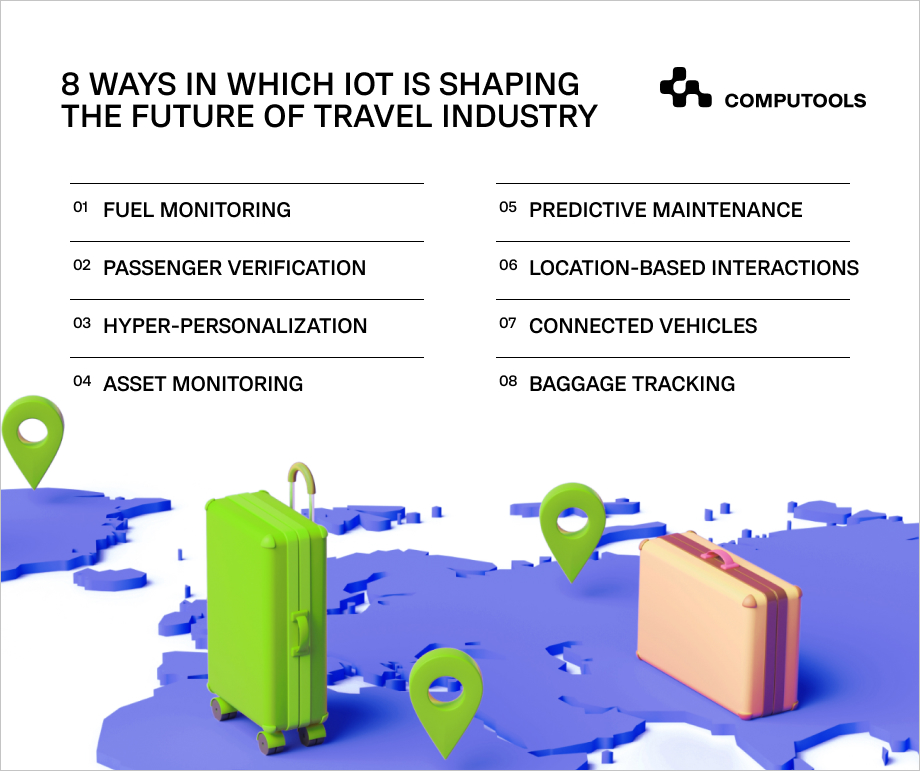 5. Contactless check-ins
According to the Statista Research Department, contactless mobile payment is one of the leading travel technology trends that increase customers` confidence in traveling.
Contactless technology in tourism is the basis for all global, modern, and technologically advanced payment solutions.
More than 5,000,000 merchants in 77 countries already accept contactless cards.
The biggest and most impactful benefit is the possibility to make purchases with different devices more conveniently, quickly, and most importantly, more securely. This leaves a positive impact on customer experience.
It is worth noting that contactless technologies are not limited to payment but also can be used for other trending solutions that are gaining popularity in the travel industry. These are digital keys, touchless lift panels, QR codes, eSignature, passport scans, etc.
Set a clear path for your digitalization with Computools's experts!
Contact us →
6. Cloud
The Internet is used in almost all major business processes within a travel company, from finding and attracting customers to the formation of offers and packages. The creation of tour routes, data storage, virtual call centers, and better control over the internal processes of a company are just a few of the benefits that businesses get when integrating cloud technologies.
In addition, companies save on the purchase and support of sophisticated hardware and software, significantly reduce the cost of data storage and processing, acquire the ability to scale, and are not limited to their own IT infrastructure.
As of 2021, nearly 55% of global travel companies have integrated cloud technologies into their service. In 2023, this trend will only rise.
7. Virtual touring
Today virtual touring is used mainly as a marketing tool that simplifies the planning of a trip and makes the process much easier by adding an emotional aspect to the consumer's rational decision.
As some studies show, virtual touring boosts customer engagement and completely changes buying behavior.
Real estate, venues, vacation rentals, and hotels are increasingly integrating augmented and virtual reality technologies in 2023.
Perot Museum of Nature and Science, the Louvre, and the British Museum are just a few examples that went mainstream and have already implemented virtual touring in their services.
The development of technologies dictates the necessity of new solutions in the internal processes of travel companies.
8. Robotics
What once was treated as a silly gimmick has now turned into new travel technology for many players in the industry.
COVID-19 greatly accelerated the development of robotics, becoming one of the biggest travel technology trends many companies have started to adopt.
GlobalData's Q3 2021 Consumer Survey identifies hygiene as one of the most defining factors in the customer journey.
Thus, the travel and hospitality industries seek to meet new and heightened customer expectations for safety and cleanliness and build customer confidence.
In addition, robots are also helpful in front offices. This includes robotic solutions such as facial scan check-in robots, temperature scanning robots, robotic parking systems, receptionist robots, and concierge robots.
9. Location-based services
While location-based solutions are often developed to attract new customers, they can also be used as recommendations for local visitors.
When existing or potential customers enter a certain geo-zone, companies can send them messages with sales information, new products, and any other content that might be helpful to the consumer.
As more and more companies look for the personalization of services for their customers, location-based marketing solutions will find their place among top travel industry trends.
10. Cybersecurity
The travel & tourism industry is one of the most sensitive to cyber-security threats. It's not surprising. After all, travel companies handle confidential information about their customers, and much of that information can tell a lot about their tastes, habits, and shopping preferences.
Information security can only be ensured by strict compliance with the rules established to protect personal data.
In addition, tourism is one of the industries that most frequently use online payments. Booking hotel rooms, booking air tickets, and other online payment infrastructures are common services in travel and tourism. Therefore, one of the most important tasks of travel companies is to process banking data securely and to implement all the security standards.
As more and more companies lean toward the above-mentioned travel technology trends, data security should also be treated as a core travel technology in 2023.
Conclusion
The development of technologies dictates the necessity of new solutions in the internal processes of travel companies. The go-to travel technology trends for 2023 are solutions for storing and processing large amounts of data, which companies then use to personalize services.
Therefore, in 2023, companies will continue their path of digitalization and the automation of their reservation and booking services.
However, other trends in travel and tourism like robotics, IoT, and contactless check-ins are also keeping pace and will be the focus for medium and large companies.
If you are planning to digitalize one of your services or looking for a particular solution, feel free to email us at info@computools.com to get a free consultation with one of our digital transformation specialists.
Computools is a full-service software company that helps businesses innovate faster by building the digital solutions or bringing the tech products to market sooner. Discover our collaborative approach and industry expertise that spans finance, retail, healthcare, consumer services and more.
Contact us →