The growth of cloud and IoT technologies opens up new directions for various areas of medicine. One recent trend that dramatically improves medical care is remote patient monitoring.
The remote patient monitoring (RPM) market is forecasted to reach $1.7 billion by 2027, with the North American region accounting for the largest share.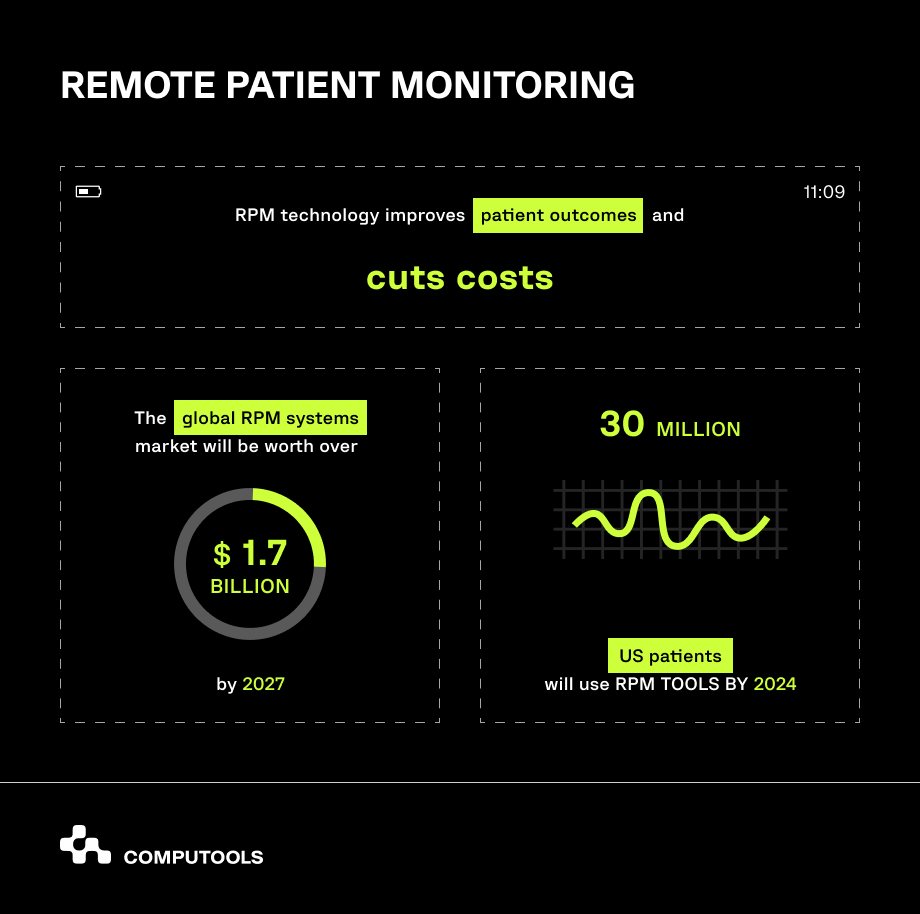 With the growing interest in remote patient monitoring apps, this article aims to outline their benefits, trending solutions, components, and challenges with implementation.
What is remote patient monitoring software?
A remote patient monitoring system is software that connects doctors and patients. It leverages web interface software, sensors, data centers, smartphone apps, and cloud-based services.
Remote monitoring systems open up new opportunities for diagnosis, prevention, and treatment.
Hospitals are increasingly adopting remote patient monitoring software and offering devices patients can use at home after hospitalization.
So how exactly does it work?
Hospitals are increasingly adopting remote patient monitoring software and offering devices patients can use at home after hospitalization.
RPM software development: main solutions and components
The main components of remote patient monitoring software can include the following:
• Sensors
• Local data storage, which ensures communication between sensors, centralized data storage, or solutions from healthcare providers.
• Centralized data storage that receives data from sensors.
• Software that receives data, develops treatment recommendations, and sends alerts based on the collected data analysis.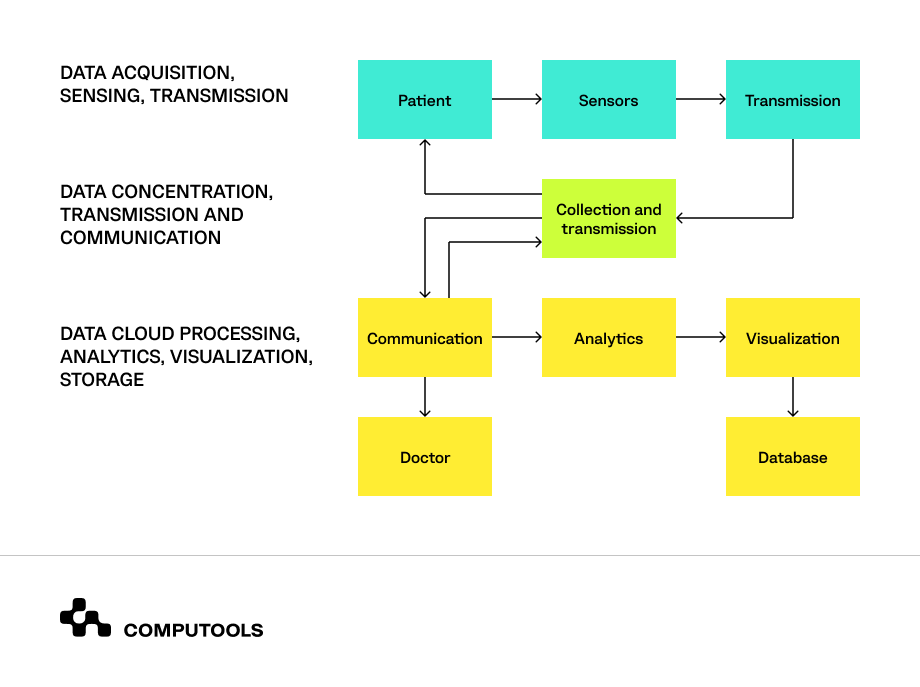 The concept of the Internet of Things (IoT) plays a key role during remote patient monitoring software development.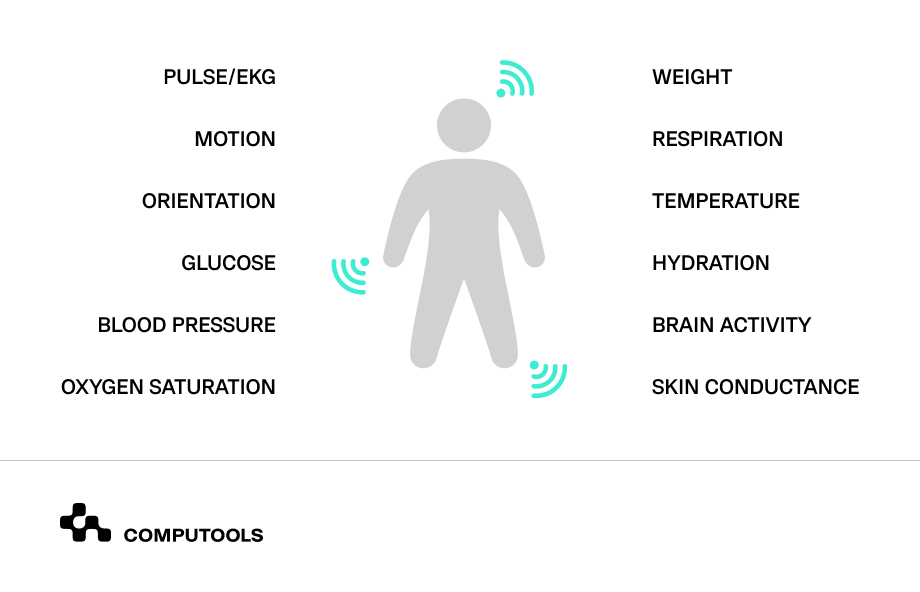 As an example, the following medical sensors from different manufacturers can be used here:
• Pressure sensors, which can also be used on portable medical equipment
• Embedded pulse oximeters
• Body temperature sensors
• Optical sensors for oxygen saturation monitoring
• UV radiation monitoring sensors
• Built-in heart rate sensors
Tech companies worldwide are developing new devices that help monitor patients' physical indicators remotely, prevent hospitalization and simplify life for people with diabetes, epilepsy, Parkinson's disease, chronic back pain, etc.
When it comes to the features of the RPM platform, they can include the following:
Notification module: enables real-time alerts for patients and doctors, notifies the attending physician and family members of an emergency, sends requests to the patient's app, etc.
Emergency module: monitors and recognizes critical situations and sends a signal to the application to check the patient's condition.
Analytics module: provides business intelligence tools and data visualization to access information in real-time and make relevant treatment decisions.
Online appointments: allow patients to schedule a visit with a doctor online easily.
Billing: simplifies patient billing processes and reduces the time employees spend on administrative tasks.
Videocalls: the telemedicine module ensures smooth communication with the doctor via phone calls, video calls, or text messages.
What are the benefits of remote patient monitoring software?
Remote patient monitoring software benefits many players in the healthcare market. Integration of RPM software can expand the business model of medical clinics, pharmaceutical companies, insurers, and even researchers.
Pharmaceutical companies can build new strategies for developing new medications and disease treatments, reduce future expenses, and increase sales.
Clinics and doctors can improve the quality of their services by better protecting themselves from unfounded patient complaints and manual errors.
Insurance companies can reduce the number of insurance cases by increasing patient liability and differentiation of insurance cases.
Regarding more avid benefits, remote patient monitoring software streamlines personalized treatment, opens new opportunities for new research and disease treatment, and saves healthcare organizations and patients costs.
1. Personalized treatment
First, remote patient monitoring software is useful for treating and maintaining the well-being of patients with chronic diseases, preventing complications in the postoperative period and unconfirmed diagnosis scenarios, reducing personal meetings with the attending physician, and maximizing the response speed of medical personnel in critical situations.
This leads to more efficient patient treatment and new landscapes for remote patient monitoring.
2. Opportunities for new research
Remote patient monitoring apps allow doctors to precisely define and accelerate the results of clinical studies of new medications or treatments by providing accurate and comprehensive data analysis and minimizing false interpretations.
3. Clear treatment process
For patients, remote monitoring software can boost the determination to improve their health condition, simplify treatment processes, and enable easier adherence to prescribed treatment.
Using RPM software, patients receive reminders and recommendations for treatment progress, track their results, contact doctors directly, and get consultations.
4. Cost savings
With the growing number of patients with chronic and cardiovascular diseases, around 86% of healthcare costs are attributed to the treatment of these diseases.
Adopting RPM software can reduce hospital visits by almost 35% and save nearly $5 – $10 billion per year for patients with the diseases mentioned above.
Hospitals and clinics can reduce operating costs by lowering re-hospitalizations, staff involvement, and physical visits.
Integrate remote patient monitoring software the right way!
Contact us →
Challenges of RPM software implementation
In the coming years, more and more healthcare providers will be considering RPM software development to reduce costs and improve the quality of remote care.
However, the implementation of this technology trails behind some challenges.
The main factors to consider when introducing telemedicine technology and remote monitoring are:
• Integration with current or future systems
• Security of patient data
• Restrictions of specific technologies in some regions
• Compliance with FDA, HIPAA, GDPR, HITECH, PIPEDA, and other healthcare regulations depending on the target region.
In conclusion: what to consider before implementing RPM software?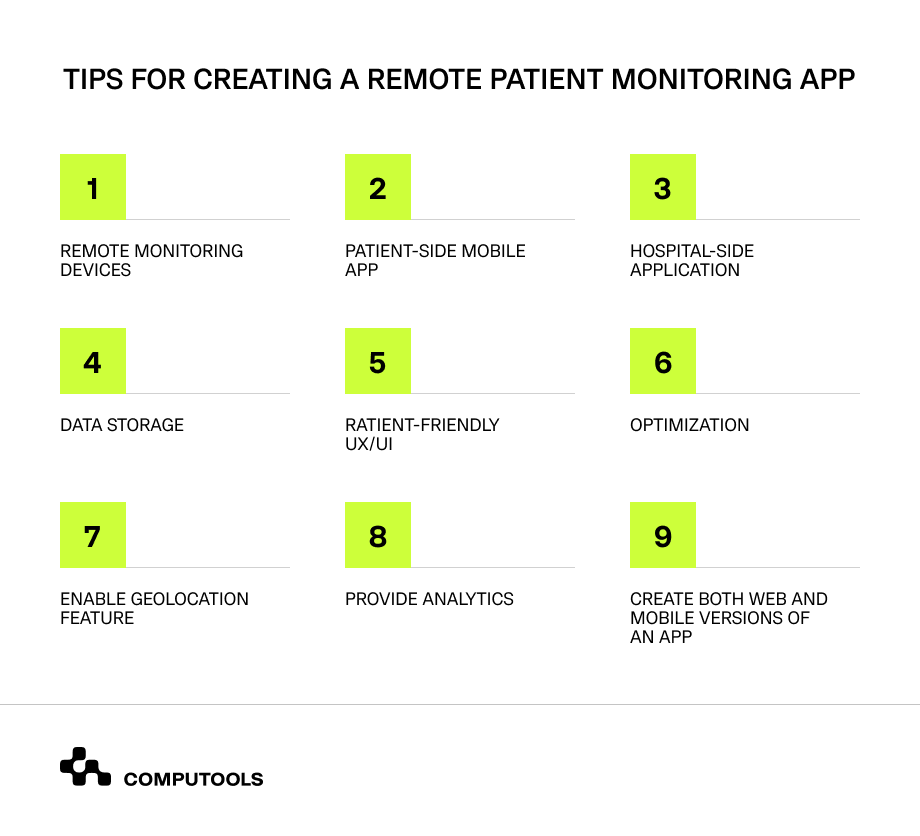 When implementing remote monitoring solutions, it's crucial to consider the following:
• Who is responsible for analyzing the data?
• For which diseases and at what stages should patients use this technology?
• In addition, special attention should be paid to the list of collected data. It must reflect the patient's actual condition, the course of the disease, and the effectiveness of the treatment.
From a technical perspective, security and development issues should be addressed. That can include:
• Safe data transmission between different components (mobile app, web interface, wearable)
• Integration with EMR and other systems
• Scalability
• The current state of IT infrastructure
It's also worth noting that remote monitoring technologies by no means exclude the need for in-person appointments. However, compared to classical patient monitoring and treatment methods, remote patient monitoring software offers more opportunities for early detection of life-threatening conditions, the reduction of patient mortality, and better control over chronic disease and patient overall well-being.
Remote patient monitoring software development is a complex process that requires expertise. If you have a project on your mind but don't know where to start, contact us at info@computools.com to book a consultation, and our experts will evaluate your project in detail.
Computools is a full-service software company that helps businesses innovate faster by building the digital solutions or bringing the tech products to market sooner. Discover our collaborative approach and industry expertise that spans finance, retail, healthcare, consumer services and more.
Contact us →