Outsourcing partial or full software development processes are standard in today's business environment.
IT outsourcing makes it possible to increase the efficiency of your IT department, reduce costs, and increase the time to market for new products. However, it's important to select the right contractor; otherwise, your entire project can crumble.
What is an offshore software development company?
An offshore software development company is a service provider located outside of your country and, in some cases, on a different continent specializing in designing and building digital products.
Offshore companies offer a wide range of software development services that may include:
• Consulting: assisting with decision-making in software initiatives;
• Business processes outsourcing: performing one or more specific business functions;
• Team augmentation (outstaffing): staffing the IT department with temporary employees to resolve hard-to-fill vacancies;
• Project management: leading your project's development until it's completed;
• Full-cycle software development: performing discovery, development, testing, deployment, and maintenance.
Offshore IT services have been around for a long time, but the demand for such services has skyrocketed since the start of the COVID-19 pandemic.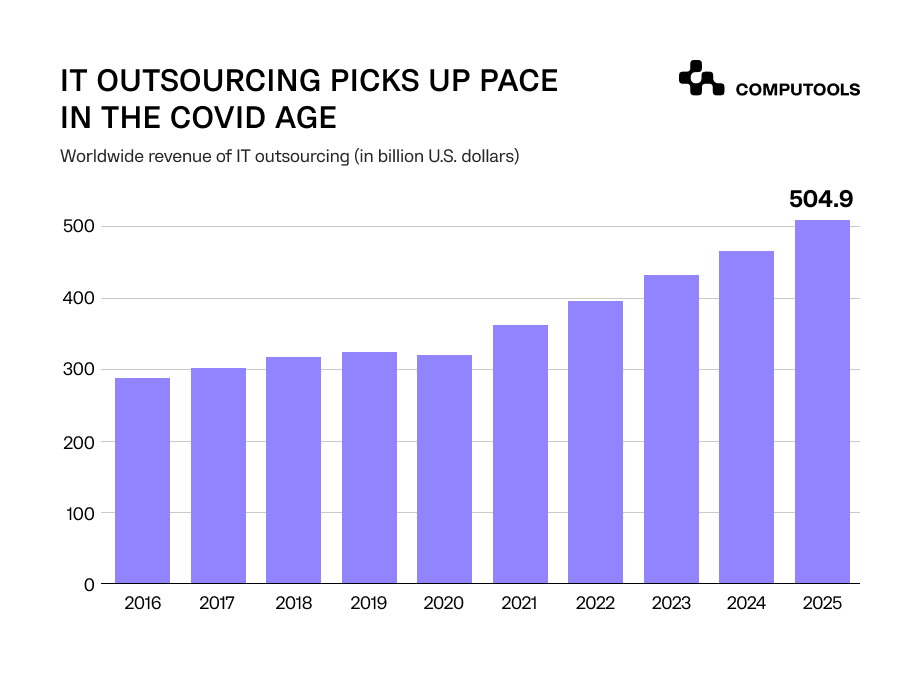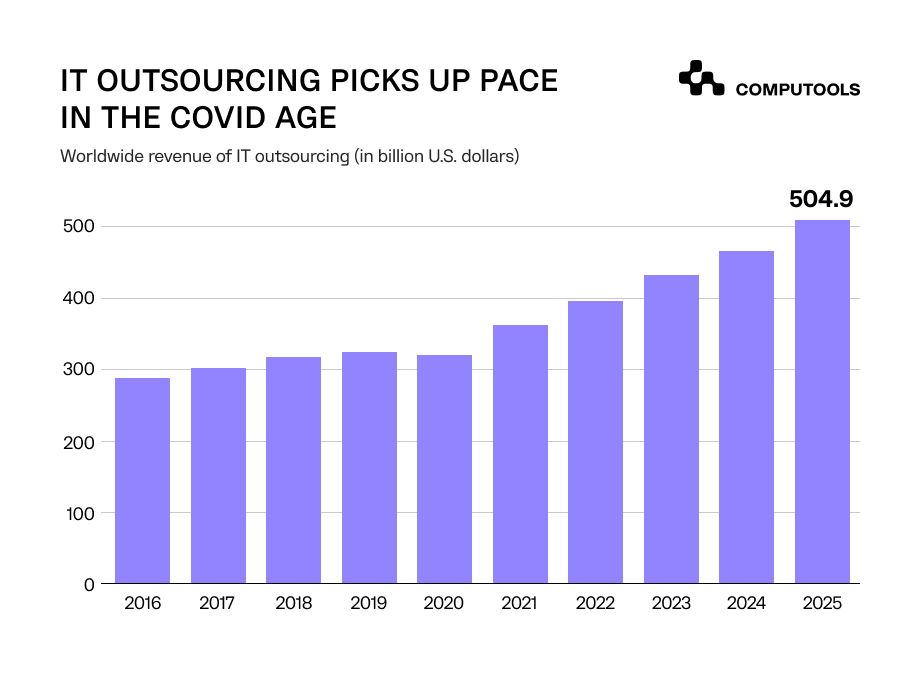 As outsourcing is a great opportunity to hire experienced specialists in a particular field, sectors that benefit the most from outsourcing services include: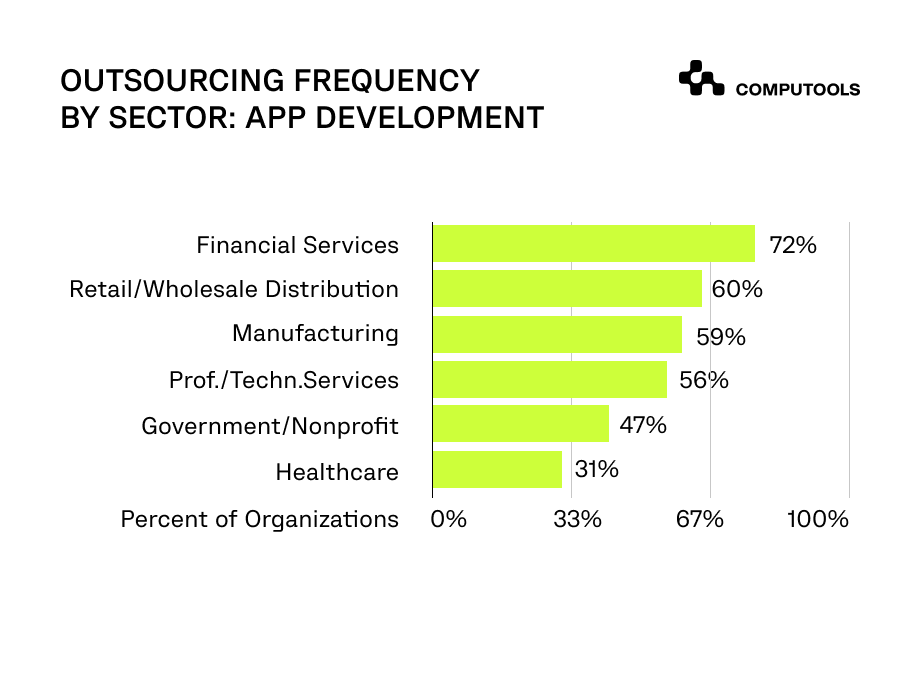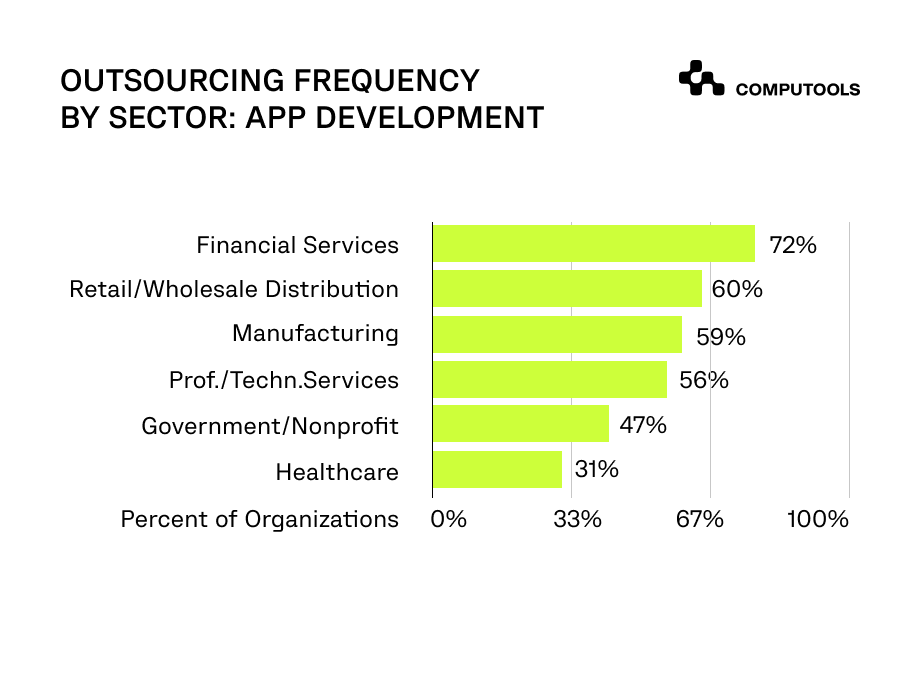 Benefits of offshore software development
Although cost-savings are one of the most significant benefits of outsourcing, allowing companies to achieve 10-25% savings, there is more.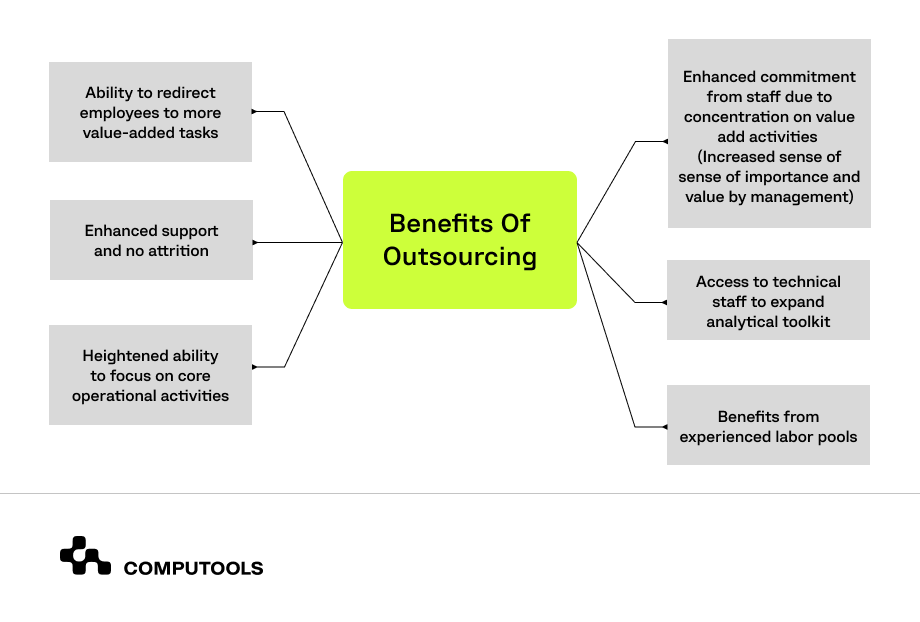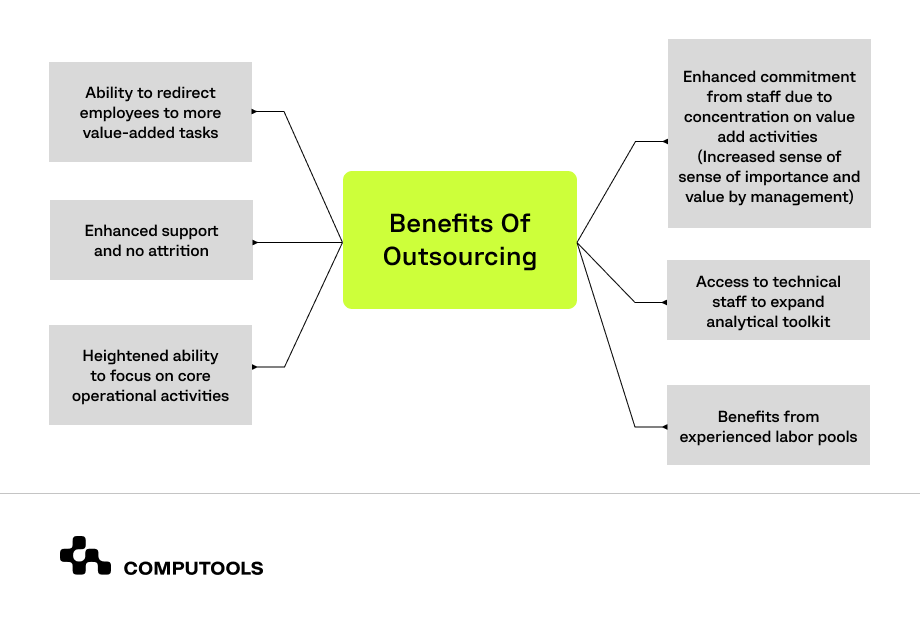 1. Reducing project deadlines
Compared to independent recruitment, cooperation with offshore companies significantly reduces the time needed to find and recruit highly skilled talent. Experienced offshore companies always have developers at hand that are ready to start work as soon as possible. By reducing the time for hiring and onboarding, you can increase project productivity and reach your goals faster.
2. Reduced costs
When hiring software engineers in-house, not only do you have to pay for the work of each specialist directly, but also bear additional costs: office rent, taxation, staff training, sick pay, and vacations. Resorting to offshore companies would give you access to competent, experienced engineers. And because they receive their salaries and perks from their direct employers, you won't incur these additional costs associated with hiring and maintaining staff.
Outsourced software development, among other things, gives you access to skills, specializations, and qualifications that your in-house staff may not have. And you can take advantage of this without radically increasing costs.
3. Access to a wide range of skills and specializations
Outsourced software development, among other things, gives you access to skills, specializations, and qualifications that your in-house staff may not have. And you can take advantage of this without radically increasing costs. This way, you'll supplement your development teams with experienced professionals.
Whether you're developing B2B software or a B2C solution, outsourcers can handle complex tasks without overburdening your operating costs.
4. Quality Control
Managing and controlling outsourced projects can be daunting. However, if you choose a reliable outsourced vendor, all activities of the engineering team remain clear and transparent. Therefore, they're easy to control.
An experienced contractor allows you to organize your project management processes so that you can match your project deadlines and have all of your product requirements appropriately implemented according to your vision. With the ability to choose your development strategy with outsourced software professionals, you can find the best approach to build and release your software product to the market on time.
5. Flexible Management
Outsourcing an entire software development team doesn't limit your project itself. You're free to select a payment model convenient to your business as well as set up product priorities for each milestone. Outsourcing is, above all, the opportunity for you to get qualified IT staff who know how to turn your vision into reality. It's convenient, fast, and less time-consuming than handling all the processes of software development on your own.
The more your product grows and scales, the more people you need to support it. It's possible to coordinate the work of a small IT team at the early stages of software development. However, if you are determined to serve the B2B sector, you are likely to face a high workload resulting from more users subscribing to your service, and at this point, pulling it off without DevOps and QA engineers is almost impossible.
Outsource software development the right way with Computools!
Contact us →
How to choose an offshore software development company?
When choosing an offshore software development company, multiple factors vary but typically are based on four pillars: location, expertise, costs, and security.
1. Check the company's range of services
Software development is a complex process, and code writing is just a small part. That's why it's important to find out what services a full-cycle offshore company offers. An outsourcing company that provides a full range of IT services will be in charge of your project at all stages, including design, development, testing, project management, and support.
In other cases, when you prefer outsourcing multiple contractors for different stages of development, at some point, you may need to put more effort into finding and signing with enough vendors to complete the project on time. Another crucial thing to consider is the expertise of the offshore company in your business area. For example, if the company's primary focus is mobile development, hiring it to develop a web SaaS solution might be ineffective.
2. Certifications
Look for certifications highlighting the company's specialty in different coding languages. You can typically find this on their website, but don't hesitate to request this information via email. In addition to company certifications, consider the engineers' certifications working on your project.
The International Association of Outsourcing Professionals (IAOP) publishes its rating of the top 100 outsourcing service providers every year, which helps in choosing the company that can do the job well and at the right price for the customer. You can also browse reviews on independent review websites.
3. Communication
Communication is critical when working with an offshore software development company. During the interview or initial consultation, ensure the spoken language is clear between you and the project managers. Similarly, pay attention to the interpersonal and professional skills of those who'll lead your project from start to finish.
4. Time zone differences
When outsourcing or resorting to offshore IT services, time zone differences can affect communication. Ensure that your offshore team can contact you whenever needed and join regular calls about the project's progress and further development.
5. Control
Control over the whole project is paramount when outsourcing software development services. Make sure that you an offshore software development company has project managers or team leads to steer the project to a successful conclusion.
6. Security
Ensuring data security should be top of the mind during outsourcing. Therefore, an offshore company should have good security policies and certifications (ISO 9001, ISO 27001), be open to signing NDA, use encryption algorithms, and have their solutions align with such international regulations as GDPR, CUI, CCPA, etc.
Find out if your offshore partner employs technologies to protect sensitive data and how they ensure leak-proof traffic.
Final words
Delegating tasks or separate projects to offshore development companies can help reduce costs, save time, and increase efficiency. However, only with competent managers will you be able to achieve the expected result and worry-free partnership.
Want to discuss your project? Feel free to contact us at info@computools.com and get a free consultation!
Computools is an IT Consulting and Software Solutions Development company that helps businesses innovate faster by building the digital solutions or bringing the tech products to market sooner. Discover our collaborative approach and industry expertise that spans finance, retail, healthcare, consumer services and more.
Contact us →