Online software can be extremely diverse, but whenever you hear someone's making an online transaction via a mobile app, you can be sure that online payment gateways are involved with this. If you think of online payment gateways as another tech buzzword confusing ordinary customers and making eCommerce solutions look even more complex in the eyes of young entrepreneurs, this article will help you learn more about this mechanism and find the top online payment gateway solutions driving today's digital market.
What is a payment gateway for apps?
A payment gateway for apps is cloud-based software that enables money transfer initiated by customers making purchases online. In essence, payment gateways act as a bridge between online buyers and merchants. They are intended to securely pass sensitive cardholder's data to their credit card processor and authorize a transaction. Payment gateways are one of many ways of how funds can be transferred from a buyer to a seller nowadays. You may be most familiar with an Electronic Funds Transfer at Point of Sale (EFTPOS), so-called an electronic payment system used at terminals by which shoppers make payments via their credit cards (debit or credit). Whether it is a payment gateway for an app or electronic payment system, funds always end up in the acquiring merchant's bank that processes a transaction.
Dream of a business app to promote your brand online and drive higher user engagement?
Contact us →
How do online payment gateways work?
Even though the online payment process is usually completed within a few seconds, it is made of multiple steps all of which need to be validated in order for a funds transfer to occur. Below, you can see a detailed explanation of what happens when you click on "Buy now" after filling in your shopping cart successfully.
1. The user inserts sensitive card information
2. Payment gateway processes payment information and checks if funds are available at the buyer's account balance
3. Payment gateway encrypts card details and forwards them to the acquiring bank
4. The acquiring bank sends a request to the international payment system (MasterCard, VISA, American Express, etc.)
5. Payment system checks the validity of entered data. The user may be asked to use a 3D secure sign in for secure authentication
6. After confirmation, the payment system processes the payment request
7. Payment system connects to the bank-acquirer and bank-issuer to initiate the needed checks and transfer money
8. Online payment gateway sends information back to the merchant's app
9. Money shows up in the merchant's account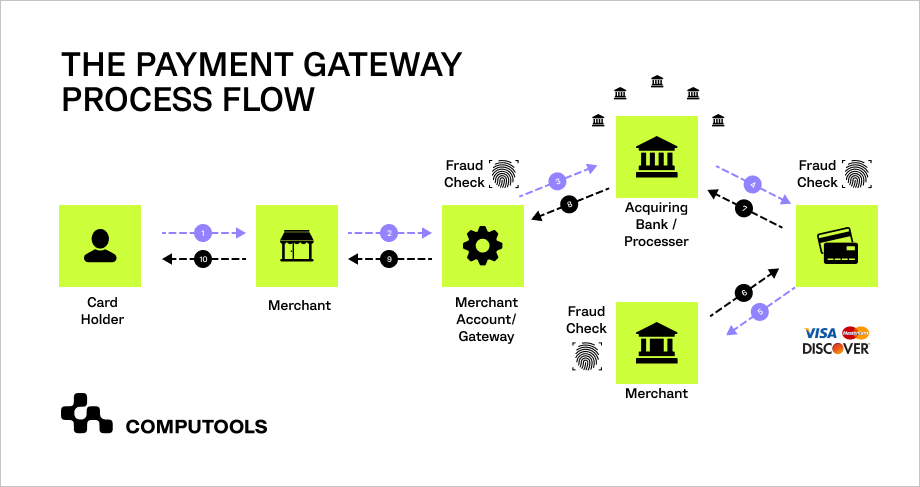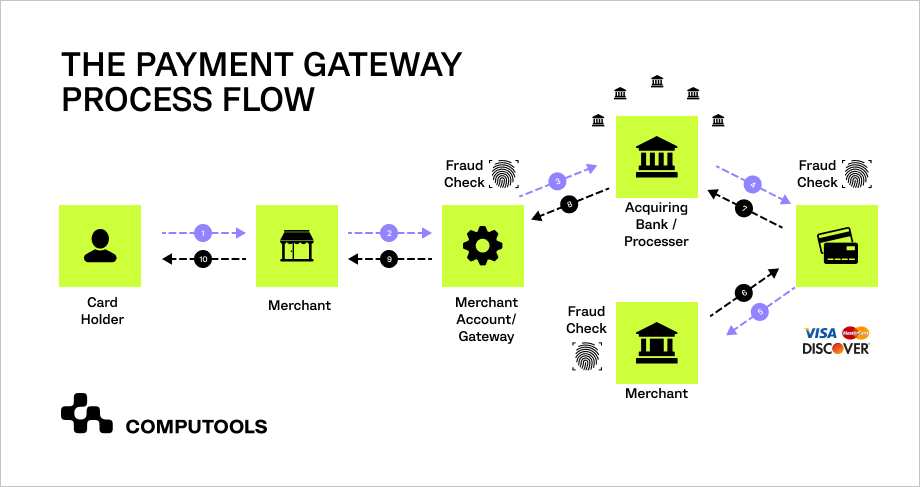 Most Popular Mobile Payment Gateway Providers
The reason why it's better to partner with an online payment gateway provider is that it is extremely troublesome and very difficult to support online payments on your own. It is also pretty costly because you would need to conclude agreements with different banks and apply for PCI DSS certification proving that your business is authorized to make money transfers. In general, this area of control belongs to banking institutions that take care of PCI DSS requirements (encrypted data transfer, strong firewall, limited physical access, and many more) and make sure payment gateways working with them are free of any fraud schemes.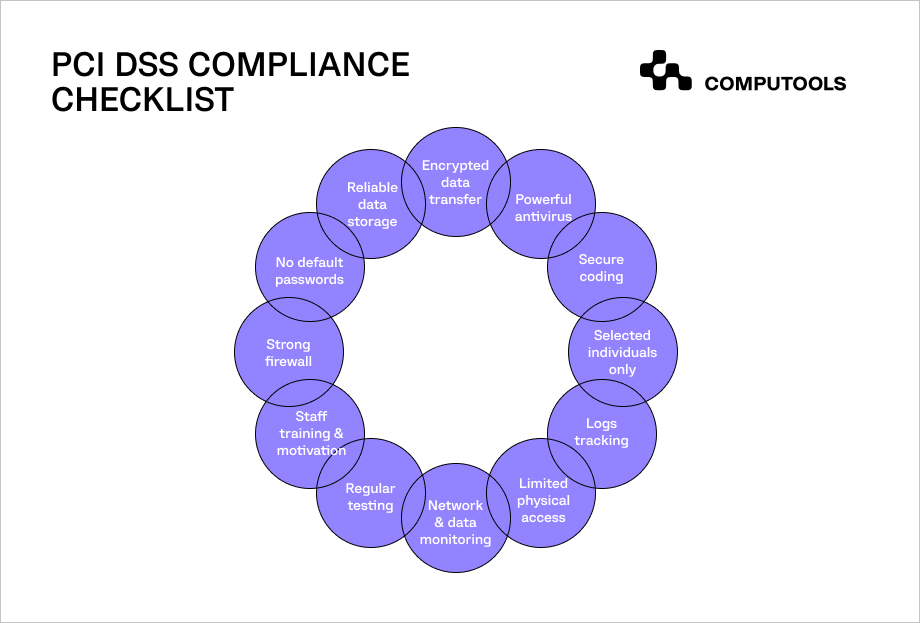 The most influential online payment gateways providers for mobile apps are PayPal, Square, Stripe, Braintree, Dwolla, Apple Pay and Google Pay. All of them are PCI DSS compliant, pose no high risk of money fraud, offer high payment processing speed, and support mobile payments. If you are thinking of going with a reliable payment gateway for your future mobile app, it's worth having a look at each of these.
Below is a brief specification of all these providers with the most prominent features to pay attention to.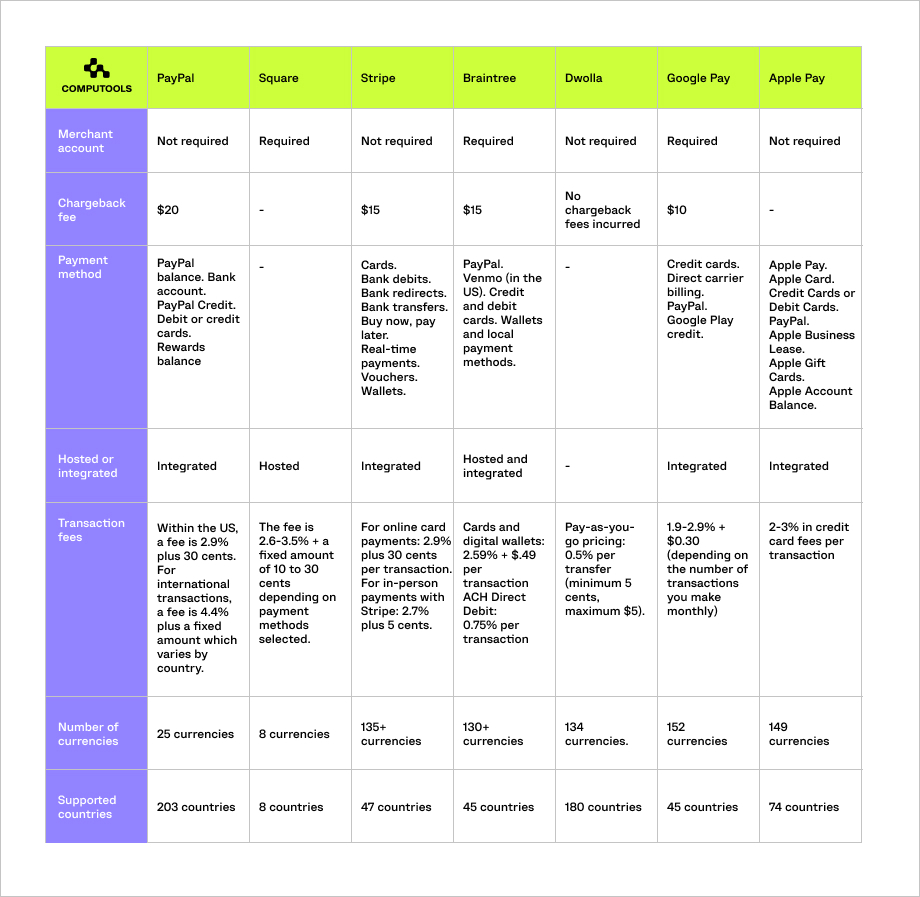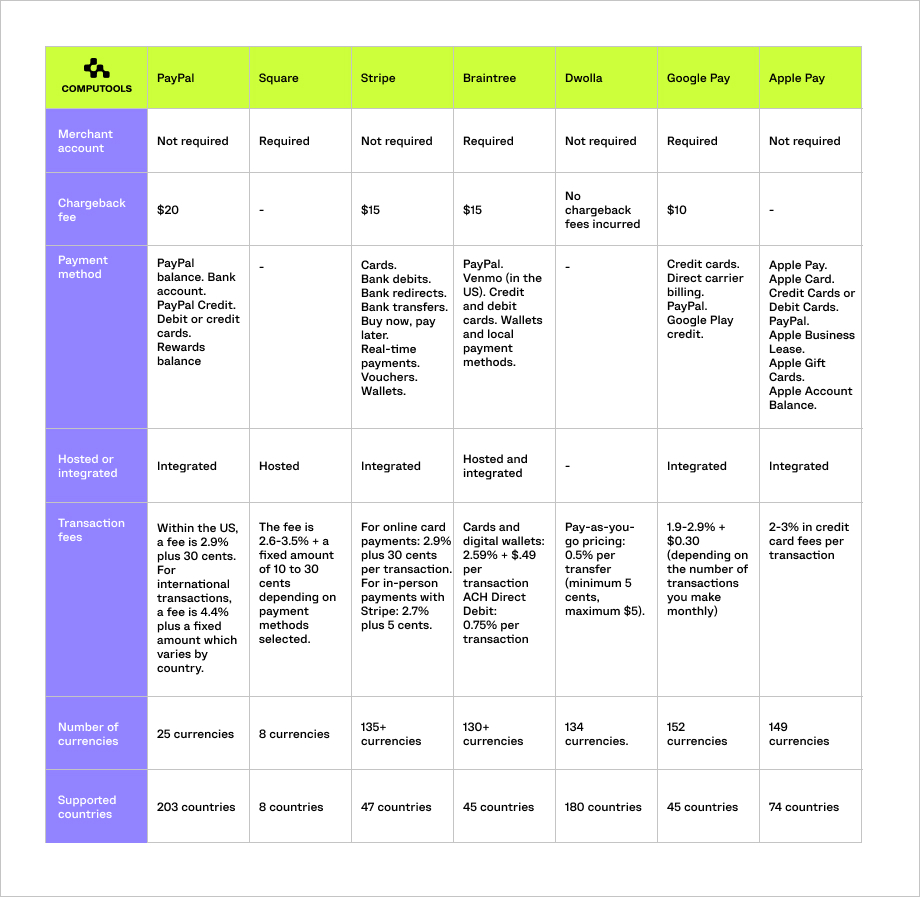 Last updated on August 23, 2022
How Choose Payment Gateway Provider
There is no need to say about the necessity of selecting a payment gateway provider wisely if you are planning to bill customers and take responsibility for the money they pay. There are a couple of things to consider before going with a particular online payment gateway provider.
The most influential online payment gateways providers for mobile apps are PayPal, Square, Stripe, Braintree, Dwolla, Apple Pay and Google Pay.
1. Look over a payment gateway's capabilities. The payment gateway should match your business objectives. Some payment gateway providers are best for online transactions only, while others support both online and offline payment methods. Say, Stripe is a win-win option for startups but not good enough for companies dealing with offline sales. By contrast, Paypal is a versatile gateway for any type of business. It's also important to know in advance what payment providers are okay with your audience and how much fees you will pay per each new transaction based on payment methods selected.

2. Research a provider's supported countries. Make sure the preferred payment gateway for your mobile app supports your target markets and relevant currencies. At early stages of business growth, few entrepreneurs think of expanding to multiple regions. But overtime, with increasing sales, most owners start offering their mobile app in more countries with attractive marketing opportunities. Whatever payment gateway you prefer, it is vital that this provider is equally possible to support payment methods you need (invoices, digital wallet, or ACH) across all areas you will ever work. For example, Dwolla is targeted at the US only and doesn't work with international payouts.

3. Check the level of support available for developers. Another no less important caveat is to know if your online payment gateway provides high-quality development support. With poor documentation or badly written API, your dev team will spend more hours adding new features or fixing bugs. Even when you are hiring the best IT talents, they would need way more time to get the hang of tricky tech documentation if your payment gateway provider doesn't place development support among their priorities. For instance, PayPal is known for not very supportive SDK/API, while Stripe is loved for amazingly good documentation and support service.
4. Examine an app store's rules. If you're going to publish your mobile app in app stores, some of them are quite strict in the choice of allowed payment gateways. For example, Apple Store favors Apple Pay only and requires it to be obligatorily supported for any app released in their store. They also allow for PayPal and debit/credit cards, but Apple Pay is a must. Google Pay is way more generous in accepting different payment gateways used in mobile apps. You can find the full list on their support page. Anyway, making an inquiry about the target app store and their rules may have an impact on your development.
Computools Is Driving Digital Transformation in B2B
The price for integrating your mobile app with a payment gateway is affected by many factors: number of app's transactions per month, app's ability to comply with PCI DSS standard, payment methods you'd like to support in your app, and countries/regions you'd like to serve. The quality and speed of doing this service also depends on how many people you want to onboard to work with your chosen payment gateway provider.
The most skilled and experienced developers will obviously cut down the time you are ready to spend on implementing all the required services to enable online payments for your customers. If you are looking for them, hit up our experts at info@computools.com to get a free consultation on how to find a good payment gateway provider and integrate your app with it.
Computools is an IT Consulting and Software Solutions Development company that helps businesses innovate faster by building the digital solutions or bringing the tech products to market sooner. Discover our collaborative approach and industry expertise that spans finance, retail, healthcare, consumer services and more.
Contact us →