The constantly changing market forces companies to quickly adapt to new requirements. The consumer-centered approach requires from all market participants a more thorough analysis of the target audience, its needs, and preferences. This leads to the search for new ways to engage consumers through the user experience. Many existing ready-made software solutions usually offer ways to solve this issue, however, only a custom software solution really meets the company's requirements.
Three Things to Concern While Picking Software Development for Small Business
When choosing between boxed solutions and custom software development, there are a few basic things to consider. More precisely, answer yourself to three main questions.
1. Does an out-of-the-box solution meet your needs?
If the existing solutions fully meet the requirements of your business and satisfy the needs, make a choice in favor of it.
2. How much time do you have?
This is one of the critical moments in software development. The creation of a custom solution takes place in several stages: a collection of information and analysis (consulting), design and architecture of the project (creation of an application or platform prototype), development (building an MVP), testing, debugging, and launch, maintenance, and optimization. None of these steps can be skipped, and each takes a significant amount of time. Ready-made solutions reduce time to market but have some other disadvantages.
3. What's your budget?
In the short term, ready-made solutions turn out to have lower costs, which makes sense for small businesses. However, in the long run, custom software for small business can be significantly more profitable than a boxed solution.
If your business requires a unique product, opt for a custom solution. If you're looking to shorten your time to market as much as possible, you can use a packaged solution, but be prepared to face scalability and data security challenges.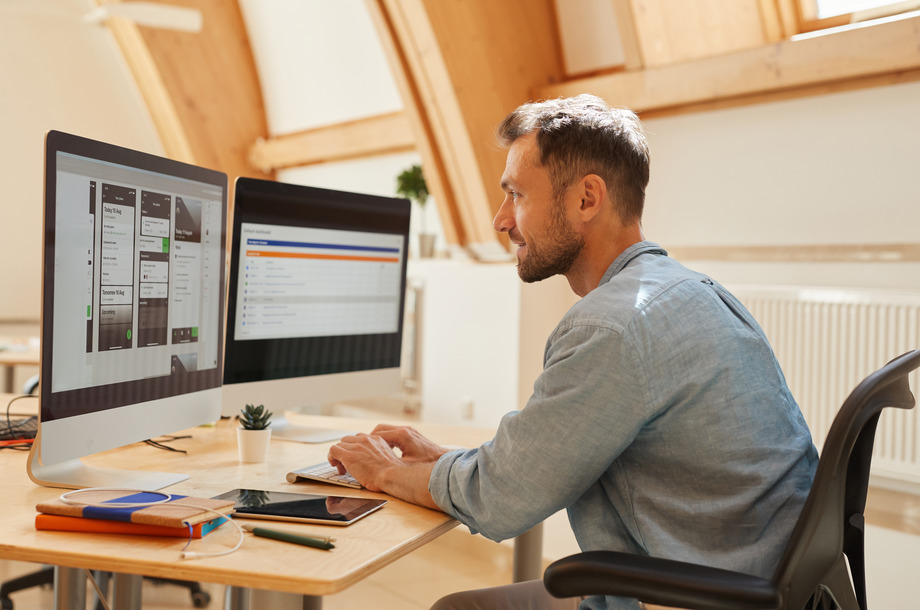 How Custom Software Development Benefits Small Business
So, the software solution should match the goal and needs of your business. What if, answering the questions above, you got two out of three and still have some doubts? Explore the benefits of custom software solutions that can boost your business.
1. Meet Specific Needs of Your Business
A wide variety of packaged software solutions offer sets of options and functions for any need. However, each company has its own peculiarities that must be taken into account. This is especially important when creating a unique product with options that competitors do not yet provide. When an original application or platform is released to the market, custom software development for small business solution becomes the perfect choice.
One of the main advantages of custom software is that it fully suits your business needs as it is built from scratch. The developers conduct a deep analysis of the problem or project idea, find out all the necessary details, take into account the specifics of the industry or niche of your business, conduct a risk analysis. Thus, choosing the best way to create a product for your company.
2. Reduce Costs in Long-term Perspective
When it comes to software development for small business, the issue of cost and expense is at the top of the list. At first glance, off-the-shelf solutions are more attractive than custom development. However, this is where the first pitfall lies.
In an effort to reach as wide an audience as possible, out-of-the-box solutions offer many features that may in fact be useless for your business, while the options you need will be too few.
It is also necessary to take into account that a low cost in the beginning does not mean that it will not increase in the future. Often, you rent a ready-made solution and have to pay for it monthly or annually, which significantly increases its cost.
The custom software development process requires more time and money but brings more benefits from a long-term perspective. It is an investment that will bring profit and a competitive edge to your business.

Dream of growing your company into an international leader using the latest technologies?
Contact us →
3. Scalable and Fully Customizable
Scalability is also among the benefits of custom software development. Choosing out-of-the-box solutions, you are limited by the functions that are already there by default and you are unlikely to be able to get something new until the owner of such a solution decides to update it.
At the same time, your business grows and so do your needs. This means that over time, you will need to add new capabilities to your application or platform, which is very easy to do with custom software development for small businesses. Yes, this is another long-term investment, but this way you avoid future scalability and customization challenges.
4. Automate Daily Routine Tasks
Automating manual processes is the key to improving user service, increasing employee productivity, and company profits. Software development for small business based on out-of-shelf solutions can help in this issue only in the initial stages. Expanding the business and increasing the amount of manual and routine work is usually quite challenging for out-of-the-box solutions with their limited capabilities.
Custom software for small businesses is fully responsive and can be created with future growth and expansion in mind. This will save time and money on business reorganization and optimization.
5. Provide Better Protection from External Security Threats
The number of hacker attacks is growing from year to year, their main goal is to obtain classified information of companies and personal data of users. Most often, companies from the financial sector and healthcare are at risk. But even if your company is in a different industry, data protection is just as important.
Custom software for small business provides more robust data protection against hacker threats as it uses additional tools for this. Firstly, it is not publicly available, and secondly, special security code and encryption are used. A custom software agency takes care of the security of its clients' information, so with a tailored solution, your data is under a secure lock.
Packaged software solutions are more susceptible to attacks and easier prey for hackers since they are created for widespread use and the source code is easier to crack in comparison with a custom solution.
6. Get Support, Maintenance and Assistance as Long as You Need
As mentioned before, as a company grows, the software must grow and change as well. This means that the duration of maintenance should also not be limited in time or by the capabilities of the boxed solution.
When using out-of-shelf solutions, you become a hostage to circumstances: in case of problems, you cannot solve them on your own, while conflict-resolution procedure usually takes 48 hours, which can be crucial for a small business. Besides, if the owner of the solution decides to stop supporting it and update it, there is not much you can do about it.
Custom development of software solutions removes such restrictions, allowing you to constantly improve and evolve your software in the required directions and scales. Moreover, for a custom software development firm, you are the number one customer and can count on quick solutions to any problems.
Custom software is designed for the narrow and unique requirements of the company. It scales, grows, and changes according to needs. What's more, it provides better data protection and has long-term maintenance. All of this makes custom software development a worthwhile investment for small businesses.
If you'd like to learn more about how Computools's custom software solutions will improve your business performance, please contact a specialist via email info@computools.com or use the form below.
Computools is a full-service software company that helps businesses innovate faster by building the digital solutions or bringing the tech products to market sooner. Discover our collaborative approach and industry expertise that spans finance, retail, healthcare, consumer services and more.
Contact us →