The Coronavirus pandemic has brought many changes to the world. Besides huge losses and continuous global lockdown, it made humans redefine the way they maintain their health. The global medical community has recognized the necessity to provide medical care remotely across all countries. Sadly, a large segment of the healthcare market remains obsolete and in isolation from the IoT. The numbers say that global healthcare spending will reach over $10 trillion by 2022, but it could double or even triple if more medical facilities embarked on digital transformation.
Computools specializes in healthcare software development and has been supporting multiple healthcare providers in digital transformation. The IT outsourcing company offers a big number of IT consulting services that help to improve patient experience and optimize the workflow.
Let's look at the most used types of healthcare software in clinical settings.
POPULAR TYPES OF HEALTHCARE SOFTWARE
1. Electronic Health Record (EHR) Software
EHR software is the number-one type of hospital software designed to optimize the management and processing of patient records. The medical system gives access to the patient history, medications, treatment plans, laboratory and test results. Having it all in one place streamlines the workflow as a result of which medical practitioners are able to deliver quality healthcare. Some EHR systems are integrated with a financial panel that simplifies financial operations, such as invoicing and accounting and controls the access to medical services.
2. Medical Research Software
To empower medical workers with strong knowledge and medical literature, a number of health facilities have medical research software. This type of medical software is needed to facilitate the process of learning in nursing programs and medical staff training. Using a medical research system, healthcare personnel can search through tons of useful information, including scientific papers and real-time clinical cases that give them the right image of how they should solve one or another problem. Unlike education in medical institutions, hospital training requires a higher level of preparation that can be delivered using medical research software.
3. Medical Diagnosis Software
The purpose of medical diagnosis software is to assist healthcare professionals in making correct diagnoses in short terms, especially when it comes to patients requiring urgent aid. This medical system is aimed at detecting health risks and providing essential information that a doctor may need to diagnose a sick person correctly. Lots of medical diagnosis tools are supported by AI that enhances the accuracy rate. The major advantage of this medical software is quick and real-time support to medical staff that relies on AI assistance at a critical time.

Need to simplify access to healthcare records and manage patient workflows efficiently?
Contact us →
4. Medical Imaging Software
Compared to EHRs, medical software systems used for MRI/CT/PET scanning and 3D modeling are less prevalent in hospitals, but their usage is critical in ensuring correct diagnosis in the department of orthopedics, dental surgery, neurology, cardiology, oncology, obstetrics and gynecology, mammography, urology, and nephrology. The need for medical imaging systems takes place in clinical cases when a patient needs a tailored body part that can be made through 3D printing. To put it simply, this type of software for healthcare lets caregivers automate medical examination and deliver a better quality of medical service where possible.
5. Medical Database Software
This type of software for healthcare facilities is used to enable effective data collection and management. Unlike EHR software, the purpose of medical database systems is to categorize medical records and make it easier for medical personnel to access and use health information. A typical system of this kind collects and groups medical data by disease. This health record categorization lets healthcare professionals browse and study similar cases, creating treatment plans for patients.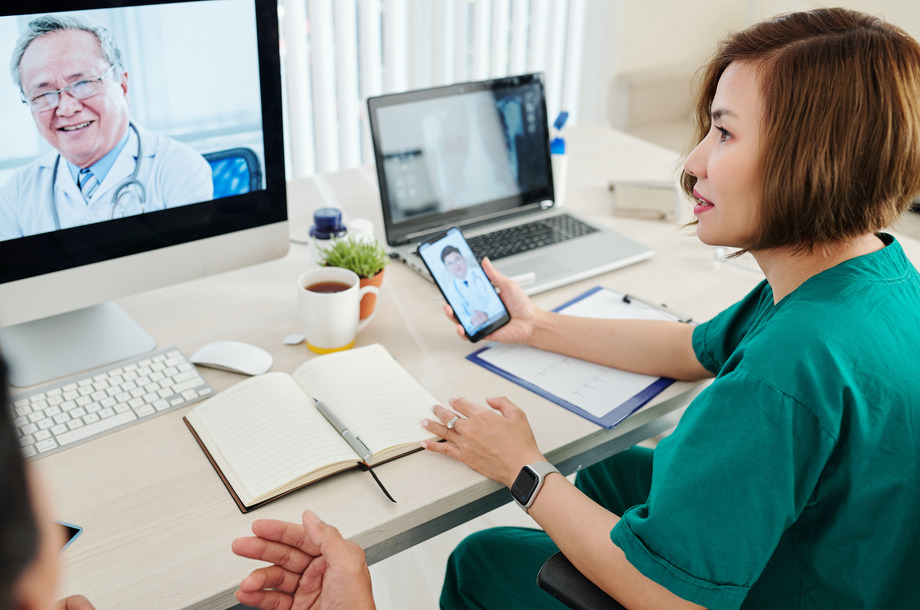 6. Healthcare Billing Software
Health billing systems are among the most valuable types of healthcare software in terms of managing financial operations. This system allows reducing the risk of error in payments and invoices as a result of which hospitals can save on labor costs. The main advantages of billing software are automated reporting and reduced paperwork. When a billing system becomes integrated with EHR software, medical organizations achieve better efficiency as data collection and processing take place without human intervention.
7. Healthcare Scheduling Software
Another important medical software example is booking software that automates appointment scheduling. This type of system has a dashboard that allows patients to book an appointment with a healthcare practitioner online. The healthcare scheduling system notifies doctors of scheduled visits and helps patients to be on time, sending reminders by email or on a mobile app. The use of scheduling software leads to effective patient flow management. The need for non-medical staff decreases without degrading the quality of healthcare.
8. Hospital Management Software
Hospital management software is meant to automate the operations that are not involved with care delivery, such as facility maintenance, inventory, bed management, etc. Designed specifically to help hospital administrators, a management system performs different functions among which pharmacy monitoring, supplies monitoring, patient registration, utility bills, etc. Having this medical software in place ensures improved hospital performance as medical and administrative staff perform procedures faster and with less effort.
9. Telemedicine Software
Telemedicine is the fastest-growing sector in the healthcare industry. The outbreak of Covid-2019 signaled the urgency for introducing a telemedicine system across all hospitals and clinics. A standard telemedicine system supports online appointments and videoconferencing that together establish productive patient-doctor relationships. Telemedicine software allows healthcare professionals to provide medical examination, treatment, and recovery online. It makes medical care more accessible and cheaper to numerous individuals that live in rural areas or have no clinical facilities in close proximity.
10. Personal Health Record Software
Also called medical diaries, personal health record software is intended to help patients keep track of their diseases and reduce the chance of relapse of their illnesses. It is the most essential type of healthcare software to be implemented in every hospital. This medical system lets people know their symptoms, sensations based on which the doctor can track their health condition remotely. Health tracking diaries are extremely needed for patients that require out-patient care and need continuous monitoring. Many personal health record systems are designed to send regular health reports to healthcare providers and alerts if the patient's condition is worsening at an alarming rate.
If you want to find out what innovative solutions can support your clinical activity, write to us at info@computools.com.
Computools is an IT Consulting and Software Solutions Development company that helps businesses innovate faster by building the digital solutions or bringing the tech products to market sooner. Discover our collaborative approach and industry expertise that spans finance, retail, healthcare, consumer services and more.
Contact us →