The healthcare industry has experienced a decline over the last decade. The health-care costs keep growing. Many clinical facilities cannot cope with the physician shortage. Chronic conditions are on the rise. All these challenges are a result of the traditional medical system being imperfect and unable to provide quality care for every person. The weaknesses of the medical industry largely result from digital transformation that is shaping now numerous sectors and entails major changes to human behavior and needs.
The digital world pushes people to look for convenient and easily accessible solutions that allow for getting the same real-world benefits without spending much time and effort. Telemedicine is one of these solutions, which can lead to a new level of healthcare service quality.
What Is Telemedicine in Healthcare?
Telemedicine is the delivery of healthcare services remotely using a variety of online communication tools. It enables more personalized medical care that is accessible to a wider segment of the population through technological solutions and leads to considerable improvements to healthcare services. Telemedicine should not be equated with telehealth which is a broader term that involves the distribution of healthcare services and information with the help of information and communications technology. Telemedicine in healthcare is now viewed as a turning point in the history of healthcare as remote medical solutions are expected to improve access to medical care for the majority of the world's population and make it more affordable and less burdensome.
Brief History of Telemedicine in Healthcare
Telemedicine has been transforming the medical system since the 1940s. It started as an initiative to facilitate communication between clinicians who used first telephone lines and then videophones to discuss treatment options and decisions. Today, telemedicine relies on a larger number of tools for medical information exchange. Most consultations are held through video conferencing that lets physicians at different locations examine the patient's condition and make prognoses. Though not every telehealth service is covered by insurance, it is still an excellent way out for people living in rural areas with no access to primary care to get instant medical aid, if necessary, and stay in touch with their physicians.

Need to transform your healthcare service with advanced telemedicine solutions?
Contact us →
How telemedicine is changing healthcare?
The value of telemedicine boils down to the following advantages:
1. Cost savings
Telemedicine in healthcare leads to cost optimization on every level. First off, the use of medical practice management software spares care providers from doing paperwork and administrative tasks and thereby helps them perform their duties effectively. Many AI-powered virtual assistants are programmed to manage appointment scheduling and billing. This automation reduces the risks of errors in documentation and reporting, entails an increase in productivity, as well as eliminates the need for personnel to be involved with these activities. As a consequence, the costs of care delivery in medical facilities with automated processes decline, which has a positive impact on the provider's budget.
2. Equal access
Telemedicine is the most feasible solution to making medical services universally accessible. Healthcare providers can reach out to more patients through virtual online consultations. Video conferencing through mobile apps has two major advantages. First, it saves patients from spending a lot of time on the road and waiting. Second, it gives more space to the neediest patients that require immediate medical aid and cannot wait. Third, it is the best option for immobile patients who cannot make frequent in-person check-ups. Since virtual visits imply sharing images and information between sites, doctors are able to provide valuable consultations remotely based on the analysis of the information given by patients. Besides, virtual visits are a good way for a care receiver to be protected against infectious diseases that typically spread in hospitals.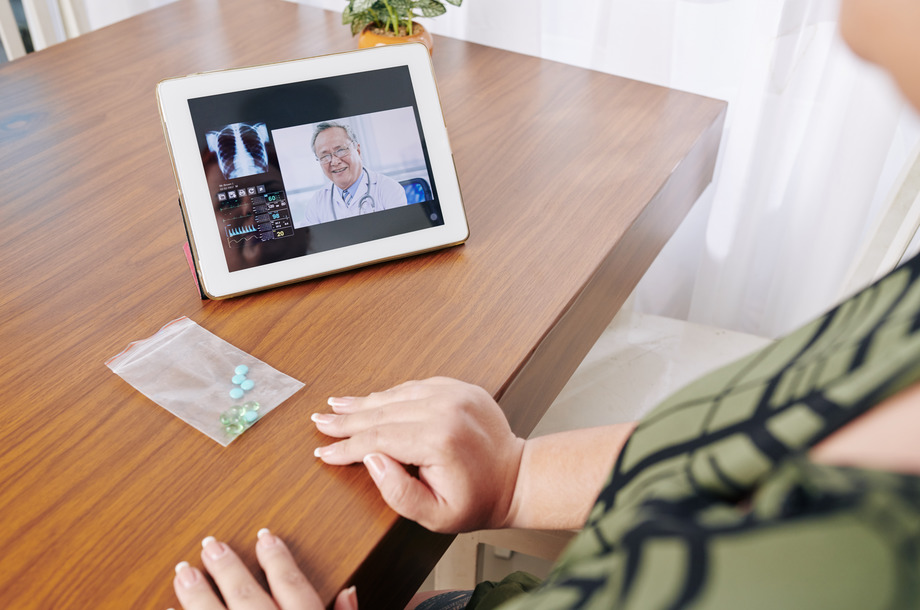 3. Patient-centered approach
What makes telemedicine a driving force in the healthcare industry is that it promotes a patient-centered approach which gives patients more freedom in taking care of their health. Telemedicine is aimed at building a better connection between care providers and care receivers by allowing patients to choose their doctors and discuss their health concerns and ailments. The right to select a primary care doctor makes patients feel less stressed out but rather in control of their health state. This model of doctor-patient relationship leads to closer interaction and faster recovery in case a patient is afflicted with some illness.
4. Remote rehabilitation
Remote patient monitoring is a reason why rehabilitation can become less nerve-racking. Continuing treatment at home is a desirable variant for all patients that are negatively affected by a hospital environment. Digital technologies such as wearables and monitoring systems allow for 24/7 data collection and reporting which lets doctors keep track of the patient's condition without being physically present in their place. Rehabilitation at home is said to speed up the pace of recovery as patients are free from psychological stress that typically hospital-care patients experience. For this reason, telemedicine provides cheaper healthcare solutions that liberate providers from administrative tasks. In contrast, it promotes faster healthcare delivery as patients can receive proper care and treatment anytime from home.
What's the impact of telemedicine in healthcare?
The telehealth market is expected to hit $13 billion by 2023. The telemedicine industry is increasingly growing as it provides reasonable solutions to the most urgent problems facing the current medical system, namely, on-site personnel shortage, rising costs of healthcare services, and lack of universal access to medical care. Moreover, telemedicine enables distance learning for medical personnel which can be trained by professionals from other places through video conferencing. Soon every member of medical staff will be required to interact with patients and deliver healthcare remotely. Finally, the costs of telemedicine are more affordable to the majority of people. This should have a positive impact on the number of people who have access to high-quality healthcare services.
For further information
If you are currently interested in making a healthcare mobile app, contact Computools's expert team via info@computools.com to get some valuable advice on how to design and launch an app successfully as well as learn more about healthcare software and management tools used in telemedicine across the world.
Computools is a full-service software company that helps businesses innovate faster by building the digital solutions or bringing the tech products to market sooner. Discover our collaborative approach and industry expertise that spans finance, retail, healthcare, consumer services and more.
Contact us →