Fintech trends drive innovation in different sectors of the financial industry, which allows financial organizations to personalize and introduce new services, improve security, and automate business processes.
Technology is constantly changing and adapting as consumer needs change. In this article, I'll cover the major trends in fintech for 2023.
The fintech sector: main players and reasons for adoption
It's not only banks benefiting from technology.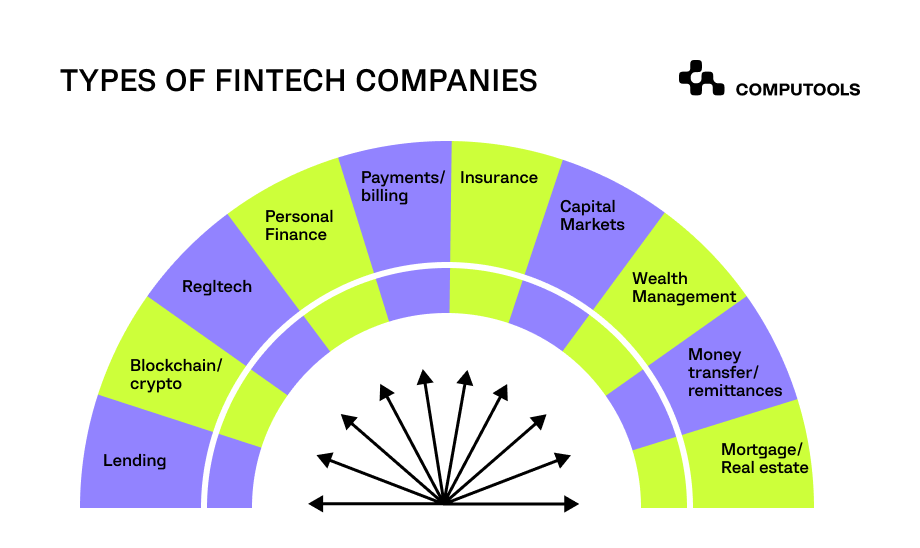 Sectors taking advantage of technology:
• Corporate sector: large corporations across the globe are major adopters of comprehensive solutions solving different financial workflows.
• Financial sector: banks, credit unions, and other financial institutions are taking full advantage of technology to streamline service delivery and operational management.
• Public sector: national banks and currency exchanges and other governmental bodies are onboarding technology to solve efficiency issues, ensure quality, and prevent fraud.
Today, these financial organizations are increasingly adopting technologies to improve their business processes and operations. This trend is primarily due to market competition and the need to make financial services more accessible.
From the business perspective, fintech trends help companies automate many routine operations, integrate new cutting-edge services into existing systems, and reduce costs.
This is achieved with the help of the following technologies:
1. AI-related technologies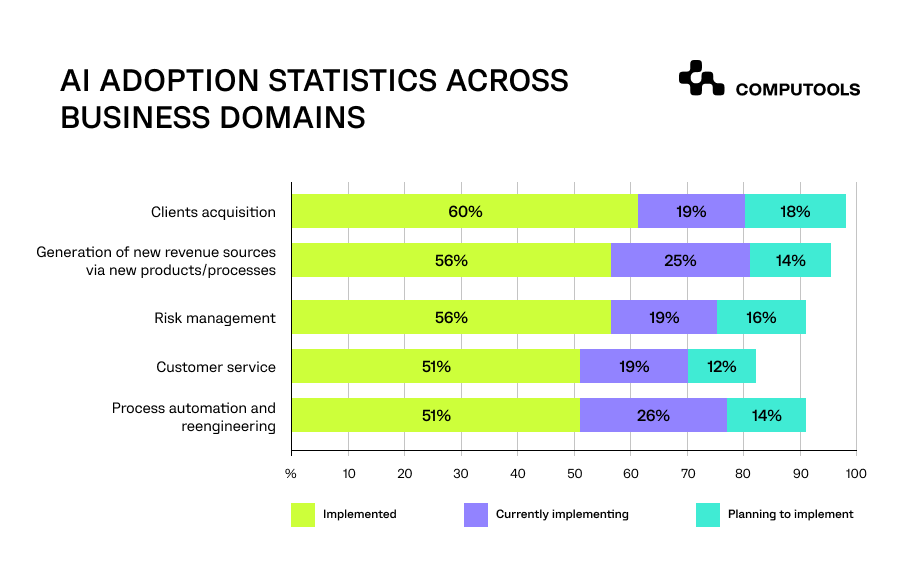 According to a PRNewswire report, the artificial intelligence market in the fintech niche will exceed $41 billion by 2030 at a compound annual growth rate of 16%. AI is pushing its way to many industries and has become one of the main tools in financial software development.
Finance companies use artificial intelligence to analyze and process data from multiple sources and obtain critical information. As a result, this data analysis lets fintech firms foresee critical changes to the financial markets based on predictive analytics.
AI can improve security and reduce scam rates through biometric verification techniques or improve customer service by offering personalized wealth management advice by identifying the assets that are the most profitable in your portfolio.
Depending on the need for AI, it can be used in chatbots, credit scoring, business intelligence and reporting, asset management, fraud detection, and other applications.
From the business perspective, fintech trends help companies automate many routine operations, integrate new cutting-edge services into existing systems, and reduce costs.
2. Business automation software
Business automation systems are paramount for any financial organization. They free employees from repetitive tasks, enable efficient use of work time, and provide conditions that promote scalability.
Business automation software is one of the essential tools for fintech. These solutions can include the following:
Customer relationship management allows for the storing and processing of customer information, coordinating tasks, and tracking transaction lifecycles.
Enterprise resource planning allows for the automation of management processes ranging from in-depth analytics to customer support and accounting.
Robotic process automation allows for the automation of specific repetitive tasks, processing financial information, and increasing productivity.
3. Big Data Analytics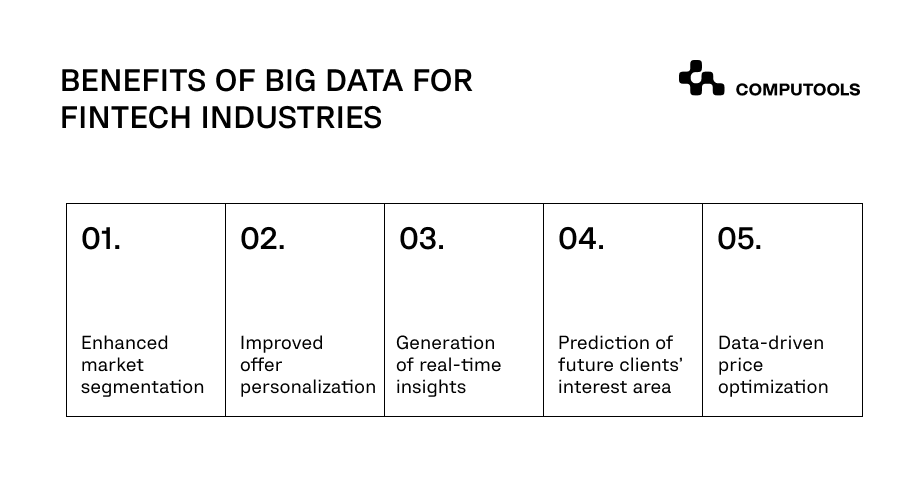 There are numerous ways fintech companies leverage big data in their services. Big data helps quickly process a huge volume of information, giving financial companies significant advantages in risk management, scoring, and increased sales.
In addition, big data enables fintech to provide more personalized services to customers and expand customer bases.
Here is exactly how big data benefits fintech companies in 2023:
• Evaluation of customer creditworthiness;
• Marketing and customer relations;
• Asset management;
• Insurance;
• Prevention of operational and cyber risks;
• Optimization of reporting and other processes.
Build robust fintech products with scalable technologies!
Contact us →
4. Cloud solutions
The COVID-19 pandemic has significantly changed many business processes, especially digital ones. Finance businesses turned to financial software development companies as it allowed them to adjust their services in the face of uncertainty rapidly.
Convenience, efficiency, and remote access to cutting-edge solutions are precisely why the need for cloud solutions will continue to grow in 2023.
At the same time, due to the development and increased availability of technology, the cloud has become significantly more reliable and, just as importantly, cheaper to use. Fintech companies have gained new tools for cost optimization and flexibility.
The role of cloud technology in fintech trends and services will grow yearly. According to Gartner, by 2025, more than 75% of organizations will use cloud technology to optimize the cost of working tools, reduce time to market, and provide access to the necessary services through the cloud.
High requirements for security will also push companies to store the most sensitive data and place the critical infrastructure in a private cloud within the organization.
5. Biometrics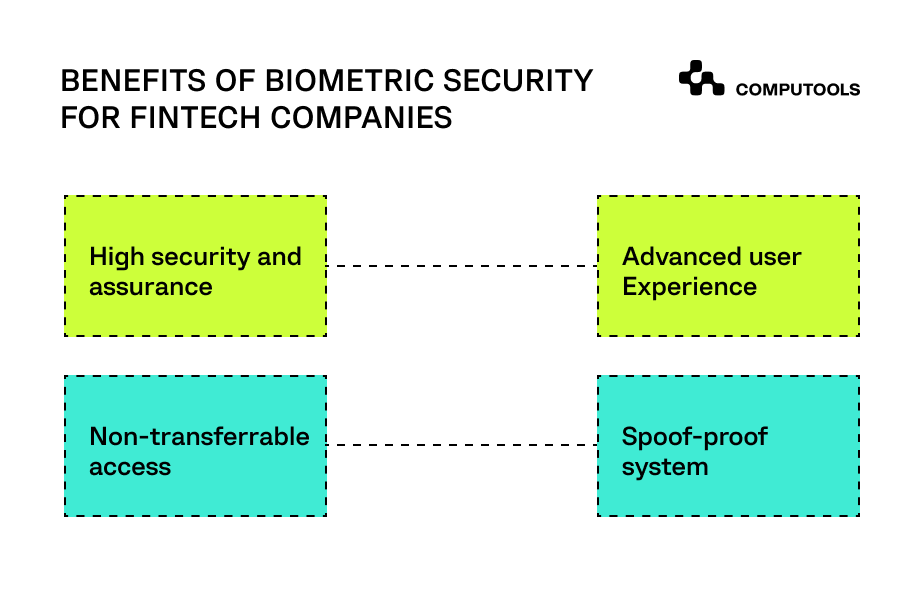 In 2025, cybercrime costs will reach $10 trillion. That drives global finance companies to strengthen their security ecosystem. One of the recent fintech trends is biometric technology. Biometrics is a way to recognize a person by fingerprints, face, or voice. Biometrics is used everywhere, from government agencies, banks, and retailers to street surveillance cameras. According to Juniper Research, by 2027, the value of remote payments with the help of biometrics will reach $1.2 trillion, while this technology will be present on 90% of smartphones by 2024.
Payments with biometrics are convenient and fast. However, biometric identification must comply with personal data law because users' facial images, voice, and fingerprints are private information.
6. Application programming interface (API) solutions
One of the key advantages of open APIs is more personalized offerings for the customers. This, in turn, also develops the market itself – third-party companies have more opportunities to enter the market, while competition is stimulated.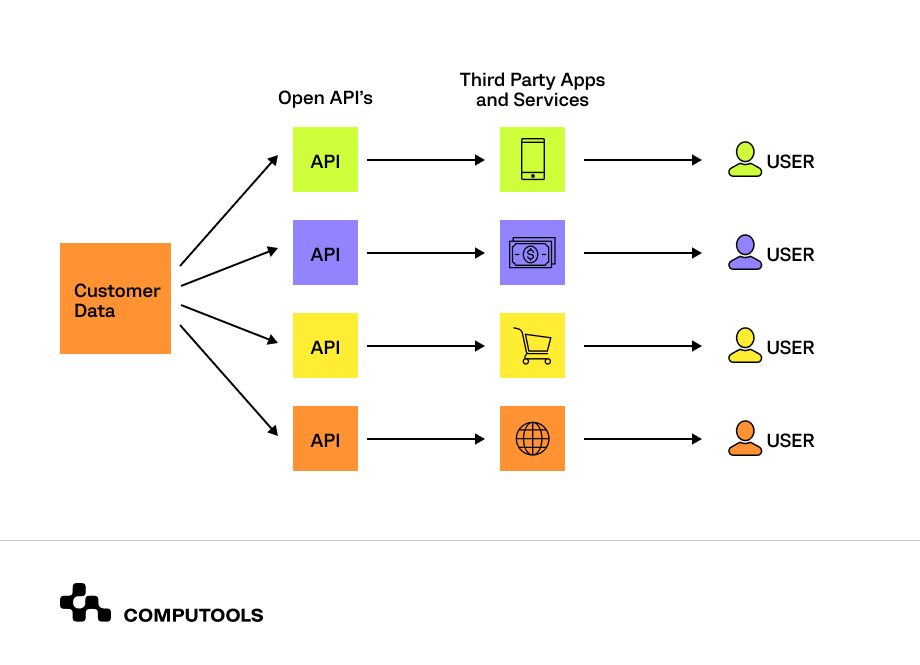 In the financial sector, API enables businesses to connect third-party services to the product allowing them to:
• Combine customer accounts from different banks in one application;
• Implement personal financial advisors that analyze customer habits and offer the best financial behavior strategies;
• Personalize product offers through transaction analysis;
• Integrate AI and IoT applications to create the most convenient customer experience.
For individuals and legal entities, open banking primarily means improved service quality. This can include but is not limited to:
• Better designed and user-friendly interfaces, increased speed of all processes.
• Increased range of functionality and product services
• Personalization of product offerings through deeper analysis of financial habits and behavior.
• Maintain personal finances and analyze accounts from different banks on one platform.
Bottom line
Fintech companies around the world focus on customer needs. And that means that adopting the right fintech ideas is crucial for growth and offering newer and better services.
With more opportunities for digitalization and a growing number of fintech industry trends, some challenges arise too.
Some of the main obstacles that fintech companies encounter during financial software development are:
• Data security and privacy concerns;
• Compliance with local regulations;
• Lack of tech expertise;
• Focus on "innovations" rather than solutions.
To overcome these challenges and choose beneficial technology tailored to your goals, contact our experts at info@computools.com to get a free consultation.
Computools is a full-service software company that helps businesses innovate faster by building the digital solutions or bringing the tech products to market sooner. Discover our collaborative approach and industry expertise that spans finance, retail, healthcare, consumer services and more.
Contact us →