Ukraine is becoming one of the most important IT regions in Europe. The startup scene in the capital of Kyiv is thriving. So, why exactly do many companies choose Ukraine as their outsourcing destination? We've taken the time to outline 8 reasons for you below.
Education
First of all, the university system in Ukraine does a great job of preparing technical students.
There are more than 200 universities in Ukraine, and each year around 30,000 students get a degree in computer science.
The government has also been putting a lot of effort into developing the IT sector. The growing number of specialists and industry revenue has pushed the government to make logical steps to fostering superior software development in Ukraine.
In 2020 alone, the industry's revenue exceeded $5 billion.
This kind of growth has filled in the ranks of Ukrainian IT with many talented engineers with case studies for acclaimed projects all around the globe. Ukrainian developers are known for their work with such products as GitLab, BitFury, Grammarly, Neuromation, airSlate, and many more.
Apart from that, IT companies themselves also contribute a lot to education. Around 4,000 tech companies in Ukraine hold lectures, meetings, presentations, and offer mentorship programs.
It's also common for local IT giants to compete for graduates, so just about anyone with a corporate name collaborates with universities, teaches students about modern technologies, and offers employment.
IT events are soaring in numbers too. Software developers can participate in 1,000 IT events held in Ukraine each year.
All of this makes Ukraine a great place to kick off a career in IT and grow as a specialist.
Outsourcing can be daunting! But the right partner can make all the difference.
Contact us →
Popular languages and tech talents
Talking about popular technologies, software developers in Ukraine keep up the technological pace and show diverse excellence in programming languages.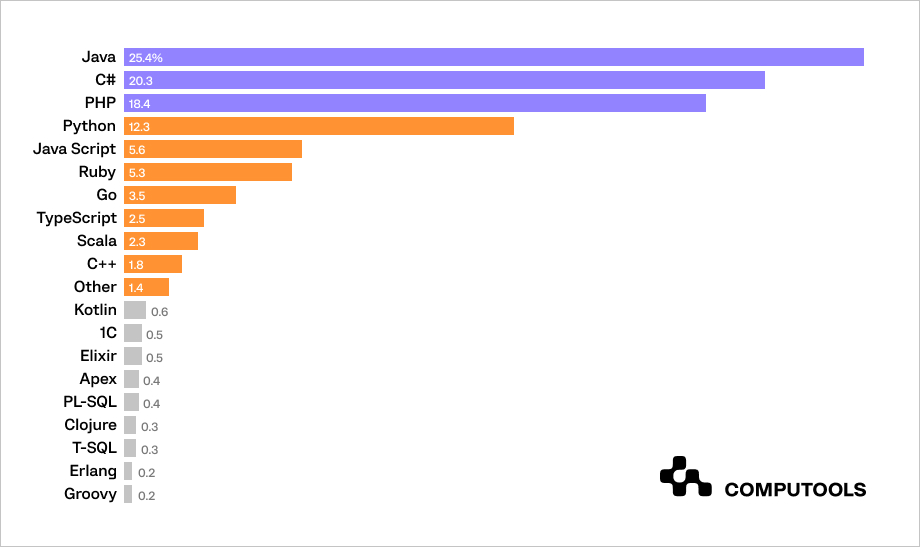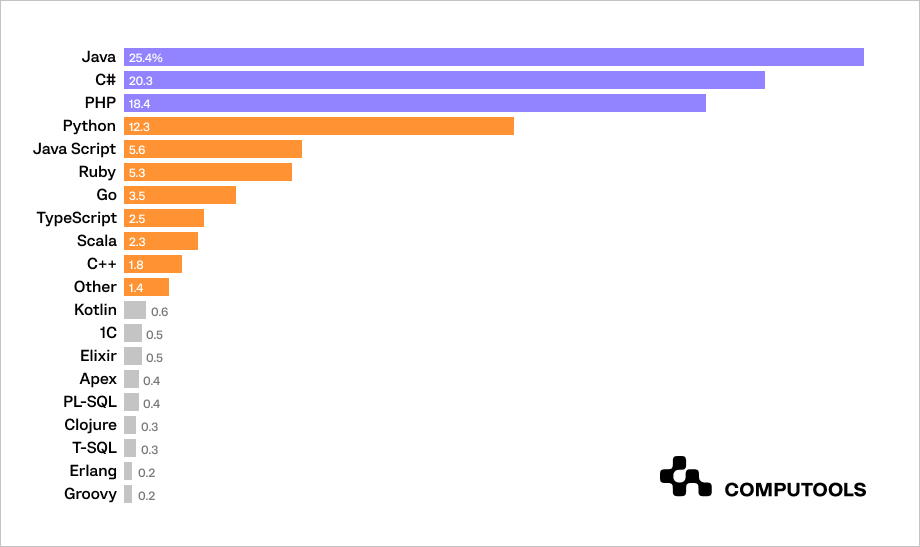 A survey was done by the Ukrainian portal DUO in 2021. They collected 7,211 questionnaires.
Java, C#, PHP, and Python are predominant back-end programming languages that Ukrainian talent master regularly.
However, even though the number of computer science majors is increasing, the number of vacancies related to software development in Ukraine is also growing.
That means there's plenty of room for JavaScript, TypeScript, Ruby, and Go writers to fill in the gap. Some other languages found in the top ten backend languages common in Ukraine include Scala and C++.
As for front-end technologies, JavaScript and TypeScript are prevailing languages. Other languages are complementary.

The growing number of Ukrainian IT companies
According to a Beetroot report, there are 3,000-5,000 IT companies in Ukraine.
If we look at Clutch, there are 1,200 verified companies in web development and 870 companies in app development.
The Beetroot report's initial figure will add up if we add other narrowly specialized companies in cybersecurity, staff augmentation, AI, cloud solutions, and related IT services.
According to the Ukrainian IT Association, 50% of registered companies are located in Kyiv. Kharkiv, Dnipro, Lviv, and Odesa also have significant representation. Other regions hold 25% of companies.

Soft Skills
Cultural similarities. This is especially relevant for companies based in the EU and the USA. Due to shared history and geographical proximity, there are very few (if any) cultural differences to consider when choosing to work remotely with Ukrainian programmers.
Western outlook. Ukraine is oriented to the West in more ways than just mentally and in terms of business. In particular, this applies to IT services in the U.S., EU, and Australia. Ukrainian outsourcing companies work with global giants like Microsoft, Skype, Apple, Bosch, eBay, IBM, etc. The ability to think in a European direction gives Ukrainian specialists an advantage in their work.
English fluency. To work with clients from different countries, the ability to communicate on a common ground is crucial. In Ukraine, many universities offer specialized courses allowing students to learn English, German, Chinese at proficient levels. It's also possible to study Spanish, Japanese, Arabic, and other languages.
To top it all off, English is also a significant criterion for employment in Ukraine's IT industry.
Rates
The average software developer's salary in Ukraine is around $2,500-3,000 per month.
The country's current average monthly salary is $450. The monthly salary of a PHP developer is at the lower end of the range at $2,000-2,500 per month, while Java engineers tend to earn the most. Usually, $3,000+ per month.
On average, a junior developer from Ukraine gets $15-25 per hour, a middle-developer $30-35, and a senior developer $35-60. Despite the growth in rates, software development in Ukraine still has the best price/quality ratio compared to other European countries and the USA.
Here's a comparison graph to give you a clear example. These are actual rates of software developers in 2021, according to Clutch.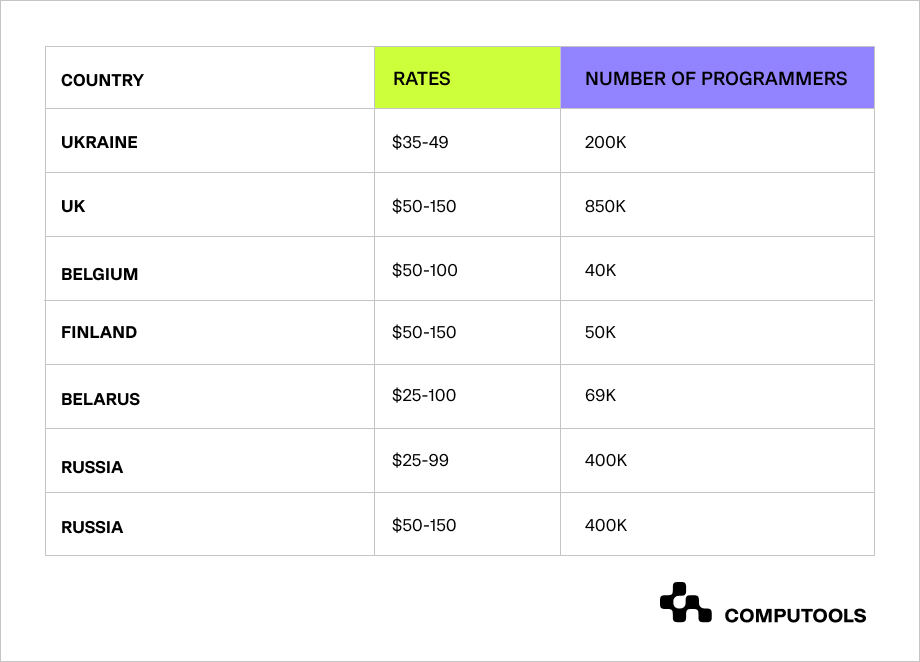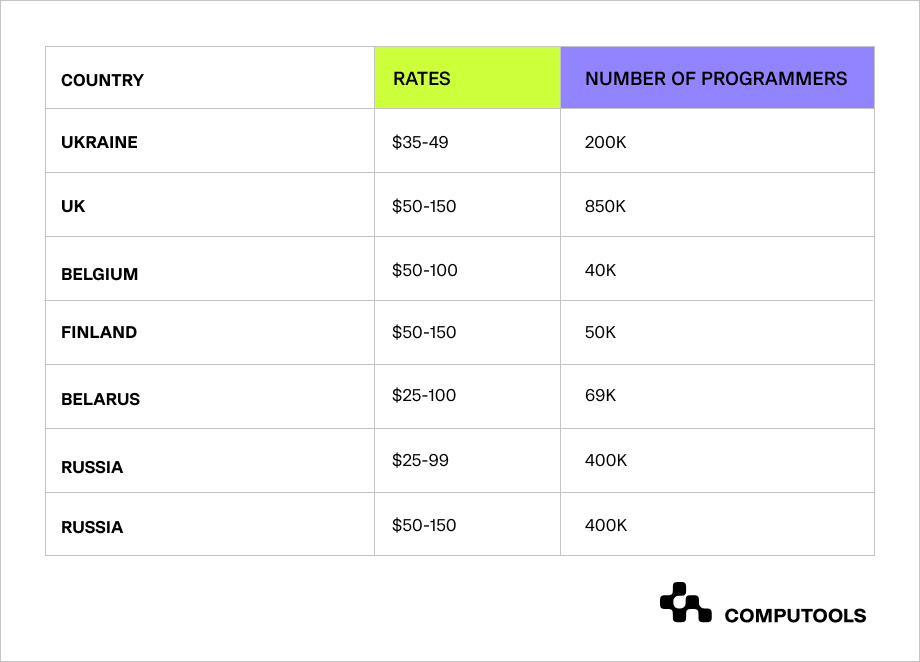 Ukraine is open to growth and international cooperation
Another reason many choose to outsource software development to Ukraine is its proximity to the European Union. Although there are many North American companies outsourcing to Ukraine, countries like the UK, Germany, and Norway are understaffed and seek skilled work in software development in Ukraine.
For example, lower taxes are attractive for Scandinavian-backed businesses, and skilled workers appeal to other Western-European companies due to market saturation.
Britain's withdrawal from the EU significantly affects the British information technology market. IT companies risk losing a significant chunk of their employees. This is opening up the need for new, non-EU labor.
Moreover, in 2021, the Ukrainian government adopted the Decree on immigration quota. It allows Ukrainian companies to hire 5,000 foreign specialists, giving them the right to live and work in Ukraine for up to10 years. This includes relocating their families and qualifies them for Ukrainian citizenship. The new act makes hiring and working with foreign engineers simple.
Great IT community
Research shows that there are 212,547 software developers in Ukraine. Over the past year, their number increased by 29,111 people, or by 16%. From 2018-2020, the number of individual entrepreneurs in Ukrainian IT increased by 20-22% annually.
Although the IT ecosystem and software development in Ukraine is relatively young, it can be characterized as multifaceted and dynamic even at its current stage.
This system includes specialized business associations, regional associations (clusters), higher education institutions (actively developing technical education), private educational projects, innovation parks, technological hubs, and large-scale industrial events.
Each of these elements has its priorities and vectors for work, and as a result, creates favorable conditions for the industry's development.
Software development in Ukraine: why Computools?
Computools is a software outsourcing company from Ukraine. For the last 8 years, we've managed to grow and adapt to the ever-changing market. We offer web and app solutions for small startups and enterprises around the world.
Our expertise spans product design, front-end and back-end engineering, consulting, and dedicated delivery teams.
We have offices across the globe in the USA, UK, Germany, Belgium, France, Israel, Ukraine, and Australia.
Clutch and IAOP recognize Computools as a top outsourcing company and service provider with sustained growth.If you want to outsource software development to Ukraine or have more questions about our company or expertise, check out our projects or contact as at info@computools.com!
Computools is an IT Consulting and Software Solutions Development company that helps businesses innovate faster by building the digital solutions or bringing the tech products to market sooner. Discover our collaborative approach and industry expertise that spans finance, retail, healthcare, consumer services and more.
Contact us →