Businesses frequently face a variety of tangible operational issues that can be solved with software solutions.
How Computools is solving the growing pains in the logistics sector
About 10% of all the projects Computools` team has worked on are in the logistics industry.
The main operational challenges and shortcomings can be grouped into categories. See the case studies and the solutions Computools suggested below:
Warehouse management
• Challenge
Monetary losses due to a lack of logistics software and inefficient use of skilled labor, all on top of the human factor – mistakes made when handling cargo in warehouses manually.
• Solution
The solution was to automate the workflow by creating a QR code system for tracking cargo shipping in and out from the logistics center or warehouses. We created an application for the client's employees to help with logistics activities. Now workers can track cargo that comes in and out of the warehouse automatically using the QR codes.
Equipment/vehicle rentals
• Challenge
Monetary losses due to manual work related to handling vehicles and customer communication. The fleet was hard to track and manage and delivering cars to customers was costly.
• Solution
The solution was to create a system for centralized fleet management, data-based car allocations, and vehicle scheduling based on history, considering the season and other factors.
• Challenge
Monetary losses due to inefficient distribution and poorly planned routes. The client wanted to increase profits and improve customer service and become the primary IT infrastructure for bringing together car dealers and rental services.
• Solution
The solution was to create a system for establishing optimal delivery routes and automatically distributing them among available drivers, as well as creating a system that could be used by the end user to manage and monitor the delivery process.
• Challenge
Lost revenue due to slow and expensive communication channels for sales and customer service. The client, a rental service for industrial assets wanted to streamline digitize the sales process to save budget spend.
• Solution
The solution was to create a B2B platform for leasing assets. This streamlined the marketing and sales process, making it easier to lease out more assets while keeping the customer journey and experience more comfortable and clear.
Digital ecosystems
• Challenge
Declining consumer brand loyalty.
• Solution
The solution was to establish a high-performance website and app with a user-friendly interface with the ability to manage the delivery process from a smartphone – start to finish.
• Challenge
Lost customers due to an outdated payment process that wasn't centralized and didn't accept non-cash payments.
• Solution
The solution was to develop a unified payment system for public transport using contactless smartphone technology.
• Challenge
Insufficient customer traffic due to irrelevant lead generation channels and expensive cold leads purchased from third parties.
• Solution
The solution was to create a B2C platform where customers could interact with the logistics service provider directly.
• Challenge
High expenses due to the human factor and mistakes made while working with documentation: contracts, invoices, receipts, verifications, etc.
• Solution
The solution was to digitize the entire logistics process using document management software to automate paper-based workflows.
Navigation
• Challenge
Decreased delivery quality caused by the lack of real-time information about the location of the asset.
• Solution
The solution was to develop a GPS tracking system that provides asset tracking and integrates with third-party API interfaces for accurate, real-time geospatial data.
Freight, shipping, and mail
• Challenge
Poor operational decision-making (purchasing new equipment, setting routes, etc.) and asset management without real-time data on asset, container, and package status. An inability to analyze the full volume of logistics data qualitatively.
• Solution
The solution was to develop a tool for collecting and processing large volumes of logistic data in real-time.
Supply chain management
• Challenge
Financial losses because of supply chain disruptions, resulting in poor customer experience, low customer retention, and production issues.
• Solution
The solution was to create a centralized and transparent supply chain management system with comprehensive order management, performance analysis, and risk management data visualization.
Based on the analysis of our cases and logistics software solutions, we can conclude that the most common is the need for routine processes automation, establishing automated document management processes, creating marketplaces and data analysis systems for more efficient routes and cargo distribution.
Essentially, the logistics industry's challenges can be solved in a variety of ways, including the use of blockchain technology or automated processes. For example, a solution such as the optimization of transportation and delivery management.
A General Overview of the Logistics Industry, Trends, and Challenges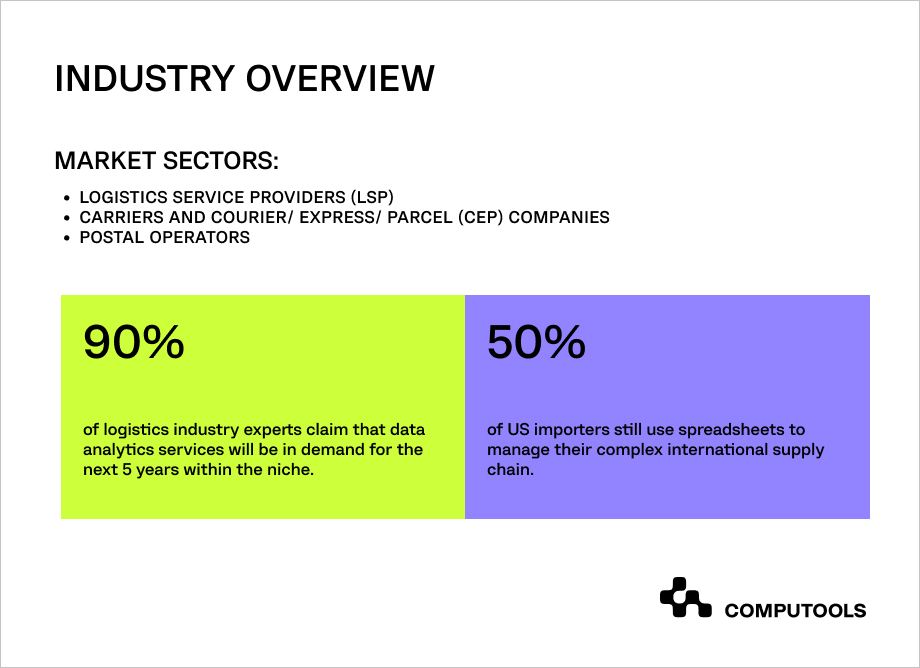 There are three major logistics industry market segments: logistics service providers, careers, and couriers (express, parcels, etc.), and postal operations.
The next 5 years will focus on improving and developing data analytics services in the logistics industry. So far, 50% of major importers in the USA use spreadsheets to manage their logistics. The industry is not too advanced in terms of digitalization. Despite the huge potential, this market will be a long and slow swing. Logistics companies plan to invest 5% of their revenue per year in digitalization. But the industry's low profitability makes such funding challenging.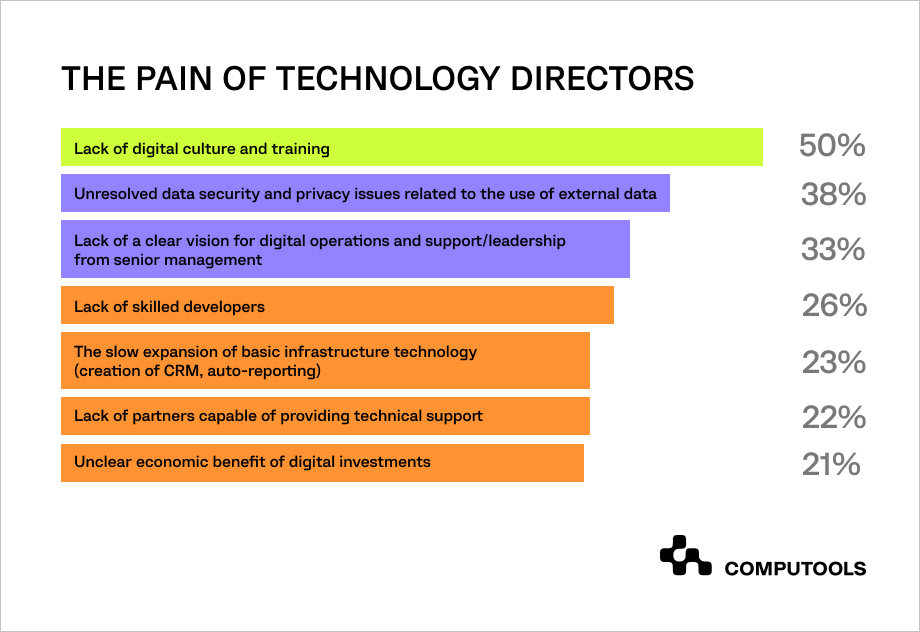 The following reasons (placed in descending order) are primary causes for this:
1. Lack of digital culture and training;
2. Unresolved data security and privacy issues related to the use of external data;
3. No clear vision for digital operations or support/leadership from senior management;
4. Not enough of qualified developers on staff;
5. The slow expansion of underlying infrastructure technologies (creation of SRM, automated reporting);
6. Few partners who can provide technical support;
7. Unclear economic benefits of digital investments.
Logistics Industry Future Outlook
Since the global situation is rather ambiguous, there's no single scenario for the logistics software development of the industry at the moment. We can distinguish four (4) main developmental patterns:
1. Sharing the PI
Existing companies increase their efficiency and reduce their environmental footprint by collaborating closely and establishing new business models such as logistics network sharing. Research on the "physical Internet" (PI) is leading to common standards for shipping sizes, greater modal bandwidth, and IT requirements for all carriers.
PI standards are leading to new logistics software solutions for loading and packaging, agreeing on common communication, and exchange standards.
2. Start-up, shake-up
New entrants become important players and take market share away from traditional operators with new business models based on data analytics, blockchain, or other technologies. One or two players are becoming dominant in certain segments. Doorstep delivery fragmenting more and more and group delivery solutions are now becoming more prevalent. These startups are partnering with traditional players adding to their service offerings. Crowdsharing platforms and the use of blockchain technology are on the rise.
3. Complex competition
Large retail players are expanding their logistics offerings to meet their own needs and beyond, effectively switching from customers to competitors. They're buying smaller logistics companies to cover major markets and are relying on their deep understanding of customer behavior to optimize supply chains. Technology firms that used to be suppliers in the industry are also entering the logistics arena, offering logistical services, thus becoming competitors as well.
This is occurring through the introduction of robotic solutions for warehouses, autonomous transportation, manufacturing with 3d printers, etc.
4. Scale Maters
Traditional carriers drive efficiencies by streamlining their operations and taking full advantage of new technologies. They're funding promising new technologies with venture capital and bringing in new employees with competitive skills and experience to expand their geographic scope and improve cross-modal coverage. Access to capital for funding these investments is becoming increasingly important. Data analytics improves efficiency in large logistics networks.
Under any of the logistics software development options, we can safely assume that IT technology is in high demand. Otherwise, according to experts, companies that fail to start digitalization in the next few years risk being forced out of the market by their competitors.
Technologies that Impact the Logistics Industry
While there's a certain set of technologies that can influence the development of the market, each has specific concerns:
1. Physical Internet
PI tends to increase transparency, security, and supply chain efficiency, therefore increasing environmental sustainability, promoting efficient resource planning. However, the market concern is that social expectations for security and anonymity may change. The prospects for investments in collaboration are uncertain. There's no data on whether international organizations will push standardization.
2. IT standards
Standards for technologies can ensure horizontal cooperation, increase efficiency and transparency. Unfortunately, the readiness of companies to implement logistics software solutions is low because of data security issues.
3. Data analytics
Data analytics can assist in improving customer service and operational efficiency, inventory visibility, management, and preventive maintenance. The fear is that the pace of logistics software development and data processing capabilities is unclear. Social expectations for data privacy and security may change while the regulation of data security and anonymity can get stronger.
4. Cloud technologies
This tech adopts new platform-based business models and efficiencies; though business owners fear the unclear cost of development and how to manage data security.
5. Robotization and automation
Robotization and automation can reduce expenses related to human resources and improve delivery and warehousing efficiencies while at the same time reducing the cost of production.
After careful study of all these technologies, it's clear that the market is more concerned about security and privacy issues.
To understand how this niche is currently developing, let's take a look at the chart: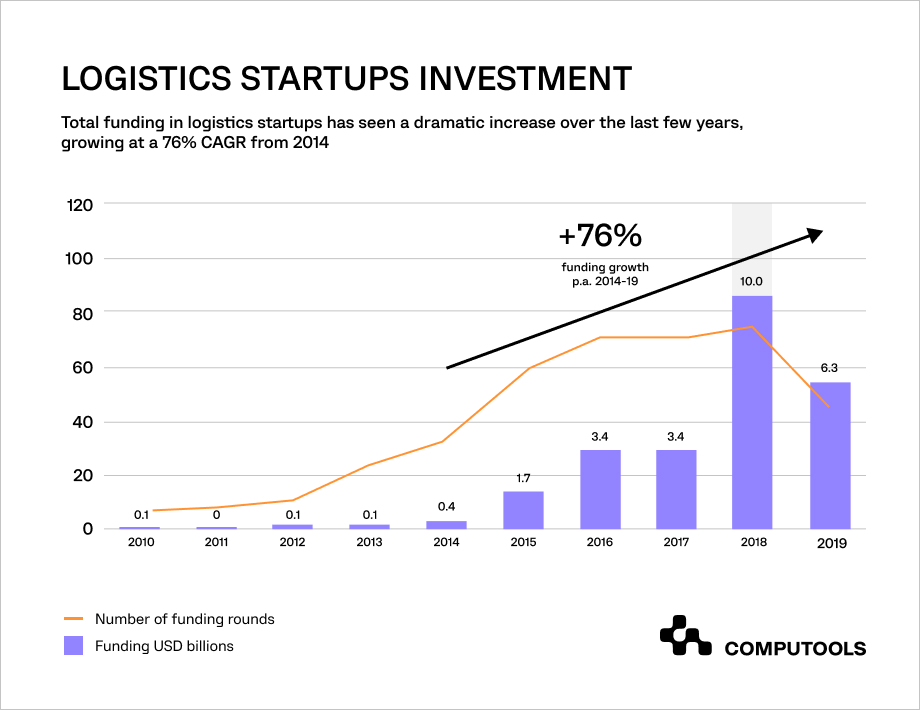 Here, we can see that the dynamics of financing for logistics startups is positive. How much financing and the number of startups is not as large as in other industries, but logistics has great potential.
According to statistics, about $28 billion has been invested in logistics start-ups since 2015. Like other industries, investment is heavily concentrated in certain areas: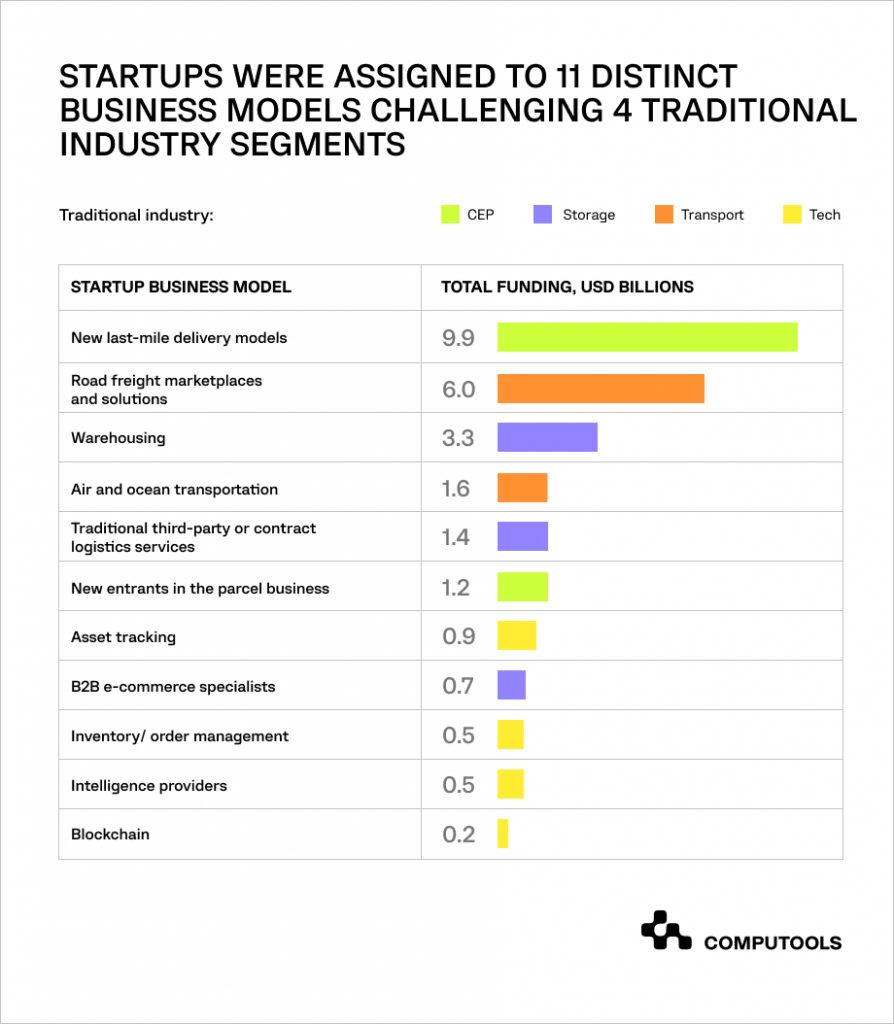 In first place in terms of investment is held by the so-called "last mile" delivery, i.e., on hand. It's followed by logistics provider marketplaces, warehousing startups, air and water shipping, and logistics brokers. Subsequently, less than 1% of investment goes to parcel tracking startups, B2B eCommerce specialists, order management, blockchain, etc.
Market Leaders and Locations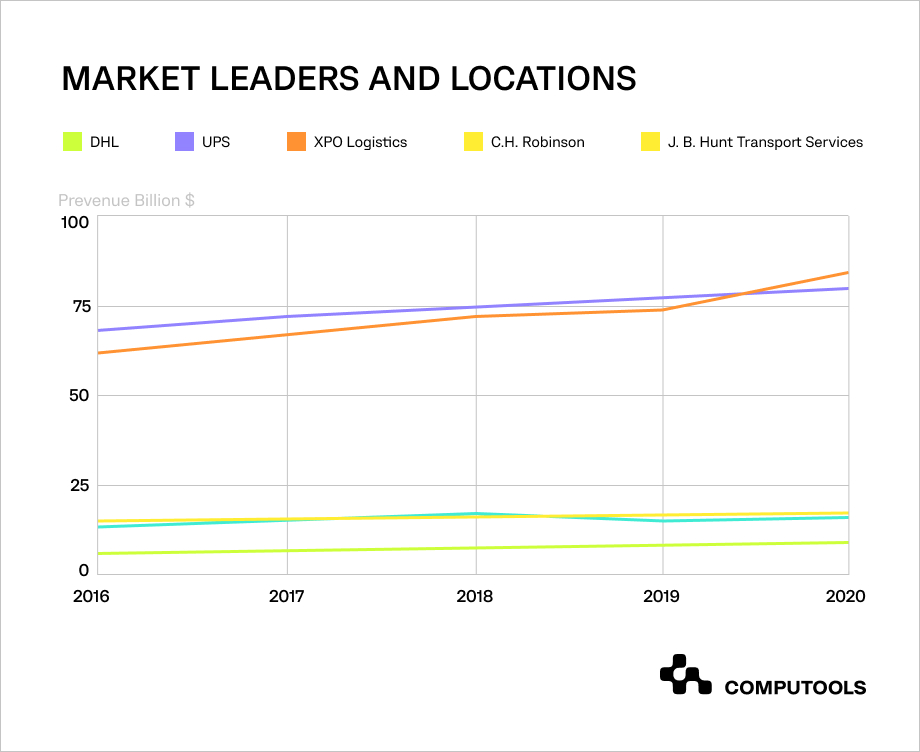 Judging by the dynamics of the annual turnover of the market leaders in the field of logistics, we can conclude that the market is actively developing. Significant potential for logistics technology is seen in countries with the growth of eCommerce, such as North America, Europe, Asia, and the Pacific region.
Conclusions
When it comes to entering the market, it could take some time for custom software solutions to take hold due to the more conservative leadership in the industry. However, the pressure from startups is so high that if the market leaders don't start automating and digitizing processes in the next few years, they risk being ousted. Also, for this industry, information technology is critical because it can significantly improve financial performance and the quality of services provided.
Can you relate to the same business challenges? Contact Computools at info@computools.com.
Computools is a full-service software company that helps businesses innovate faster by building the digital solutions or bringing the tech products to market sooner. Discover our collaborative approach and industry expertise that spans finance, retail, healthcare, consumer services and more.
Contact us →