Enhancing restaurant performance is a major concern for every manager and executive. As a result, many in the restaurant industry are looking to integrate technology into virtually every aspect of the business, including implementing CRM systems, process automation, and new digital marketing methods. However, experience shows that adopting a restaurant's digital menu board is one of the biggest influences on accelerating growth.
Digital menu boards for restaurants are not just a newfangled gimmick. They can take a business to a whole new level. International fast-food corporations such as McDonald's, KFC, and others are trying to promote their business in the digital hegemony as much as possible, using digital menu boards inside restaurants and in the drive-through.
Upgrading points of service and introducing new technology for restaurants increases sales by providing a convenient customer experience. In addition to drive-through boards, many restaurants are introducing interactive tablets that allow guests to view digital menus. Using a touch screen, customers can order and pay by card immediately.
The benefits of digital menus are numerous. In this article, we go over some of the most influential for business success.
The Benefits of Digital Menu Boards
1. DMBs Facilitate Communication
A digital menu board streamlines the communication process by removing unnecessary communication between the customer and restaurant staff. Bright, colorful images with descriptions and prices allow the customer to make a faster decision about their order.
2. DMBs Reduce Order Errors
Errors are a huge problem in the restaurant industry, making it one of the most expensive costs when typos in marketing or miscommunication with waiters and staff take place. Digital menu boards make it very easy for managers to fix design and text from the main system to all boards simultaneously while limiting the need for customers and staff to discuss orders.
3. DMBs Make Updating Menu Items Quick
The centralized management system for digital menu boards allows managers to make a wide variety of actions: edit and add text, enter promotions, offer a dish of the day, a popular combo, and change menus based on times and days for breakfast, lunch, etc.
4. DMBs are Profitable
Unlike paper menus, digital menu boards do not have to be replaced as often. A common pain point in the restaurant industry is how much time and money needs to be spent on keeping paper menus looking fresh and updated. Restaurants that develop and implement DMBs are seeing an impressive ROI in 6-18 months. This is primarily due to the boards' ability to offer additional items and suggest food/drink combinations based on actions and items a customer views/adds to their cart.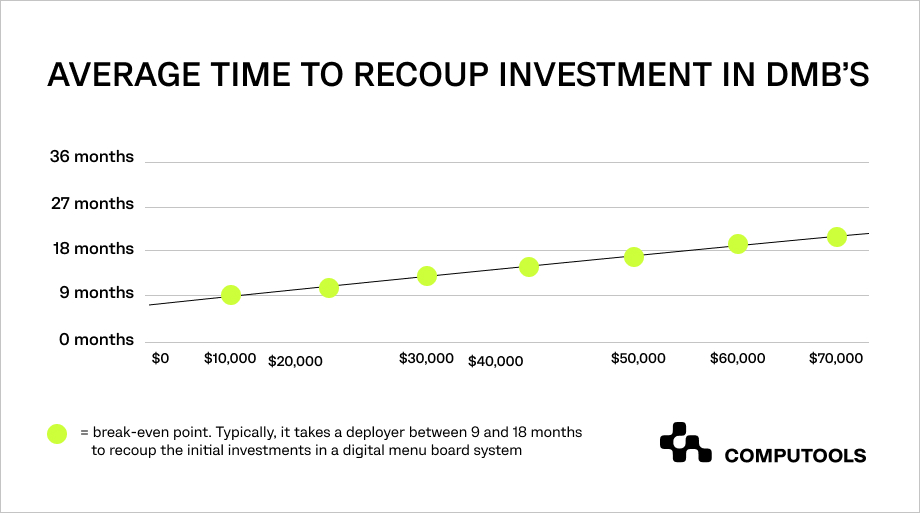 5. DMBs Make Order Locations More Visible
When a restaurant is located in a busy area with a lot of competition, it can be hard for the restaurant to stand out and be noticed. However, DMBs help customers realize and identify where they can order food, making them a great tool for attracting customers looking for somewhere to eat.
6. DMBs Promote Effectively
Advertising new dishes or unique offers can be expensive. Ads are usually sent out across the internet, posted on social media, or printed out on physical paper. DMBs make smart advertising, meaning restaurants can advertise on their own platform and promote new dishes, popular combos, and much more.
Set your restaurant up for success with a digital menu board today!
Contact us →
7. DMBs are Adaptive
DMBs are cab be easily adapted to what you need. They're not just self-service kiosks. This menu type can take the form of large background menus behind the register, on table surfaces, on tablets or smartphones, and even via QR codes.
8. DMBs Make Ordering Efficient and Fast
For the restaurant using a DMB, costs can be reduced, and turnover increased. How? Digital menu boards allow customers to get what they want faster, automatically take payment, generate receipts, and process/track sales. This allows management to more accurately forecast growth and what foods/drinks are the most popular at what times/days.
Implementing a digital menu in a restaurant can increase sales by 10-60%. Of course, this percentage depends on management, but it has been proven that a digital menu directly impacts a customer's eating decision.
9. DMBs Increases Sales
According to various sources, implementing a digital menu in a restaurant can increase sales by 10-60%. Of course, this percentage depends on management, but it has been proven that a digital menu directly impacts a customer's eating decision. They're eye-catching, fast, convenient, and don't require much effort from the customer to use.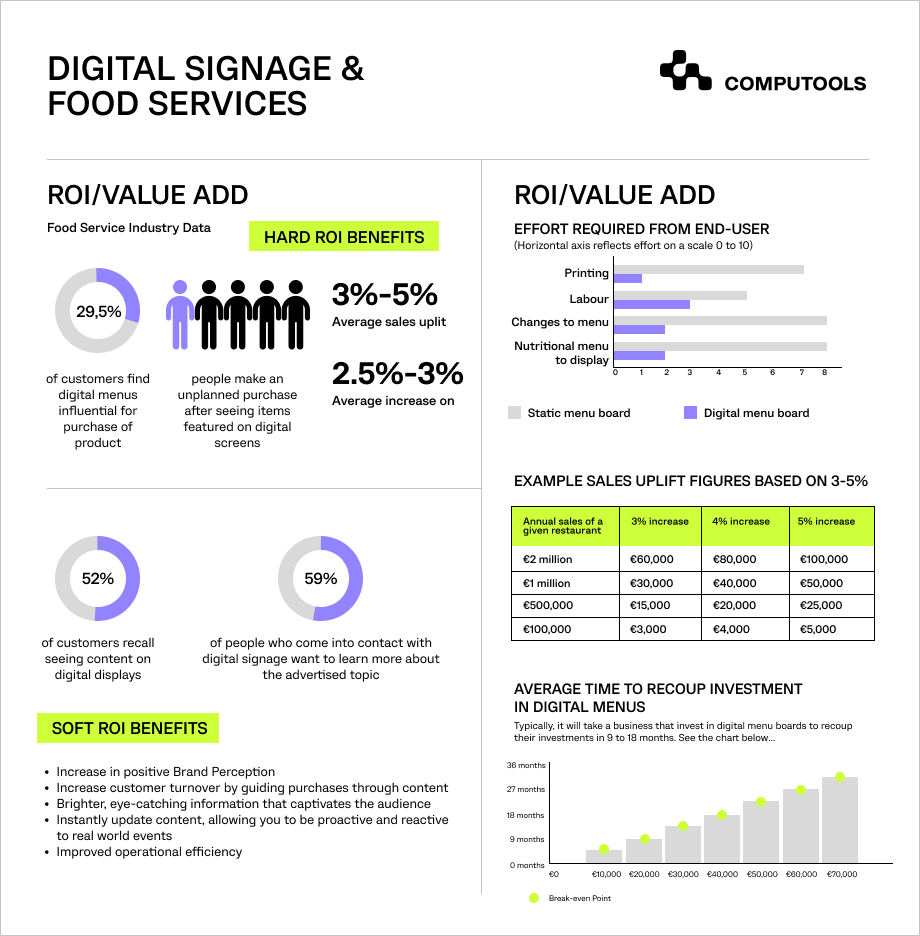 10. DMBs Grow Brand Awareness
When DMBs are set up correctly, they can increase brand loyalty and awareness, leaving a positive impact on how they perceive the brand. As a result of a positive order and dining experience, a customer is more likely to return and tell others about how nice the process of ordering was.
11. DMBs Leave a Positive Impact on Experience
When we talk about fast-food restaurants, DMBs reduce wait times by giving more customers the opportunity to order at one time. This process keeps customers feeling positive and ready to return sooner than later.
12. DMBs Allow for Contactless Payment
The restaurant business has been one of the hardest hit during the 2020-2021 lockdown period. DMBs helped smart business leaders use a loophole that has allowed them to stay open and afloat during tough times. Digital menus can virtually eliminate physical interaction between customers and staff, allowing restaurants to operate during lockdowns and tight restrictions.
13. DMBs Introduce AI in the Restaurant Business
Self-service restaurant stations are a boon for developing Artificial Intelligence-based digital menu software. They allow voice recognition of orders and suggestions based on regular customer preferences. Digital menus on drive-thru lanes, for example, can include features for recognizing and accepting orders by processing customers' voices.
14. DMBs Stimulate Investment in the Restaurant Business
North America is at the forefront of digital menu boards. As a result, the industry is showing positive growth and is very attractive to investors. According to TransparencyMarketResearch, investing in digital menus affects the growth of restaurant food sales, which has led to an increase in demand for the adoption of the technology in Europe.
15. DMBs Promote Inclusivity
The Wall Street Journal reports that digital restaurant boards have made ordering food convenient for people with disabilities. For example, even though many restaurants have a call button for disabled customers, these calls often go unanswered. At the same time, digital menus have enough level space around them for someone in a wheelchair to approach without issues, order, and pay.
To learn more about getting a DMB for your restaurant, email info@computools.com.
Computools is a full-service software company that helps businesses innovate faster by building the digital solutions or bringing the tech products to market sooner. Discover our collaborative approach and industry expertise that spans finance, retail, healthcare, consumer services and more.
Contact us →