Mobile applications have become an essential tool for many sectors. For example, in 2021, the top 30 real estate apps saw 12 million downloads. Many users use convenient applications to buy, sell, rent or exchange residential and commercial real estate.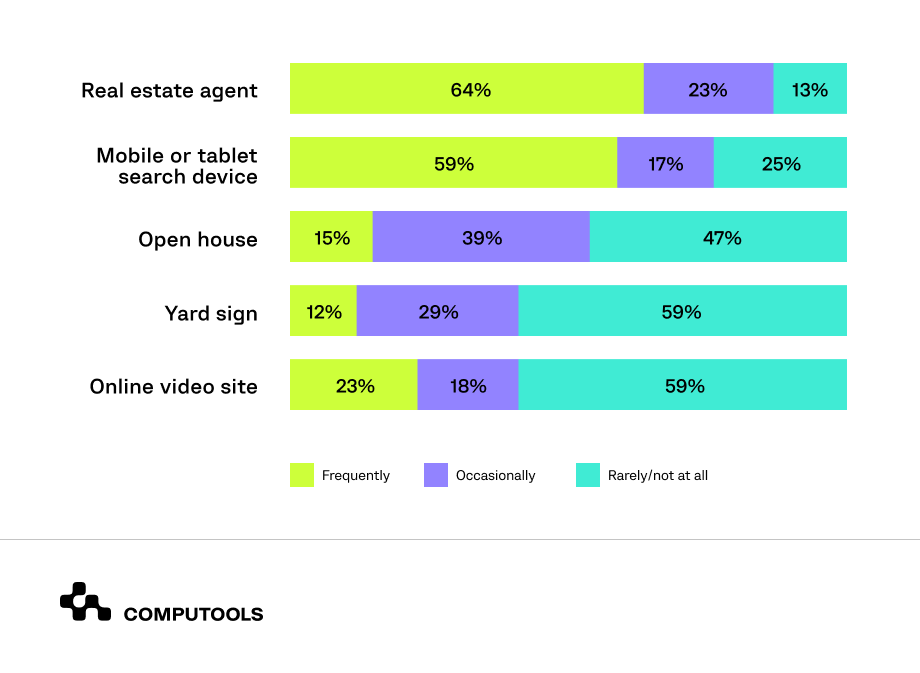 This allows them to get free access to an up-to-date database with daily updates on apartments and houses for sale.
As competition grows and technology offers more opportunities, it's paramount for businesses to know how to develop a real estate mobile app that can stand out.
Real estate app development: main types and features
Real estate apps can be of different types and used for various purposes. They can be standalone ad aggregators or applications designed specifically for real estate agencies allowing them to manage deals or use them as a CRM system efficiently. They can also be apps like Trulia or Zillow for renting apartments or selling real estate.
Therefore, depending on the type of service or business goal, real estate apps can be of the following categories:
• Buying or renting app
• Home evaluation app
• Property management app
• Assistant tools for real estate agents
• Investment apps
Depending on the technology, the following apps for real estate can be developed:
• Native iOS and Android applications
• Web apps
• Admin software for administrators, moderators, and partners
Main features for a real estate app
To build a valuable real estate app, it's important to point out essential features during real estate app development.
As some research and practice shows, some of the main features would look like this: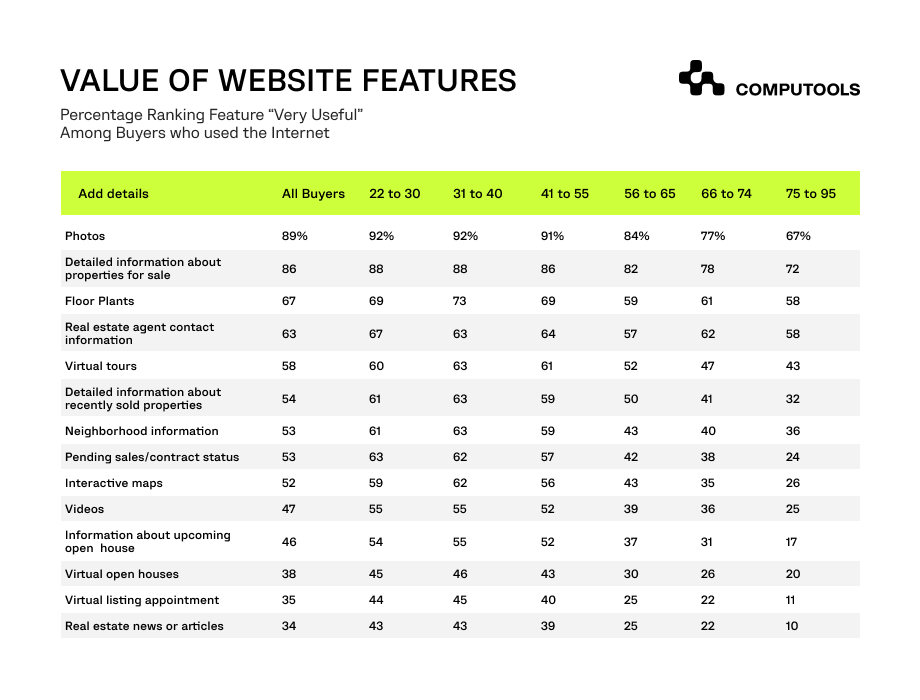 However, more than simply copying the functionality of your competitors will be required. Implementing the features below can add additional value to your real estate app.
1. Search filters
This feature allows users to search for an estate based on the selected parameters and compare prices with other offers. Thus, the search process becomes faster, and users can immediately get a look through the most current prices in real time.
2. Comments and ratings
Some real estate apps offer rating systems. If users are unhappy with something, they can give the agent/agency negative feedback or file a complaint in case of violation. This allows users to identify good service providers from bad service providers.
3. Maps and geolocation
One picture is worth thousands of words. Maps provide valuable information for those who want to rent or buy an apartment. Maps should show nearby facilities, infrastructure, and neighborhood statistics: crime rates, traffic congestion, natural disaster risks, etc. For more convenience, you can allow users to lay out routes between home and office, home and school, and other important places.
4. Real estate calculator
The feature would require selecting a partnering bank. To add more features, creating a universal calculator with offers from different banks is advisable. A detailed calculator will help users quickly and easily correlate real estate's cost and financial capabilities and choose the right option.
5. Push notifications
Push notifications remind users always keep users up-to-date about the following important information:
• New estates appear in a particular location;
• App updates;
• Price changes and other events.
But remember, notifications have to be relevant and useful. The client should be able to customize the list of notifications.
6. Analytics
Any application needs to collect data to analyze business processes and search for pitfalls and their causes. A detailed understanding of what's going on will help optimize operations, develop strategy, and improve the efficiency of the application and business as a whole.
7. Calendars and scheduling
Implementing a calendar will allow users to schedule meetings quickly. This option should be available to both realtors and clients. Users should also be able to link a calendar to a specific estate.
8. Personal profiles
Both realtors and clients should have personal profiles. Realtors and sellers use them to add descriptions and photos, fill out contact information for each property and manage the viewing schedule. Buyers fill out personal information that also helps the algorithms understand what properties to offer them.
Develop a competitive real estate app with a quick time to market!
Contact us →
What are the main benefits of a real estate app?
As technology adds fuel to the fire and reshapes the real estate industry, more and more players are turning to mobile app development for real estate.
The use rate of real estate apps also speaks for itself. More than 95% of homebuyers search for property online today. Therefore, you can't go wrong with real estate app development.
Here are avid benefits of real estate apps for businesses.
The use rate of real estate apps also speaks for itself. More than 95% of homebuyers search for property online today. Therefore, you can't go wrong with real estate app development.
1. Investment in business development
Today, real estate apps are slowly but surely replacing real estate agents. The pandemic has forced businesses to go digital and automate business processes as much as possible.
Top real estate websites usually have equally popular apps. This is due to the growing number of mobile devices worldwide and the desire of businesses to increase their reach.
2. Streamline processes within the company
More than a typical landing webpage is required for businesses to grow today. For example, assistance apps can simplify analytical processes around client management, document management, sales, reporting, etc.
3. Increase customer loyalty
Millennials and Gen Xers make up the largest share of home buyers today. People of these categories are likely to change homes more frequently.
This could be an excellent opportunity for your deals. Implement a loyalty program right in the app that'll guide and help users through different life scenarios.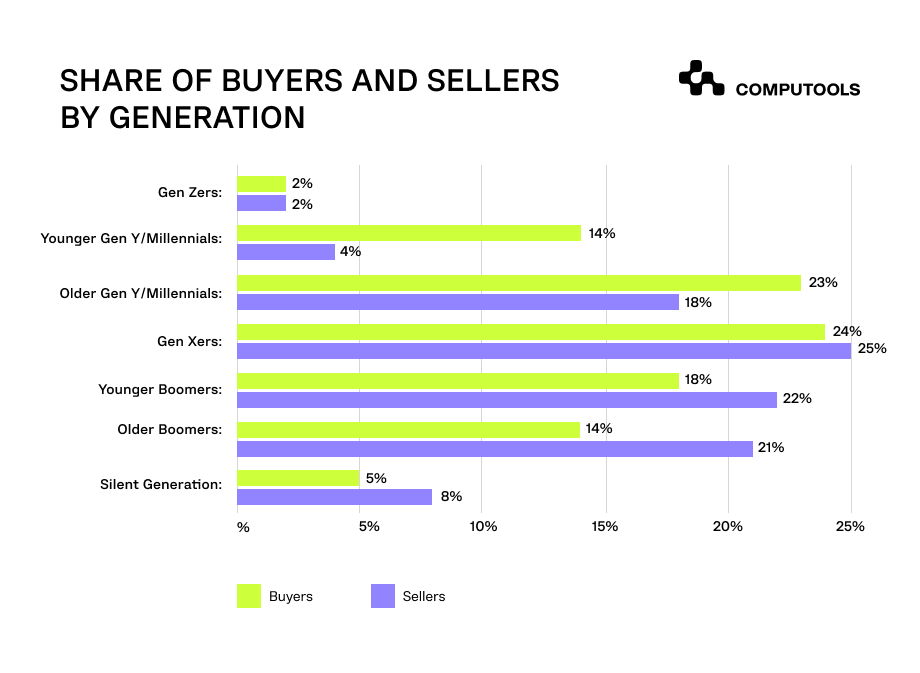 4. Analyze the real estate market data and demographics
To close deals quickly, you need to provide customers with complete information about homes. Property listings with all the details and filtering options, quality photos, virtual tours, favorites lists, infrastructure availability nearby and neighboring areas, crime rates, and transportation.
You receive your customer data and preferences when you give them the necessary information. The app analyzes all the information automatically and frees you from manual data processing.
5. Find your target audience
Automated collection and analysis of user data will give you some insights about your target audience. This will help you segment your TA and scale to other markets. Generally, the younger a person is, the more likely he or she is to use a mobile app. Therefore, the app is sure to appeal to young people who are about to buy their first home. Boomers can use a user-friendly interface and extensive functionality that'll simplify buying or renting a property.
6. Maintain constant contact with your clients
You can be in touch with your customers 24/7 and notify them about any essential information, be it a new apartment nearby, follow-ups with real estate agents, etc.
7. Key marketing and sales tool
The app not only collects and analyzes customer data but also offers personalized recommendations based on tracking and preferences. Even if a customer deletes the app, their data account and ad campaign subscriptions will remain. In addition, it can become the basis for offering additional services, such as real estate legal services.
Bottom line
Developing a competitive real estate app would require the well-coordinated work of many specialists like business analysts, real estate app developers, designers, and testers.
A rough real estate app development process will mainly consist of these stages:
• Market research
• Functional and non-functional requirements
• Development
• Testing
However, everything depends on the type of project and your ambitions.
If you want to schedule a personalized consultation with our experts in real estate digitalization, email us at info@computools.com.
Computools is a full-service software company that helps businesses innovate faster by building the digital solutions or bringing the tech products to market sooner. Discover our collaborative approach and industry expertise that spans finance, retail, healthcare, consumer services and more.
Contact us →