In January 2020, Computools launched an innovative Marketplace Solutions Kit that allows creating a flexible and handy marketplace platform. This innovation is sure to benefit both business owners and public organizations that are willing to build an effective online marketplace system. But what's its main value?
The kit offers a template with ready-made plug-ins and a demo stand. The focus is put on the customer's ability to customize the template in a way that provides a one-of-a-kind app with all the essential features and utmost productivity.
The appeal of Marketplace is linked to the following advantages:
· Long-term benefits. Marketplace benefits the client in many ways. User-friendly and easy-to-use apps not only result in higher sales but also help to greatly expand your customer base.
· Multifunctionality. One app developed with Marketplace gives access to plenty of vendors and thousands of customers at a time. This is why it is easy to address issues quickly and in one place.
· Reaching out to a wider audience. One marketplace platform paves the way to numerous global markets and enables you to engage with more suppliers and grow your business faster.
· Compatibility. Marketplace-based apps can be integrated with other business systems without difficulty.
· Flexibility. It is possible to add new features and options to the operating app if needed.
These characteristics clearly indicate that Computools's kit is splendid at producing error-free and smooth apps. Marketplace lets you have a customized and original product that can be a good basis to develop a favorable climate in which many businesses will be able to operate effectively.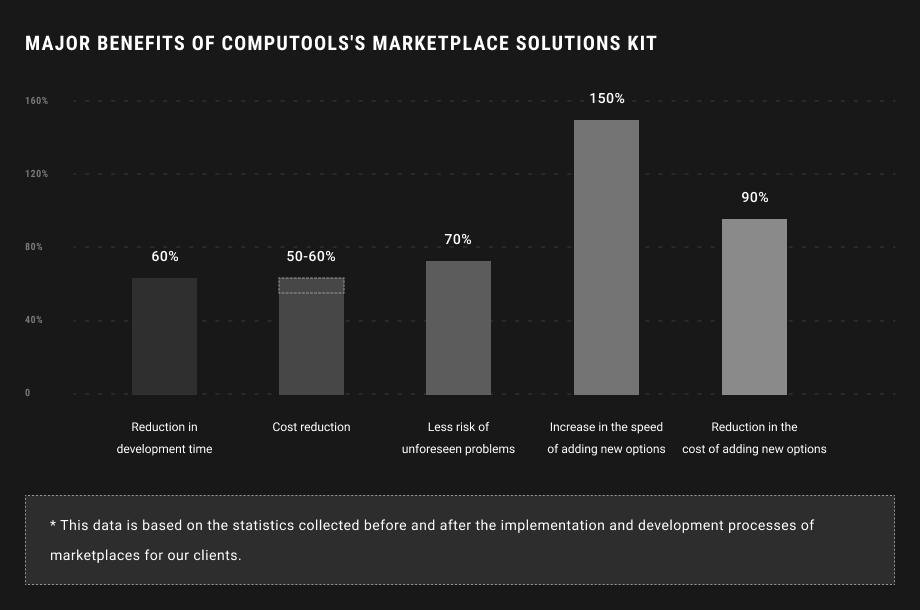 Despite relying on one template, each business can drive different values out of it. Start-ups are most likely to deepen their expertise in marketplace mechanisms, whereas small and medium-sized enterprises will succeed in establishing new channels and brightening their brand image. Similarly, experienced business players will find it valuable as well because Marketplace's apps can help you improve a lead time and boost customer loyalty.
Computools's Marketplace Solutions Kit is an ideal way out for businesses that look for sound and quick solutions. It offers an adjustable and valuable product that connects various players interested in establishing beneficial business relationships as much as it enables the fast and effective development of high-end and glitch-free apps.
The history of the digital economy shows that an online marketplace is one of the most successful ways to grow from a small firm into a giant multi-million-dollar company. Since a degree of competition has considerably increased in recent years, a rising number of businesses opt for cooperation to withstand the market power of competitors. Choose smart tools to stay together and get closer to success.
Computools is an IT Consulting and Software Solutions Development company that helps businesses innovate faster by building the digital solutions or bringing the tech products to market sooner. Discover our collaborative approach and industry expertise that spans finance, retail, healthcare, consumer services and more.
Contact us →