Building a valuable product is hard, but making it profitable is even harder. How you approach software monetization eventually defines the payback period and the number of regular customers that will back up the revenue flow you expect to get on a regular basis.
What is a product monetization strategy?
Software monetization is the way a company is paid by its customers for products or services provided. Today each new software product entering the digital market should be well aligned with its target customer. It's crucial to know your buyer personas' behaviors and preferences. Product Owners also need to clearly define distribution channels (on-premise, cloud, or hybrid) and, more importantly, be sure that a chosen revenue model will be the best match for a particular customer's payment capacity.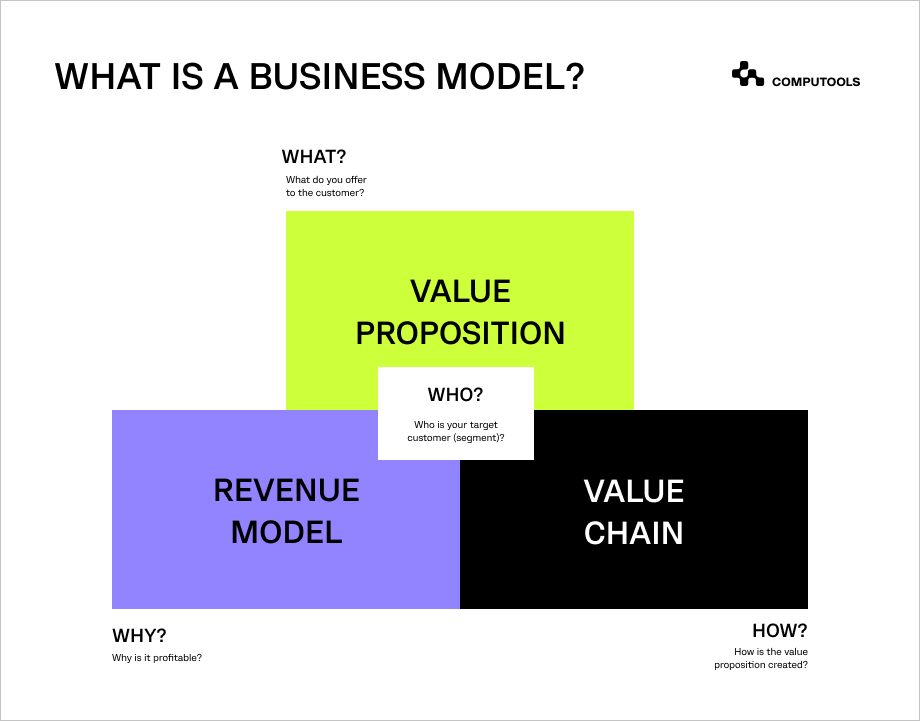 This article goes over the most popular software monetization models that help digital product companies drive multiple revenue streams from day one of product launch.
1. Product licensing
The software licensing model is a traditional approach to charging customers a license fee once before installing software. However, the license policy may differ from one product company to another. There are three basic types of licensing applied to marketed software nowadays. The first type, a perpetual license, implies that software owners (e.g., Microsoft Office, Adobe Creative) will leave the product to a customer's indefinite usage once they pay a one-time license fee. With perpetual licensing; however, product support and updates may require extra money. The second type is a term-based license (also known as "subscription"). It makes consumers pay a periodic (monthly, annual) fee that can be stopped and renewed whenever necessary. Another less common type of licensing is consumption-based applied for cloud software. The amount of money depends on the actual software consumption by customers and doesn't impose any term-based commitment.
Examples: SAP, Ahref, Microsoft Office, AutoCAD, Adobe Creative Cloud
2. Subscription
A term-based subscription is the most widely used revenue model for SaaS solutions that do not require businesses or individuals to install software on their premises but can access it online anytime. Most often, SaaS products let customers choose between different subscription plans, from free-of-charge features to the most advanced functionality (what is called "tiered pricing"), or charge them for the number of modules or users served by a SaaS platform (what is called "per-unit" or "per-user pricing"). Flat-rate pricing is another type of subscription. It sets a fixed fee paid for the entire solution, which is the reason it remains less flexible and popular with both customers and product owners.
Examples: Atlassian, Basecamp, Salesforce, Zoho, Upwork, Microsoft Teams, Hubspot, Slack
3. Advertising
Ad placement is a conventional product monetization strategy that allows platform owners to generate revenue by showcasing third-party products and services. Though it sounds pretty simple, it's vital to choose advertisements strategically. They need to be tailored to the target user so that they indeed address the audience's needs correctly. In most cases, paid advertising is not the type of software monetization to give huge revenue very quickly. Often, it takes years to scale up a platform until it builds clientele loyal enough to win successful partnerships with powerful influencers or known brands. Similarly, the platform owner should put extra effort into configuring a smart algorithm of matching their segment's preferences to promoted ads from hundreds of marketers selling their diverse stuff online.
Examples: YouTube, Instagram, Facebook, Twitter, Google, Pinterest, Snapchat, Netflix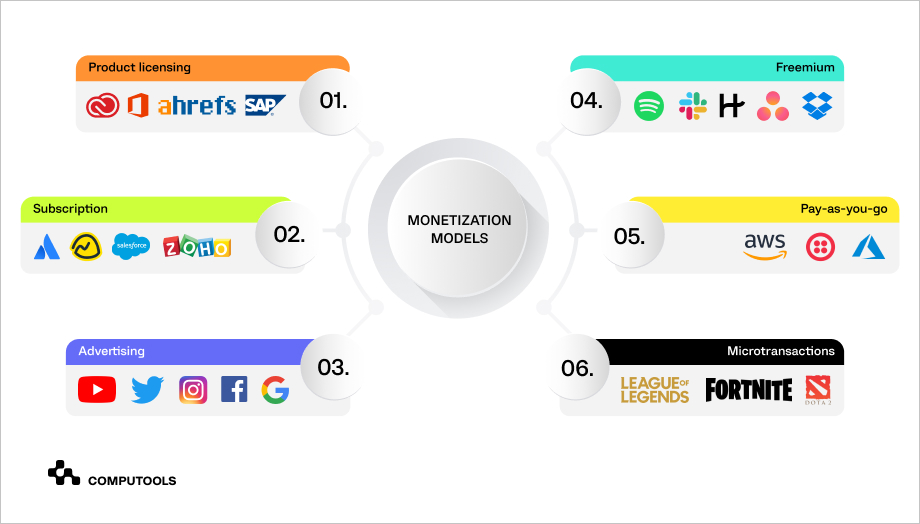 4. Freemium
Freemium is a tricky software product monetization that seeks to get customers on the hook by letting them use a product for free for a little while. A free trial may last from one week to a few months during which customers are supposed to fall in love with the product and start paying money. You might have noticed that lots of streaming platforms like Hulu, Amazon Prime Video, and HBO Max opt for this approach because in the long run, after watching quality content for free, over 70% of users convert to regular subscribers. However, the entertainment industry is not the only one to benefit from this monetization model. The Freemium model may be a wise option for any digital product that is ready to give in to low entry barriers just to attract and maintain new customers. The most common option is to offer a 30-day free trial after which the user needs to decide if they are really in need of the product.
Examples: Spotify, King, Hinge, Slack, Asana, Dropbox, Skype
Get free consulting from computools and start building your product right away!
Contact us →
5. Pay-as-you-go
Unlike traditional eCommerce, the "pay-as-you-go" (PAYG) model doesn't require customers to pay upfront for the services they want. By contrast, this model only bills for the number of services consumed and never charges extra money if users become less active in using their chosen SaaS product. PAYG is a popular monetization method among cloud computing providers that prioritize scalability for their customers. It's equally an attractive payment model for startups and enterprises looking to reduce operational costs and not overpay during downtime. In this case, monetization entirely depends on how much customers need your service. The more actively they use your software, the more revenue you generate by the end of the quarter.
Examples: AWS, Microsoft Azure, Twilio
Product Owners also need to clearly define distribution channels (on-premise, cloud, or hybrid) and, more importantly, be sure that a chosen revenue model will be the best match for a particular customer's payment capacity.
6. Microtransactions
A microtransaction monetization model makes users pay for virtual items with small amounts of money. Microtransactions are by and large typical of eSports and the gaming industry as a whole. Its strongest side is that in-game purchases are affordable to most users due to its flexible pricing and a rich choice of virtual stuff to acquire. Microtransactions are usually implemented through virtual currency in many games. Each game comes up with its own currency (say, Fortnite uses "v-bucks") that functions as a way to purchase necessary upgrades for a player. In essence, microtransactions are a sophisticated way of integrating online video games with a real-world economy. They bound players to neither fixed nor recurring fees but remain optional until gamers happen to want to buy anything in a game.
Examples: League of Legends, Fortnite, Call of Duty, Halo 4, CS:GO, Dota
What about mixed software monetization?
The above categorization of monetization strategies elaborates on the peculiarities of each revenue model. However, in practice, most product companies decide to combine more than two approaches to increase the likelihood of user conversion.
Let's take LinkedIn as an example.
1. By default, it's a free platform for all users: job seekers are welcome to register on LinkedIn, fill in their profiles, and start looking for good vacancies, while recruiters and talent agents are able to use the same platform for hunting the best workers for their companies. In addition to free basic search functionality, LinkedIn offers a premium subscription (from $29.99/month) that would let users gain access to the platform's prominent features that include profile statistics and ranking, salary insights, direct messages to recruiters, online video courses, Profinder (freelancer service), and Sales Navigator for finding better prospects.
2. Concurrently, LinkedIn evolves as a successful social networking site that seeks to place sponsored content and paid ads targeted at relevant career builders and businesses across the globe. This revenue stream goes well with most business people using this social media platform to expand their networking and find useful connections.
3. Finally, LinkedIn has been developing Talent Solutions that encompass various services for recruitment and personnel development. They are sold separately at fixed pricing for recruiters that look to post more jobs and catch the best talents.
Simply put, LinkedIn relies on three different revenue streams that complement each other. It has a three-tiered monetization structure, which helps target both individuals and businesses at the same time, offering free and paid services according to their needs. This mixed approach to software monetization can be seen as versatile and highly desirable to most software products being grown these days. The more revenue channels a product owner employs, the better are the chances of earning more money within the first year of service, which only proves its software success.
Get in touch with Computools
Not sure what monetization model will fit your digital product? Hit up our experts at info@computools.com to get a free consultation on what revenue model will help you scale up and make profits from your digital product.
Computools is an IT Consulting and Software Solutions Development company that helps businesses innovate faster by building the digital solutions or bringing the tech products to market sooner. Discover our collaborative approach and industry expertise that spans finance, retail, healthcare, consumer services and more.
Contact us →