Mobile gaming vs PC gaming is a hotly discussed topic. Western users mostly prefer big platforms, while Asian ones seek to optimize space and for this reason prefer mobile phones or portable consoles. Below are presented the pros of mobile gaming that will help to break down the popular myth that mobile gaming is complete garbage.
1. Convenience and accessibility
Mobile devices are extremely handy. They are standalone, accessible from anywhere and require no extra equipment but a rechargeable battery. They are small-sized, need a little space and so can be easily carried in a pocket, backpack, handbag, etc.
Similarly, mobile gaming offers lots of advantages. If you are playing offline, you just need to download a game once and you are all set to play it. Downloaded games are stored on the hard drive. This property allows people to play their most loved games anytime they want. Compared to other types of gaming, mobile gaming is the most convenient way to play. Besides, mobile games are a great way to switch off your mind and relax from hard work.
2. Smartphone performance is growing, while its cost is decreasing
Everyone knows that the smartphone market has substantially increased over the last ten years, especially in Asian regions. This surge enabled manufacturers to enter the race for the best performance and start using the least-priced hardware in their phones. Since hardware is regularly upgraded, the older versions become cheaper, thereby making all the wide variety of mobile devices much more affordable for the majority of users. Even based on the latest hardware, smartphones have never been that expensive in comparison with big platforms. You can find some really budget-friendly phones with pretty nice specs, for example, on AliExpress.
At the same time, PC hardware and new-generation consoles cost a lot of money and continue rising in price every year.

Plan to design a brand-new game app to lead the gaming market?
Contact us →
3. Mobile games are much easier to develop
Comparing to PCs and consoles, mobile devices obviously provide an inferior performance. Their development no way involves super-high-polygon 3d models or super-quality visual effects, such as explosions because the majority of smartphones won't simply be able to handle them. However, their development time is considerably shorter as mobile phones don't require complicated calculations such as physics and shaders that are typical for PC or console hardware.
Likewise, today's game engines have really good and simple sets of tools and features allowing both newcomers and experienced developers to produce games really fast. Some of them even can make a game without any piece of coding or programming knowledge, for example, Buildbox or RPGMaker.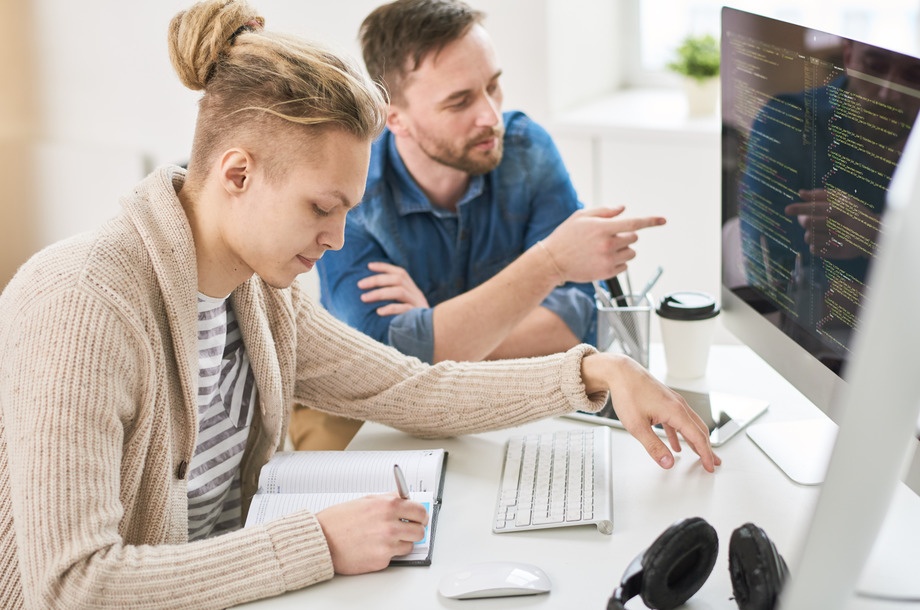 4. Which mobile games lead the market?
Along with the actual mobile phone industry, the mobile gaming industry is growing twice as fast. Though lots of people think of mobile gaming as garbage, it accounts for over 54% of the global gaming market. According to mobile gaming statistical data, 2.4 billion people are expected to get engaged in mobile gaming in the year 2019. This is the reason why tons of mobile gaming companies pop up every year to develop brand-new games and capture the market.
Games on Play Market and AppStore vary from simple 2D games, puzzles, 3 in a row or online games for kids to complicated 3D shooters with multiplayer and strategies, representing a wide variety of genres and styles. The mobile gaming platform also stores the best indie mobile games. You can find tons of trash games on Steam, but you could still find something new for yourself on Play Market.
Moreover, many big desktop-game companies have started developing big spin-offs such as Activision with its Call of Duty Mobile, Microsoft with Minecraft, Blizzard with Diablo Immortal and Hearthstone, Valve with DOTA Underlords, as well as PUBG Mobile and Fortnite all of which are considered the best online games for mobile devices. Many famous old games such as Grand Theft Auto, Max Payne or Doom were also ported to mobile platforms. Even people who don't mind the mobile gaming platform often play some non-binding casual games like Subway Surfers just to waste some time while being on a bus or having a break at work. This trend leads to mobile gaming addiction that has already reached high rates and raises concerns.
One more thing about mobile games is that they are mostly free-to-play, so you won't have to pay extra money for getting access to a specific game. All you need is one mobile device the price of which is also within an affordable price range. This clearly explains why everybody has a phone, but not everybody has a PC or a console.
If you have never tried to play a mobile game, just go to Play Market or AppStore, depending on your device and check the most popular mobile games or top mobile games list sections. You will surely find something for yourself.
5. Augmented reality is about to explode
Augmented reality is a topic closely intertwined with mobile phones. If you are not familiar with augmented reality, this technology allows viewing the real, physical world as a virtual reality enhanced with some computer-generated inputs. These inputs may range from sound to video, to GPS overlays and more. Besides practical applications, this technology can be also used to play. Haven't you heard about the famous Pokémon GO? This is a perfect representation of what AR can be used for. Pokémon GO made hundreds of people addicted encouraging them to travel around the real world in search of the rarest Pokémon. Isn't it a cool reason to start your journey?
If you think of AR as weird, just check upcoming Minecraft Earth or Harry Potter: Wizards Unite games.
6. Cloud gaming services
Cloud gaming services are going to conquer mobile phones. Have you ever thought that you will be able to play a PC or console game on your Android iOS device? It is no longer a dream because upcoming cloud gaming services are about to change the game.
For example, a few days ago, Nvidia's GeForce Now came to Korea as Beta. Here's me killing the 1st boss in Dark Souls 3 on my Lenovo A7000-a. A nice image for a mobile phone, isn't it? To be honest, controls are not that comfortable to play, but GeForce Now supports many famous gamepads, so if you were to connect it, this might be a cool and funny experience.
GeForce Now is just an example. Many upcoming cloud gaming services will be compatible with both iOS and Android such as Google Stadia, xCloud, Amazon, etc. Some services are already available to a wide audience, such as Vortex or Steam Link.
To date, cloud gaming services are viewed as something new and unknown. There is little hype around them, but it is about to change. Their novelty and innovation will start a new chapter in the history of mobile gaming.
Computools is a full-service software company that helps businesses innovate faster by building the digital solutions or bringing the tech products to market sooner. Discover our collaborative approach and industry expertise that spans finance, retail, healthcare, consumer services and more.
Contact us →