This article is based on the Gartner's report.
Keeping Up With Trends in Technology
Have you ever noticed how heart-stoppingly people interested in art, fashion, and design are waiting for Pantone's color of the year announcement? Have you taken a step back and asked yourself why it might be so important to them? After all, it's just another color shade. But it's not that simple, the specific shade is selected based on many studies into trends and tendencies that are found in art and design, including everyday things we experience in life from the color of clothes and hair dye to furniture and walls. Colors can be fashionable, in demand, and set trends.
In IT, similarly, we can identify top technology trends that set the direction for business over a course of a few years. This phenomenon is researched annually by Gartner.
Given the speed at which digital technology is evolving these days, it's really hard to keep up. The specifics of trends is that you're always developing something for the future, but relying on resources and materials that are in the now.
Gartner expects 12 technology trends to stand out in the next 3-5 years. They'll influence innovation in digital business. With intense competition and rapid technological development, corporate executives need to be aware of cutting-edge trends and technologies to understand where they as a business are strong, where the gaps are, and what is working well and on-trend.
Note: the terms we're using are straight from the Gartner report verbatim and supplemented with our insights.
12 Advanced and Influential IT Trends for 2023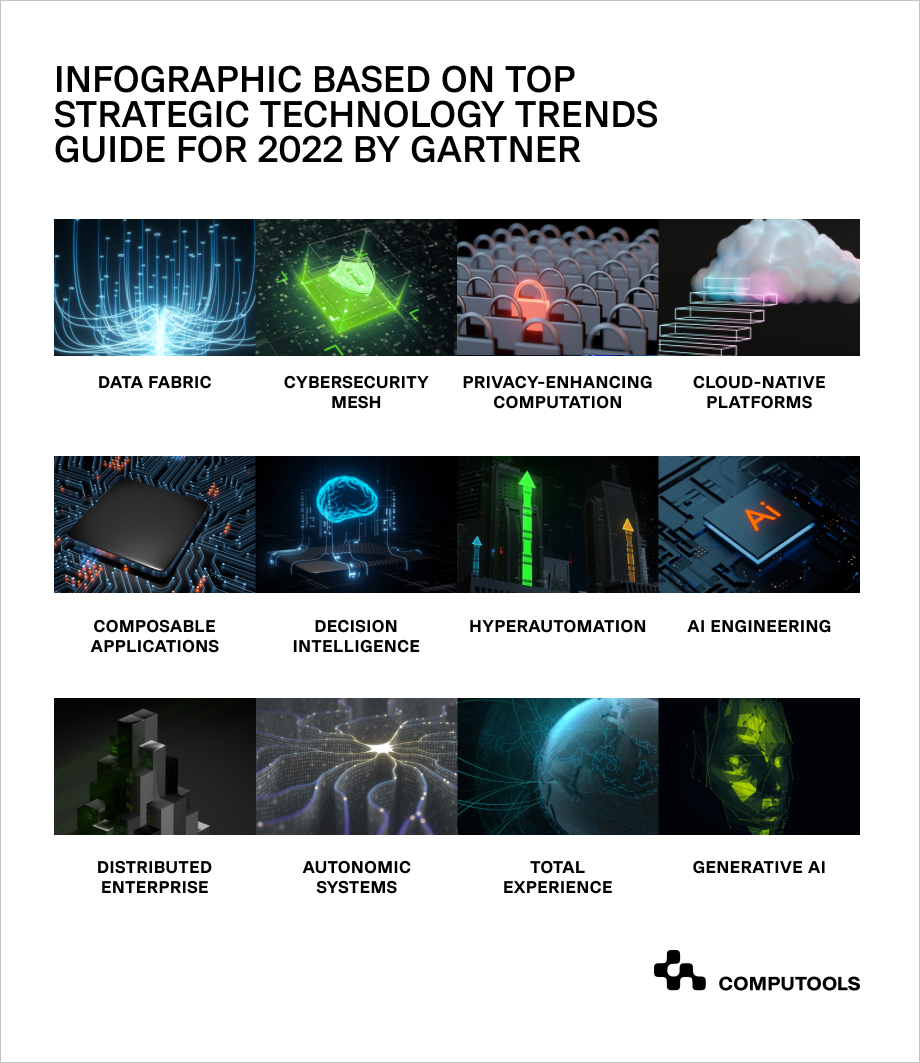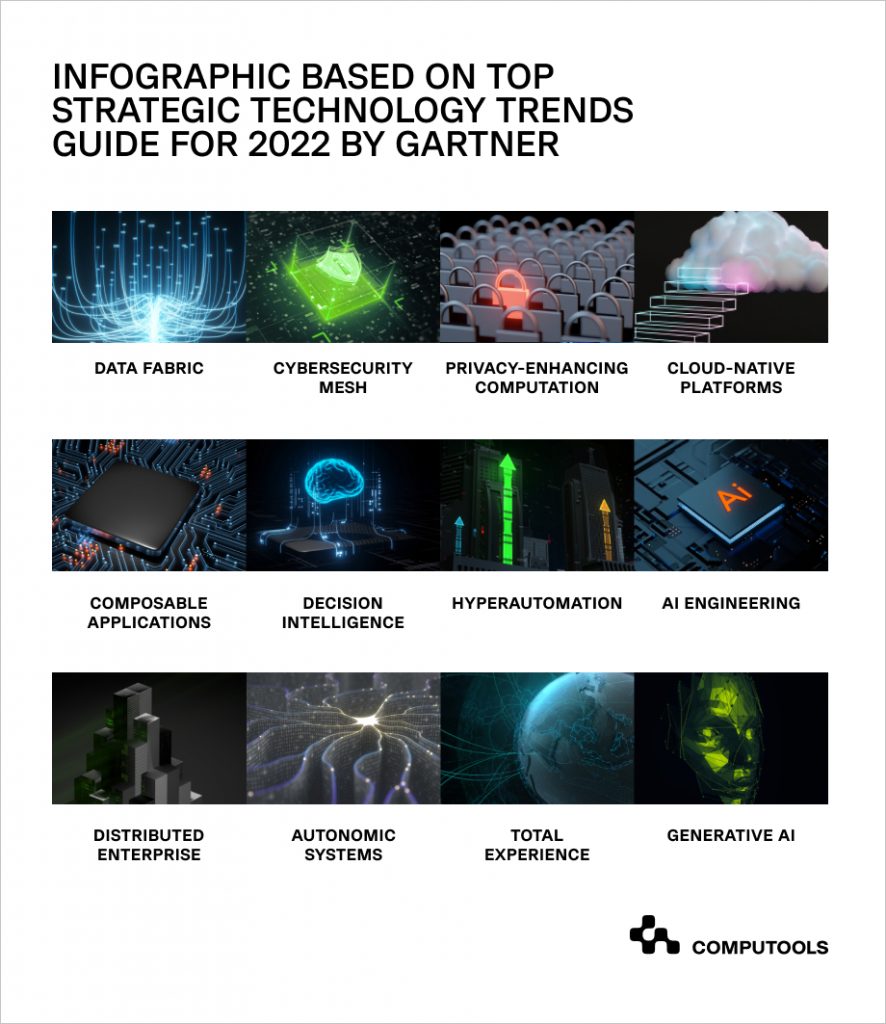 1. Data Fabric
This concept is a holistic information management architecture with comprehensive and flexible access to work within it. It's not a platform that's supplied for corporate use by third-party providers, it's an ecosystem that's created individually to meet a company's needs. Big Data and AI are used to organize the most efficient algorithms. Data Fabric is advantageous in terms of data security, and also allows data to fully interact with other systems within a company's IT infrastructure.
2. Cybersecurity Mesh
The need to strengthen security for both large and medium-sized businesses has increased with the shift of a large percentage of employees worldwide to remote working, which has led to an increase in security hacks and information breaches.
This trend is affecting everyone in the data exchange chain, but especially the Retail industry. All digital interaction has to be protected from security breaches. The idea of data hygiene should always be at the forefront. Cybersecurity Mesh allows a company's employees secure access to internal information regardless of their physical location.
3. Privacy-Enhancing Computation
Consumers are increasingly concerned about the security of their data during online interactions, which is why creating a secure online environment is so important for businesses. According to Gartner, privacy protection for users and customers remains a major trend.
4. Cloud-Native Platforms
In the era of remote working, a growing number of enterprises are moving to the cloud, and this suggests that changes need to be done in the organizational structure, operation, and maintenance of systems. Cloud platforms have made it possible to decentralize company operations. Efficient performance is achieved by the implementation of Cloud-Native platforms, including toolkits, management capabilities, and process launches. This architecture enables businesses to migrate to the cloud safely and efficiently.
5. Composable Applications
The desire to run applications quickly leads to finding ways to create or modify them easily when needed. The Composable Applications architecture separates functional blocks of an application, making them easier to build, customize, and run.
6. Decision Intelligence
This is the best business analytics tool that goes beyond simple analytics. Decision Intelligence gives a company the ability to work with data-based results, to focus on developing strategies around goal setting, setting optimal metrics, project management, and security for large-scale automation.
7. Hyperautomation
The driving force for Hyperautomation is Robotic Process Automation but is complemented by Artificial Intelligence, Machine Learning, Virtual Assistants, and Low-Cost Coding Application Development Platforms. The demand for hyperautomation emerged from the need to manually automate out-of-the-box solutions that developers outsource to companies. Hyperautomation allows employees to solve process gaps on their own without the help of developers.
8. AI Engineering
AI is a top technology trend for 2023, great for advancing future technologies, but in addition to beautiful fantasies, it also needs to be applied in the context of the real world for the benefit of a business. AI Engineering is in charge of solution development, implementation, and application.
9. Distributed Enterprises
In today's world, there are no clear boundaries a company needs to follow to be successful. Businesses adapt to modern realities to survive and grow. Modern technology makes it possible to hire employees from other countries, for companies to operate at a round-the-clock pace, and to improve internal policies and customer service.
10. Total Experience
According to the Gartner report, this top IT trend includes the total sum of all the experiences involved in a business, including experience from employees, management, customers, and all the elements that have had any contact with the brand.
Analysis of this data gives a clear picture of the advantages and disadvantages of a particular business both on stage and behind the scenes. Based on this, a strategy for development and further promotion can be created.
11. Autonomic Systems
It's not only humans who can learn and make decisions. Software is also able to learn from its environment to create algorithms for efficient operation. Developers already have a large base of technology to develop autonomous systems that help speed up operations.
12. Generative AI
This trend encompasses a broad area of AI technologies, but it can generate content in the form of images, video, text, etc. A distinctive feature of this particular trend is the use of Synthetic Data in training.
Computools Can Use Trends to Assist Businesses
Top technology trends for 2023 are not hard to track, instead, they need to be caught and implemented according to their necessity.  A lot of information is not always a good thing. Information noise is a phenomenon that requires the ability to concentrate and see the most important things.
Computools can help your business understand its information flow, analyze business needs, and choose the best solution for achieving business goals.
Contact Computools to grow your digital business at info@computools.com.
Computools is an IT Consulting and Software Solutions Development company that helps businesses innovate faster by building the digital solutions or bringing the tech products to market sooner. Discover our collaborative approach and industry expertise that spans finance, retail, healthcare, consumer services and more.
Contact us →