AI is one of the biggest breakthrough technologies over the last decade. Its scope of application encompasses many industries, such as healthcare, banking, e-commerce, agriculture, and logistics. But its major impact is still on education.
The old-school education system proved flawed and ineffective long ago. With the rise of digital technologies, it became harder to engage students in learning as they are exposed to a variety of distractions that greatly degrade their level of attention. Traditional methods of teaching no longer work as children living in the tech distraction age are accustomed to having information transferred from multimedia sources and do not respond to the conventional system of education.
The use of AI in higher education is currently viewed as the best solution for all educational institutions faced with difficulties in the organization of learning processes. The integration of artificial intelligence algorithms into educational processes greatly transforms the way students deal with new information as well as allows for improvement to a learning environment that leads to higher student engagement.
What are the benefits of AI in higher education?
AI-based education benefits both teachers and students as it assists them in performing their duties and facilitates their communication on all levels.
1. Closer student-teacher interaction
With the help of AI tools and educational software, it is easier for educators to build a good relationship with their groups of students. AI apps often act as effective communication channels through which any student can stay in touch and consult with their instructors, clarifying all issues as they arise during the learning process. The appeal of AI apps also lies in its ability to enable instant connection whenever a student seeks help or academic support. This way, educational productivity goes up and students feel more satisfied with their academic results.
2. Intelligent robot assistants
Many AI systems boast chatbots that serve as personal assistants and perform a part of the teacher's duties. Intelligent assistants are appealing for any educational institution offering distance learning courses. Since their students are unable to be present in classes, they need more guidance and advice that can be easily delivered through AI-powered assistants. They are usually designed to answer the simplest student questions and deliver the first aide on how to perform and submit assignments. Similarly, some AI bots can guide freshmen on the institution's rules. Most smart assistants operate through voice recognition and direct a learner to relevant information in a heartbeat.
3. Accurate assessment
Every educator knows that grading is time-consuming as every teacher is responsible for thousands of students that need to be assessed. In this case, an AI application helps to speed up the process of learning assessment and therefore allows for more time to be spent on other no less important aspects of education. The reason why AI seems more favorable is that they prevent teachers from making a calculation error and promote unbiased assessment. Moreover, AI systems are often backed by analytics tools that let educators keep track of student progress. This results in a higher academic success rate as a teacher can clearly see those students who are weaker by all means. Based on that, it makes it easier to create an incentive to encourage such students to aspire for better results and put extra effort into their learning. AI-powered assessment is also a strong guarantee against unfair grading that may result in dropouts if not addressed in time.

Want to use AI software to connect teachers and students better?
Contact us →
4. Assistance in lesson planning and preparation
The use of artificial intelligence in higher education is needed for faster lesson planning and assignment distribution. AI bots can be programmed to automatically send course materials to students as well as create lessons by mixing different types of learning activities, such as tests, webinars, presentations, etc. What is more important is that AI in higher education usually implies cloud-based storage of files and materials used during classes. As a result, any learner or educator can access this knowledge base that gathers all possible teaching materials and training manuals in one place from anywhere and anytime. This advantage makes it a lot easier for teachers to conduct classes, check homework, and distribute new assignments as it enhances the consistency across all educational processes.
5. Automated administration
Learning effectiveness is also dependent on the administrative staff's performance. They help to organize a comfortable learning environment in which educators can deliver higher education services and students can study effectively. This may require smart resource arrangement, especially during application season. AI systems here are used to perform repetitive tasks, such as sending helpful emails and deadline reminders, notifying of any changes in the registration process. With the support of AI, students can check the selection results through AI apps as well as self-monitor their academic performance. Therefore, AI in higher education reduces paperwork as students can be controlled and guided remotely.
6. Higher quality of education
At last, the importance of artificial intelligence in higher education is equally explained by its ability to engage all students irrespective of their location, financial capabilities, and abilities. The AI application is necessary when there is a need for one universal platform that is accessible to every learner and represents collective intelligence shared and developed by a university community. By joining this platform, every learner will benefit from a vast pool of knowledge that covers numerous disciplines and fields. AI in higher education results in more affordable learning options that will engage a larger number of people who are eager to evolve.
Surely, the value of AI and educational tools can be relevant to classroom learning as well. With the help of AI, educators spend less time doing administrative and repetitive tasks and instead can pay more attention to the needs of every student. They can also put more effort into interactive and creative activities that potentially can increase student engagement in learning. All this leads to a qualitative change in learning that can be less burdensome but more engaging through AI and educational software.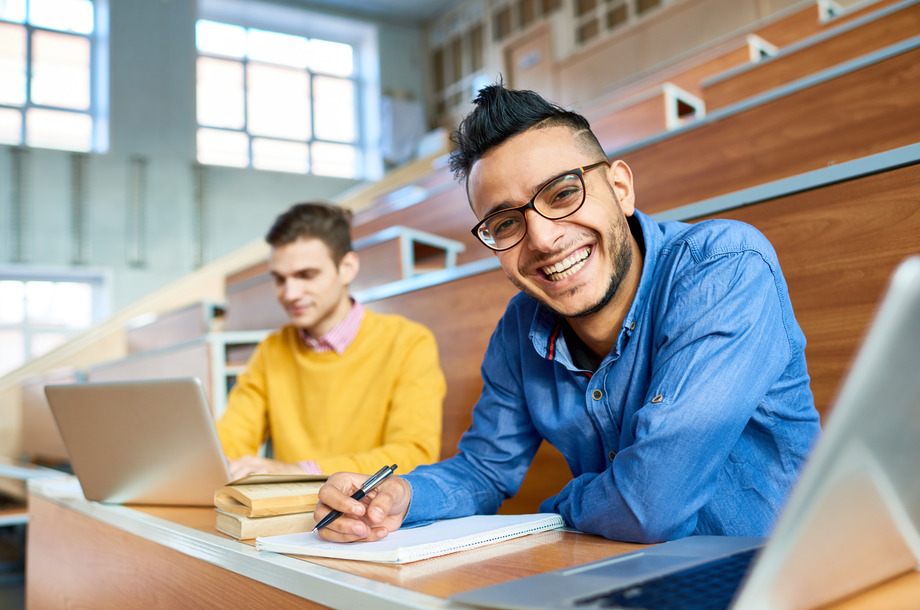 How the adoption of AI in higher education enables personalized learning?
People learn differently. It is impossible to develop one effective methodology that works for everyone. While some students are more willing to gather knowledge from books and lectures, others prefer getting it from hands-on experience. Similarly, not every learner likes teamwork or interactive activities. The integration of AI in higher education allows for the creation of a customized learning style that ideally complies with the student's needs and abilities.
Personalized learning is aimed at adapting the program to a learner's thinking and lifestyle. Since AI systems are programmed to analyze student performance, they provide insights into each student's level of skills and aptitude. Based on that, an educator can come up with a customized learning style. This way, learners will be more willing to study and master new knowledge. AI-powered customized profiles can greatly enhance the quality of education as every person will make the most of its study program. Moreover, educators will be able to give attention to every student through individual feedback. Personalized learning backed by AI has the potential to increase student retention and involve more people in education.
How to pick a top-notch AI developer?
There are a couple of criteria to consider if your goal is to find a credible and competent company.
· Look into their strategy. It is good when the company allows for making changes during the project development and quickly adjusts to your needs if a need for altering your product arises.
· Examine their aptitude. A good developer should be adept in at least three technologies. Their portfolio is no proof of competence. It is best to arrange a meeting with the company's manager and get a more detailed image of how they usually deal with various projects. Try to ask about the challenges and complexities they faced in the previous projects of this type.
· Check their reputation. Reading the reviews on the company's page is pointless. But you can search for any other feedback on the web. There are many IT rankings that should list the developer you're hitting; if they are indeed professional, their expertise will cover IT services in the area of AI and education.
Why Computools?
The education industry is being transformed by many technologies. With the AI wave in education growing year by year, it is reasonable to think of implementing this technology today. If you are in search of the best artificial intelligence companies on the global market, you should be extremely careful with your choice.
Of all the possible options, you should give a heed to the developer's eagerness to implement innovations in your business and adjust technologies to your business needs. This is what basically constitutes Computools's main priority. Based in Ukraine, the company promotes artificial intelligence in higher education and assists educational institutions in adopting the latest innovations. With deep and multivariate expertise, Computools provides qualified assistance to both SMBs and public organizations that aspire to upgrade their infrastructure and boost performance.
The future of artificial intelligence is closely tied to the level of education being delivered across the globe. If your objective is to make a big change in the field of AI and education, integrating smart digital solutions in your organization shall be a good start for fulfilling this dream.
Contact Computools at info@computools.com to receive answers to all your questions about how to develop AI-based education tools.
Computools is an IT Consulting and Software Solutions Development company that helps businesses innovate faster by building the digital solutions or bringing the tech products to market sooner. Discover our collaborative approach and industry expertise that spans finance, retail, healthcare, consumer services and more.
Contact us →