The outbreak of the COVID-19 pandemic paralyzed many offline businesses. Some lost their market shares, others went bust. The time of Coronavirus has been tough for many entrepreneurs but not to online business owners. They received an all-time opportunity to thrive and most of them are still getting wealthy. The spread of COVID-19 outbreak created a particularly favorable environment for all eCommerce companies and where the majority of customers are limited in their shopping experience and have no choice but to order goods in online stores. Based on Statista, the revenue in the Online Food Delivery segment is projected to reach US $136,431 million in 2020. Similarly, UberEats U.S. sales surged by 10%, which is indicative of how technology boosted eCommerce. The virus also provoked many offline brick-and-mortar companies, including a multitude of restaurants, to open new sales channels online so as to stay afloat on the market.
Digital transformation has enabled plenty of businesses to become less vulnerable to real-world disrupting events.
When it comes to offline restaurant companies, their best way out is to jump into the digital market in two ways:
1. Joining on-demand food delivery service like Uber Eats, DeliveryHero, Yandex.Eats, Glovo, etc. that allow unprepared offline businesses to start working online.
2. Developing a business application intended specifically for their restaurant business.
Let's compare the pros and cons of each approach.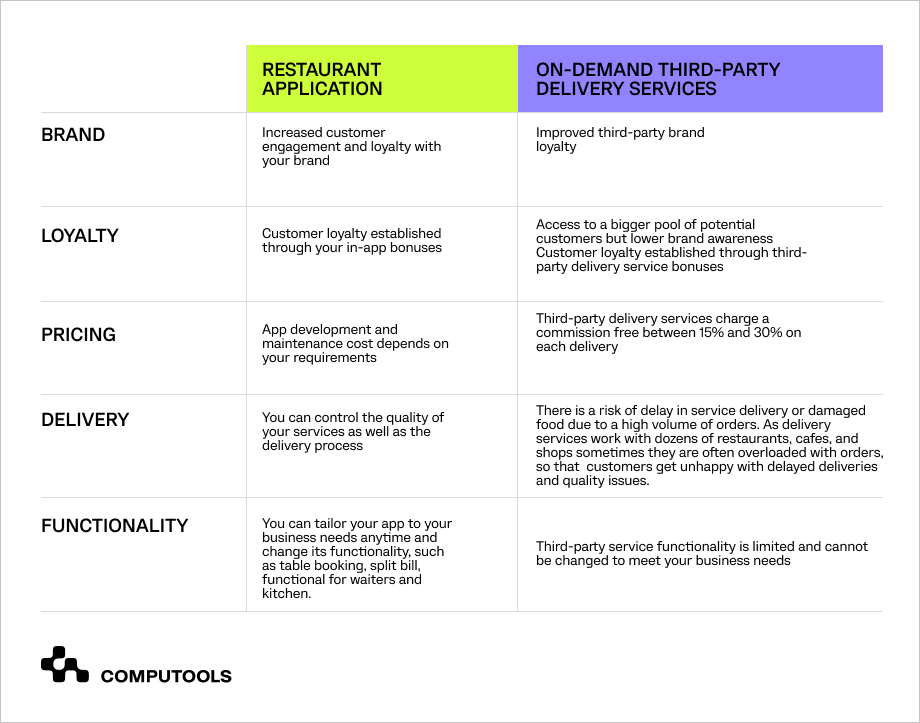 How does a restaurant app benefit your business?
– More seats filled: Customers tend to book tables more actively if they can do it without the need to call you.
– Make-ahead meals: You know what customers pre-order and when it must be delivered, so you can organize your work better.
– Better communication between waitstaff and kitchen: If your customers pre-order or order with the app, waiters are likely to make less mistakes at work.
– Ongoing statistics: You get analytics reports by gathering data of your restaurant application users, so you know better their consumer behavioral patterns.
If you decide to work on your brand, you should create your ideal customer profile and research their pains.

Want to shift your business online to win a larger market share and increase ROI?
Contact us →
These are some examples of what may define your potential customers:
Pain: "I am your regular customer and I want to feel valued."
Solution: Let them be part of a loyalty program giving bonuses or discounts that make them feel exclusive compared to other visitors.
Pain: "I select your place and your dishes but I have no idea what I am paying for."
Solution: Add photos of your restaurant and dishes so that the customer is aware of what you provide.
Pain: "I ordered a table, but they offer me a seat that I dislike."
Solution: You should provide a restaurant seating chart.
Pain: "I reserved a table. I don't want to wait until my food is prepared."
Solution: Let your customer order in advance while or after they reserved the table.
Pain: "I don't want to spend money on delivery, I want to take away myself."
Solution: Let the customer have a take-away option.
Pain: "I booked the table a week ago and I don't remember when and where."
Solution: Send notifications to your customers so they don't need to look for the information or call you.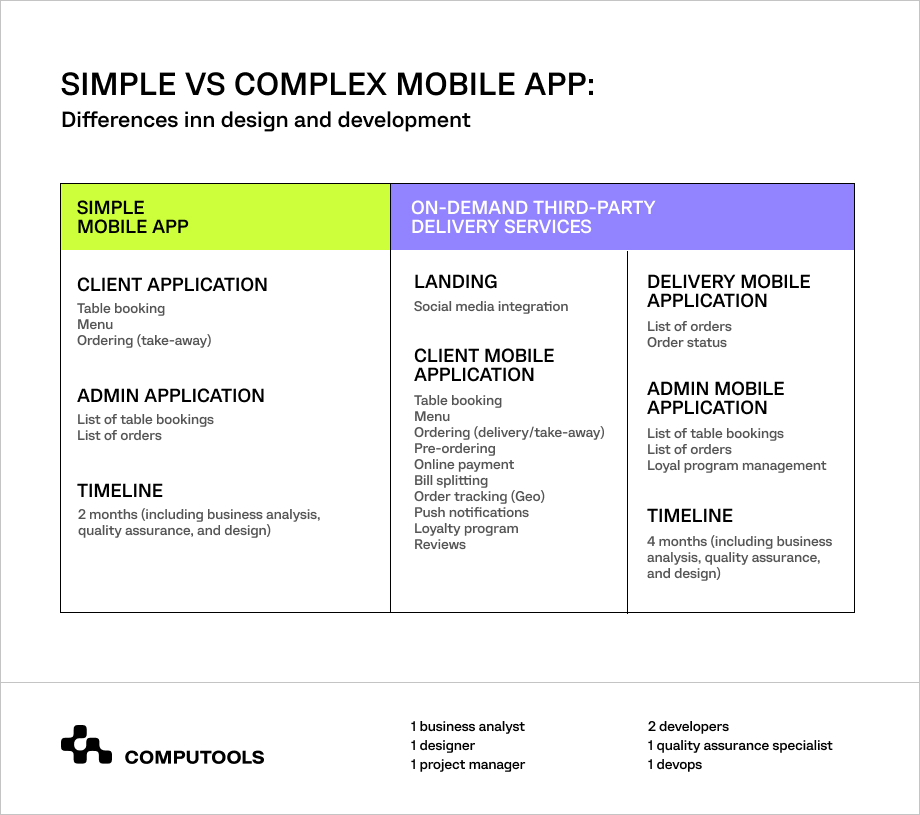 The diagrams belove demonstrate how to enable a restaurant reservation with a mobile app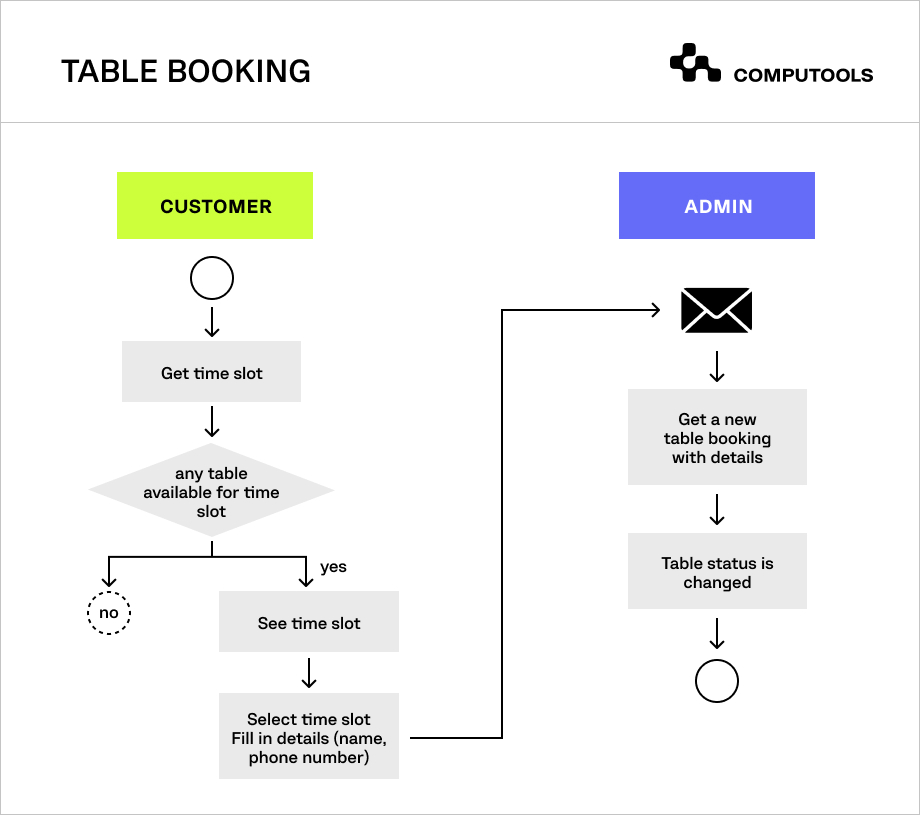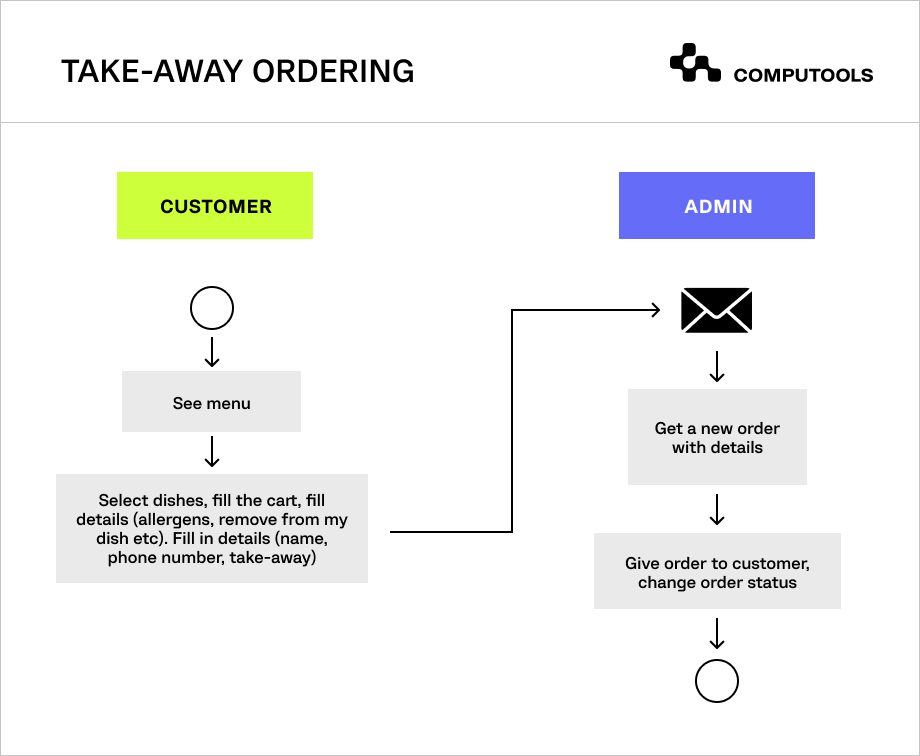 Why every restaurant business needs a mobile app
A mobile app is more than just a way to move your business online. It is also an effective marketing and analytics tool that will let you gain more insights into your business performance. Interacting with customers online allows you to cultivate a positive attitude towards your brand while giving them more freedom to create their own personalized experiences and customer journeys. Therefore, investing in a business app is equal to investing in your company's future.
For further information
If you are wondering what type of business app would benefit your business best, feel free to contact Computools's expert team via info@computools.com that is willing to help you with mobile app design and development as well as other digital solutions that foster business growth and innovation.
Computools is a full-service software company that helps businesses innovate faster by building the digital solutions or bringing the tech products to market sooner. Discover our collaborative approach and industry expertise that spans finance, retail, healthcare, consumer services and more.
Contact us →