The trucking industry shows the most overland freight movement in the US. Therefore, more companies that heavily rely on transportation services try to gain momentum in their digital transformation initiatives to improve the quality and efficiency of their business processes and reduce operating costs.
The staggering effects of the COVID-19 pandemic on the fleet market also drive logistics and transportation companies to streamline their product delivery and transportation monitoring.
One of the few solutions that made it possible is dispatch software solutions.
What is trucking dispatch software?
Any company or enterprise that relies on transportation services needs more clarity in vehicle management, route optimization, scheduling, and driver dispatch.
They also must ensure that drivers reach their KPIs and maximize their performance.
This is where tracking dispatch software comes into play.
Businesses integrate transport dispatch software to streamline their shipment and transportation services. This technology is widely adopted by:
• Manufacturers
• Distributors
• Online retailers
• Logistics companies
Trucking dispatch software controls the fleet's condition, tracks vehicle location and fuel consumption, increases the number of trips made by each vehicle, and helps companies reduce costs.
The components of dispatch software solutions are relatively simple. Vehicle monitoring is carried out with the help of GPS trackers, IoT devices, and other telematics systems.
These devices send data about the vehicle's state to the mobile app or web-based interface.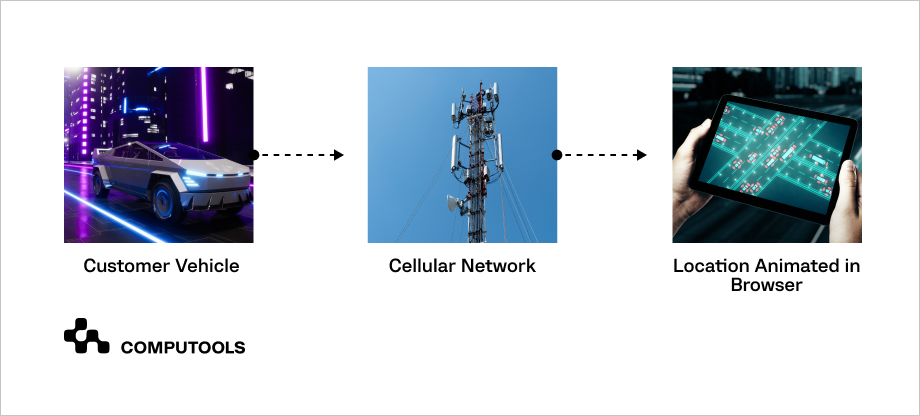 Main features of trucking dispatch software
It's crucial to streamline dispatch software functionality with your business requirements. Unfortunately, as practice shows, transportation and logistics companies lack the technical prowess to outline essential features for their dispatch system.
One of the essential features of dispatch software is the ability to lay out the most optimal route taking into account such factors as:
• the location of the delivery point
• vehicle type
• technical characteristics
• fuel consumption
• type of cargo
Other essential features of the dispatch software can include communication modules, intelligent dashboards, real-time alerts, telematics, automated scheduling, and business mobility.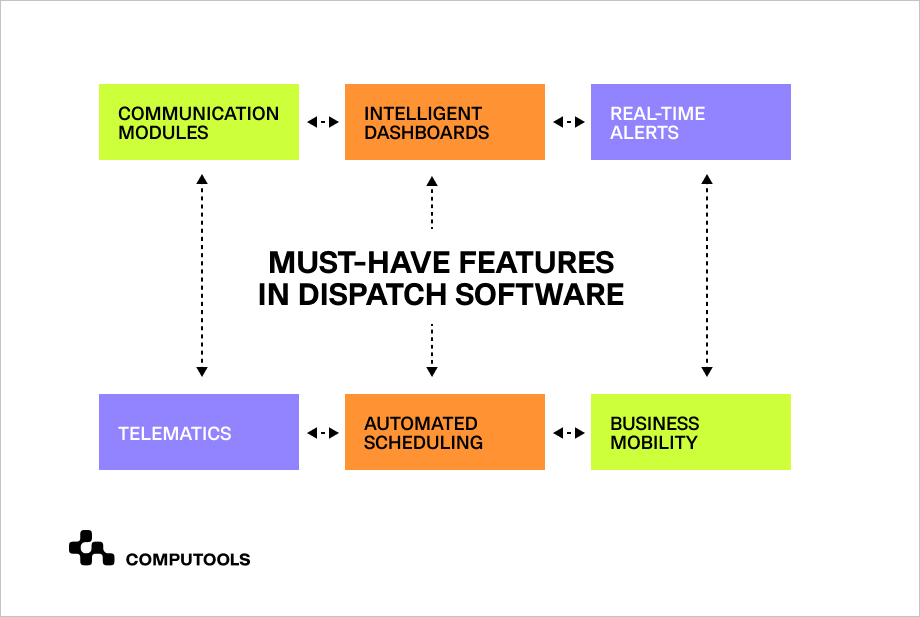 Other functionality can be tailored to the company's business model and specific processes.
It can help solve the following:
• Create lists of vehicles that are in good technical condition;
• Store and update vehicle information: capacity, year of manufacture, condition, etc.;
• Record all vehicle movement;
• Present a full range of analytics on completed rides;
• Track temperature monitoring and carry out predictive maintenance;
• Contact the driver directly through the app;
• Automate document management.
Struggling to digitalize your transportation and logistics business processes?
Contact us →
Benefits of dispatch software solutions
1. Automation
Get more control over document management, route planning, accounting, and other dispatching processes, which leads to an increased number of completed orders and less fuel consumption.
2. More transparent communication
Improve communication and coordination between different parties of a delivery cycle through the automated processing and transfer of information in real time. Make more optimal decisions in case of emergency and notify drivers of any changes made to the order.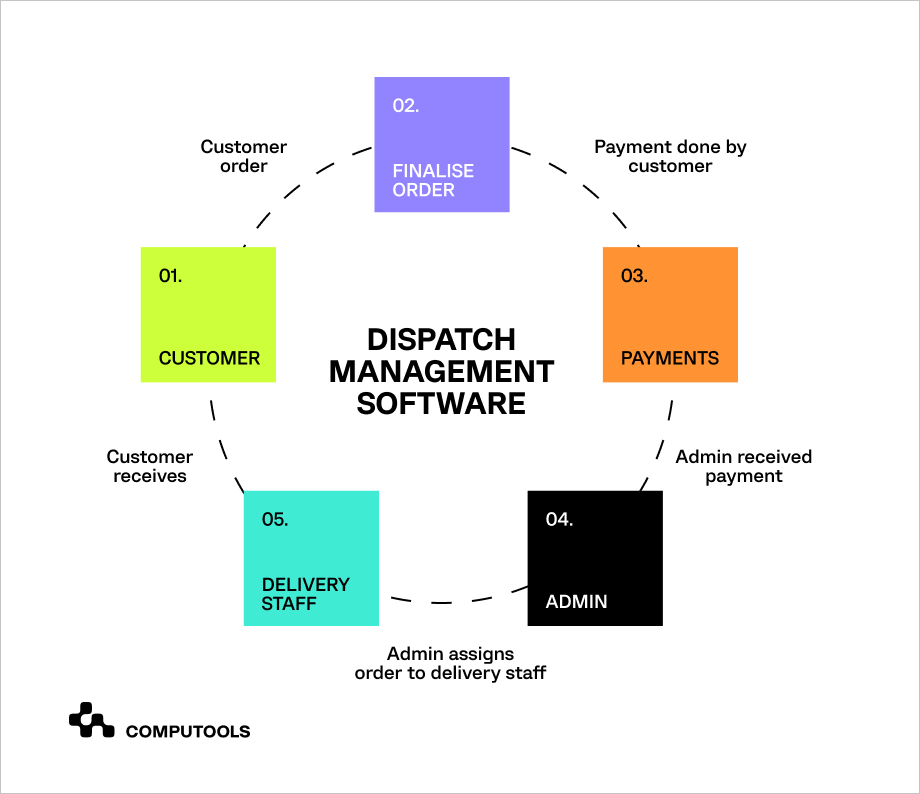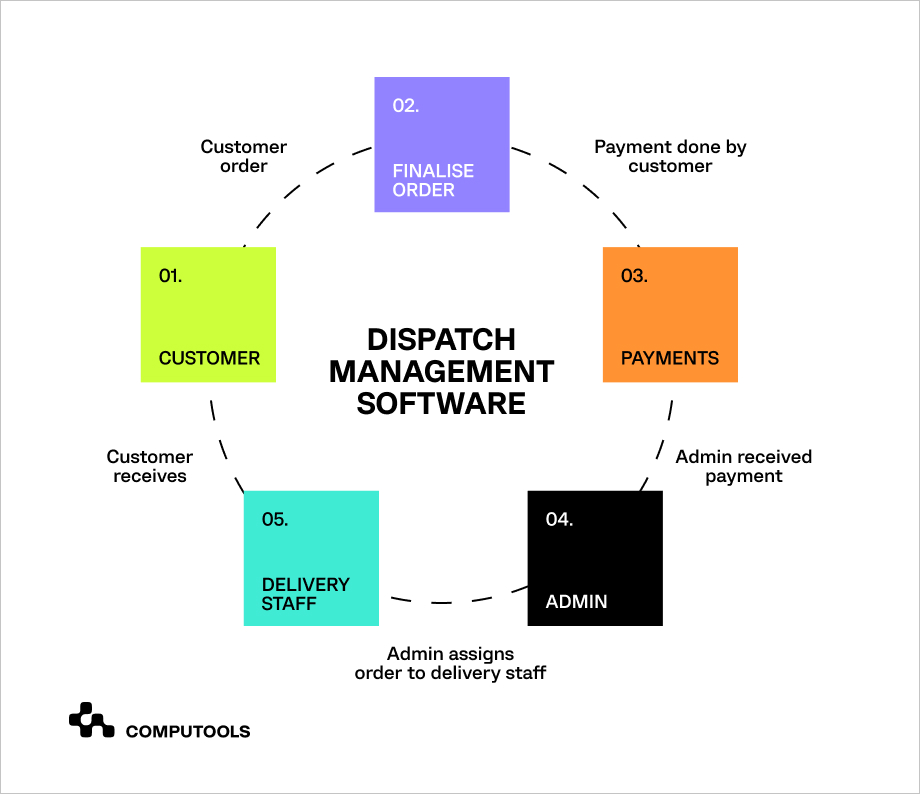 3. Performance
Increase productivity of your fleet and reduce costs. Dispatch software helps to reduce time on organizational processes, eliminate unproductive empty runs, vehicle idle time for loading and unloading, and improve vehicle freight capacity. This increases the capacity of your fleet and overall performance.
4. Customer experience
Improve customer service and customer satisfaction with real-time updates and shorter delivery delays.
5. Cost cutting
Reduce your costs by lowering transportation and fuel consumption, reducing total kilometers, increasing the number of customers served per route, and improving transport efficiency.
How to choose trucking dispatch software?
Dispatch software development is impossible without a comprehensive analysis of your business processes and their optimization. They'll define the infrastructure and overall function of the system.
Today, dozens of dispatch software solutions for small and medium-sized enterprises can be integrated into your supply chain systems.
When it comes to off-the-shelf solutions, they are more cost-effective and heavily adopted by small-sized companies to solve simple route tracking functions.
The downside, however, is poor security and customer support, lack of scalability, and customization.
The state and national compliances can be an issue too. Trucking companies must follow federal laws and rules. Thereby, your software should follow trucking regulations and laws to maintain compliance.
Here are some of the important things to consider when choosing an out-of-the-box solution:
• Should it be integrated within the company's infrastructure or as a cloud solution?
• Choose a software provider specializing in implementing trucking dispatch software.
• Make sure the system meets your needs in terms of functionality.
• Check if the system offers additional functionality that can be crucial for your operation.
• Check how scalable a dispatch system is.
• Make sure the system can be integrated into your current systems.
• If your company is involved in international trade, you should know that not all trucking dispatch software systems have sufficient functionality for managing international logistics.
Dispatch software development is impossible without a comprehensive analysis of your business processes and their optimization. They'll define the infrastructure and overall function of the system.
Despite the abundance of boxed solutions, they only include basic functionality, for example, simple cargo tracking from point A to point B.
Therefore, if your business processes require more customization, it is worth looking at custom logistics software development.
The avid benefits of custom trucking dispatch software are:
Integration. The solution will be carefully integrated into your existing fleet management systems or transport management systems.
Customization. You can add unique functionality to your solution (proof of delivery, barcode recognition, intelligent dashboards, real-time alerts, payments integrations, etc.).
Security. Data stays in the company's corporate system, which reduces the risk of leakage or loss.
Post support. Your software provider will regularly check your trucking dispatch system for possible bugs, data breaches, performance, and updates.
The bottom line
Despite the lower demand for fleet management software compared to the pre-pandemic levels, the global fleet management software market is gaining firm footing: it's expected to grow from $20.73 billion in 2022 to $67.38 billion by 2029.
At the same time, small and medium-sized logistic companies and enterprises are eagerly implementing transport dispatch software to improve vehicle and workforce management.
If you're looking for a reliable software provider with a firm knowledge of the logistics industry, contact Computools's experts for more info at info@computools.com.
Computools is an IT Consulting and Software Solutions Development company that helps businesses innovate faster by building the digital solutions or bringing the tech products to market sooner. Discover our collaborative approach and industry expertise that spans finance, retail, healthcare, consumer services and more.
Contact us →