Innovation driven by the wealthtech ecosystem is an essential part of the new Wealth platform and management.
Recently conducted research shows that the wealthtech platform of the future will be defined by investment in four areas: wealthtech providers, applied intelligence, Lightweight architectures, and ongoing innovation. One of the main goals of wealthtech companies is to transform the client experience in a digitally scalable way. Innovation provided by the wealthtech ecosystem is an essential part of the mix needed to differentiate a successful hybrid proposition. Over one-third of companies now are working with twice or more the number of partners than they cooperated with just one year ago.
Cloud computing is one of the most reliable and appropriate technologies that helps reaching business goals. According to the expert claims, the future belongs to hybrid cloud computing or even quantum computing. While the quantum computing is still a distant future, cloud computing has already become a significant trend in wealth technology.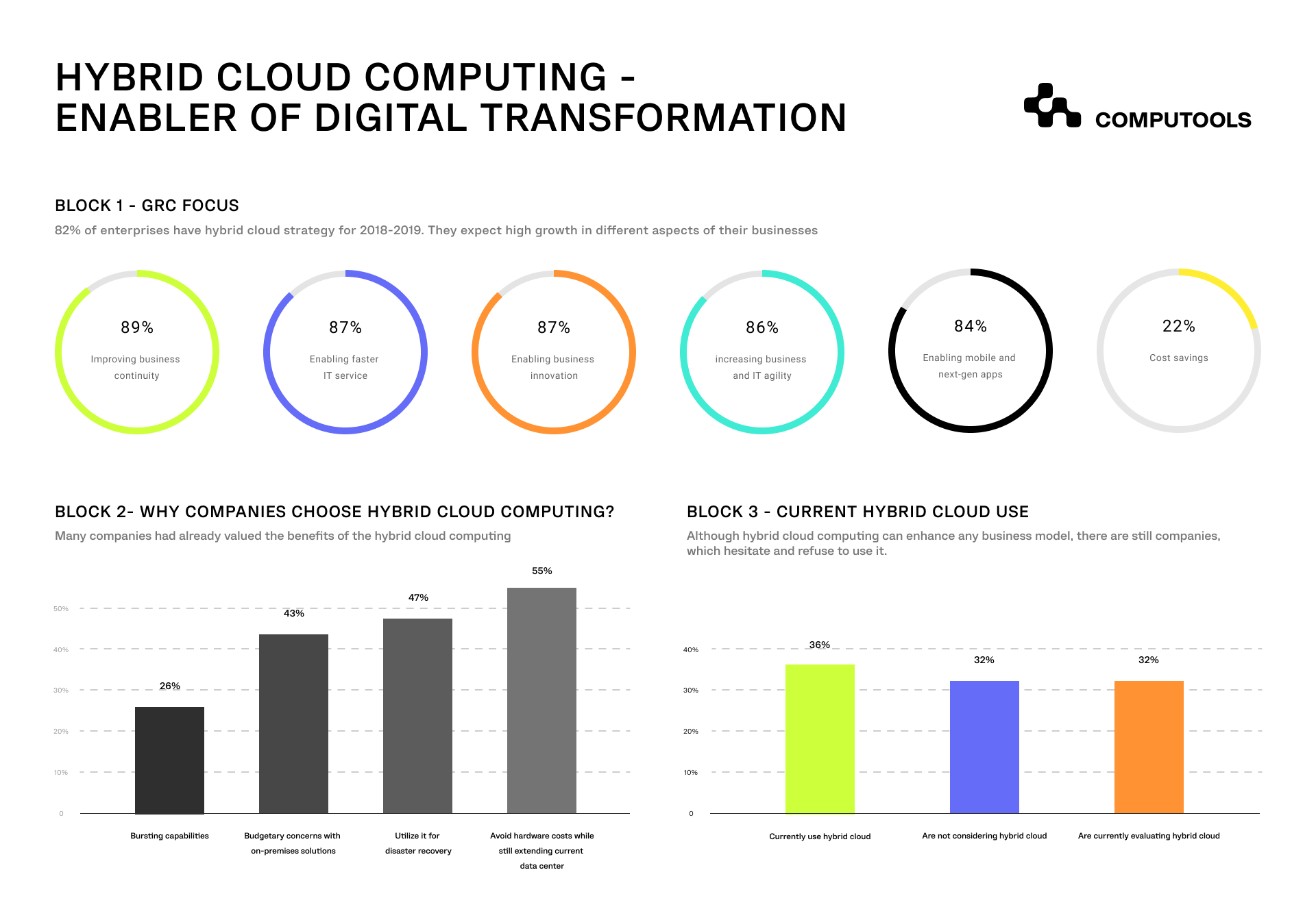 Cloud-based derivatives of post trade processing services help wealth managers to maintain compliance effectively and efficiently. This ensures a smooth alignment with the changing global regulatory environment:
• Cloud-based derivatives lead to market end-to-end post-trade services.
• Services are offered in asset classes for investment banks and asset management companies.
• Cloud computing platforms increase productivity of client advisers.
• Wealth management firms integrate mobile platforms to provide customers with valuable services and personal engagement.
• Cloud services help capital markets and financial sectors to save almost 30 percent of their information technology budget.

Want to implement cloud-based technologies to optimize and boost your company's development?
Contact us →
According to a research by CEB Tower Group, financial firms will keep increasing their cloud computing budget, which will enable them to sustain the changing trends in wealth management.
Why Hybrid Cloud Computing?
One example of cloud computing investment is IBM. The company is working on various solutions that represent cloud-based, AI-powered offerings. IBM says that "not all clients are equal," and offers them an alternative – a hybrid cloud that helps enterprises deal with digital transformation. The IBM platform offers users a highly secure ecosystem enabling a rapid deployment model that reduces launching time and allows a myriad of tools and applications to excel.
A disrupting multi-cloud strategy promotes exponential growth for businesses that want to scale. In order to leverage the potential of APIs the tech companies offer businesses to evaluate data and info on transactions. In this way powerful insights are adding up to enterprise success. The secure platform opens horizons for smooth digital transformation with hybrid cloud.
More than that, a proper server family offers reliable digital experience and takes care of data protection and legal compliance. An iconic secure cloud infrastructure at a fraction of a cost is what businesses need to offer high quality services without sacrificing performance or introducing application changes .
However, there are still some security issues that have to be solved. Certain aspects of cloud security could be viewed as very similar to physical local networks and systems. Both are potential subjects of attacks, information theft, including espionage, and human error. Different aspects of security could be divided into four basic areas: infrastructure, platform & application layer, administration and adherence / compliance. Hybrid clouds offer two most popular solutions.
1. Transfer of domain controllers to the cloud. It is recommended to leave at least one domain controller as an in-house server (ideally physical, functioning as a replica server). Security should be done through an IPsec VPN tunnel with unidirectional Trust. Often the authentication is being solved with the federated access (or cross domain single sign-on – CD SSO) within the trustworthiness of the individual domains.
2. Integration with corporate IS. It involves customers having a corporate IS, when they transfer to the cloud (the same is valid for transfer of some services, or transfer of infrastructure into the cloud). Usually it is necessary to maintain the integration of enterprise systems. Services can authenticate to the domain controller based on its location. However, such systems that remain within an in-house infrastructure, can contain more confidential data.
Cloud solutions certainly solve many problems and bring a lot of value, whether in the form of services or in the form of infrastructure cost savings. Especially when they are combined with other disruptive technologies, such as IoT or AI.
If you are looking for a reliable hybrid cloud computing developer, contact the experts at info@computools.com.
Computools is a full-service software company that helps businesses innovate faster by building the digital solutions or bringing the tech products to market sooner. Discover our collaborative approach and industry expertise that spans finance, retail, healthcare, consumer services and more.
Contact us →