The best way to boost digital customer engagement in banking is to focus on the customer experience and its associated processes. Not because customer experience is the easiest part of transformation but because it's the area that'll help the bank stay afloat the best.
Why digital customer engagement in banking is important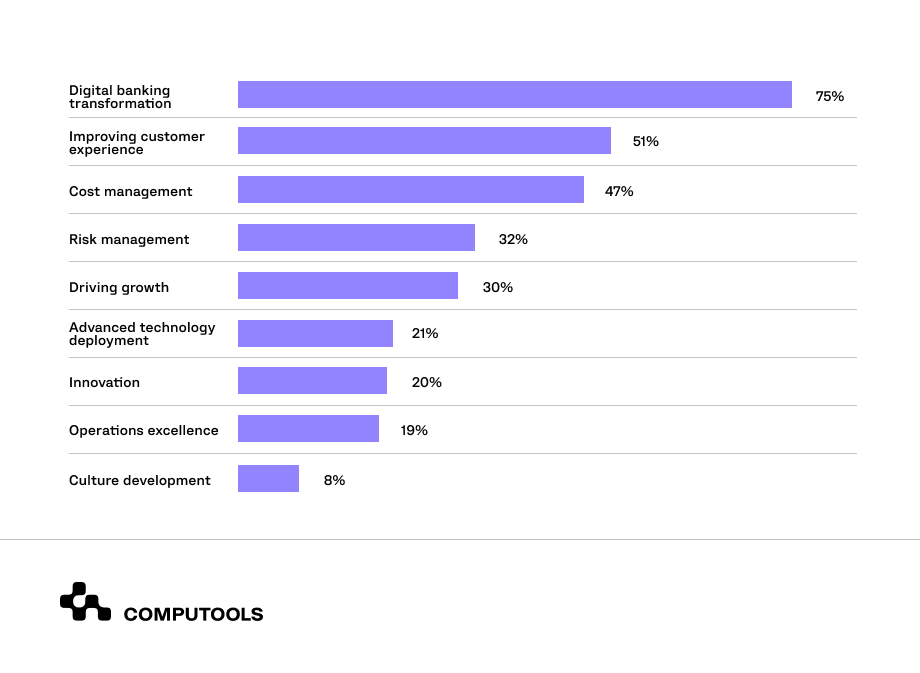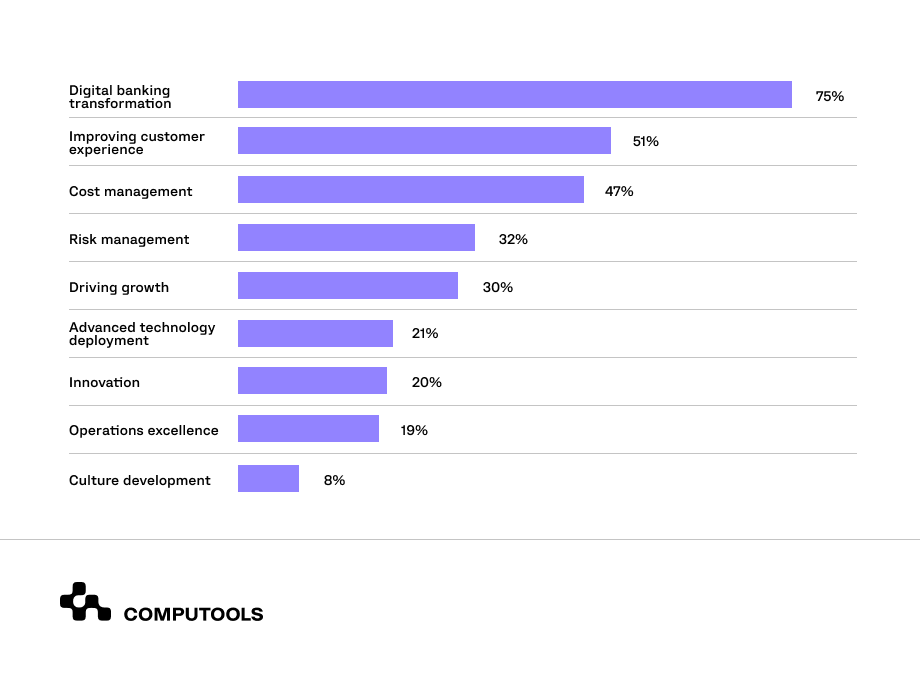 While digitalization in banking is often driven by cost reduction, it's not a top priority for banks today. There's no doubt that cost reduction is important for most organizations. However, focusing on it solely carries risks.
Digital customer engagement in banking can yield excellent returns in revenues, profits, and shareholder value.
Therefore, banks are putting a strong emphasis on customer-centric digital capabilities first. Today, customers interact with banks digitally and, for the most part, use mobile channels.
On the other hand, banks need to implement all standard applications, integrate biometric verification, provide more options for monitoring planned spending, income, and savings, and offer expert opinions and guidance on customers' financial health.
Thanks to new technologies, there are many ways for digital transformation to provide a better customer experience.
So, where to start?
The main difference between multichannel and omnichannel banking is that omnichannel banking focuses on integrating numerous services and technologies in one place, thereby boosting customer experience.
1. Omnichannel customer experience
Omnichannel is a continuous and consistent interaction between the customer and the bank. The goal is to provide customers with a single custom banking solution through digital and physical channels. It allows banks better to track customers' intentions, behavior, and preferences and personalize their communication with the bank.
Users, in turn, can perform any banking transaction using the same solution, whether they use the website, mobile app, call center, or bank branch. Its main goal is to provide a unique customer experience to every customer, depending on their preferences and capabilities.
The main difference between multichannel and omnichannel banking is that omnichannel banking focuses on integrating numerous services and technologies in one place, thereby boosting customer experience.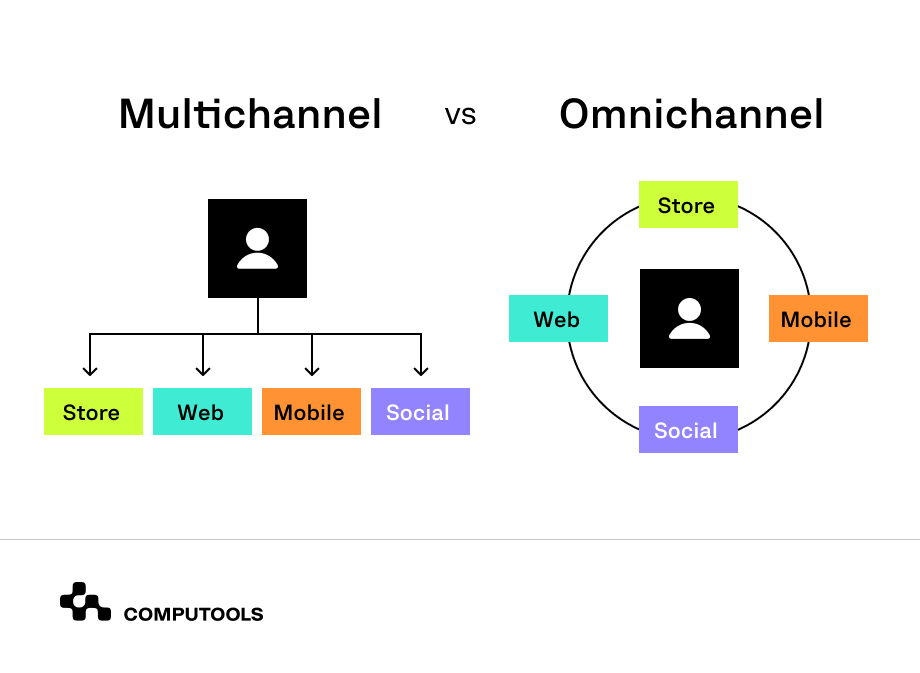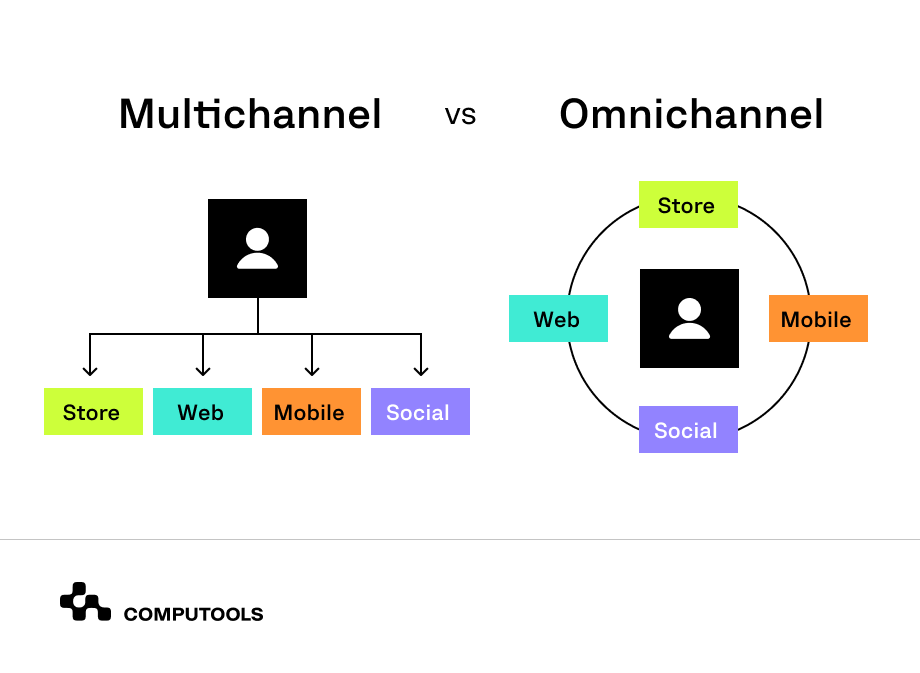 2. Security and transparency in customer experience
Hacking attacks on banking systems and fraud to customers increased dramatically during and after the COVID-19 pandemic.
With the development of bank-client information systems, fraudsters will increase attempts to make sophisticated hacking attacks not only on the bank itself but also on customers' accounts, be it PC or smartphones.
In this regard, artificial intelligence is being actively implemented during finance software development to prevent attacks and fraudulent transactions.
Moreover, for technology to deal with hackers, it should be constantly updated by strengthening information security systems, modifying and updating technical and software tools, implementing new technology, and involving banking operators.
3. Big data and analytics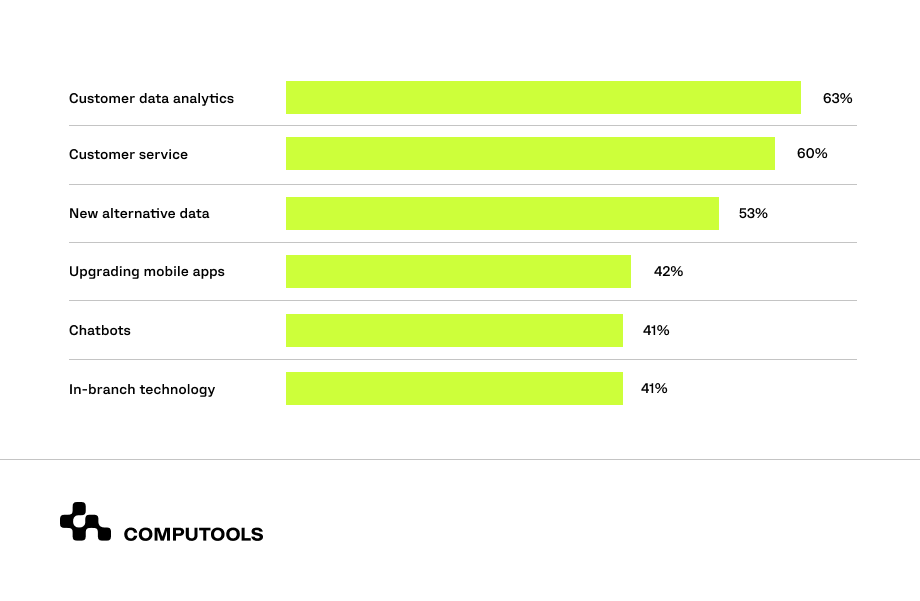 A distinctive feature of the digital era is the exponential growth of data volumes.
For many banks, the transition to data-driven management is becoming a priority in banking software development. As a result, Big Data and data analytics are the leading technologies that help to improve digital customer engagement in banking.
These technologies are leveraged to:
• Minimization of errors and the human factor;
• Identify and analyze customer spending patterns;
• Determine which channels are used for key transactions;
• Classify customers into segments based on their profiles;
• Cross-sell products;
• Manage bank products;
• Detect and prevent fraud;
• Assess risks based on security requirements;
• Report;
• Analyze and respond to feedback from potential customers.
4. Understand the customer journey
One of the ways to create customer engagement is by understanding the customer journey.
With this information, a company can build a more detailed customer journey map and determine which services will be in demand.
Custom banking solutions make it possible to collect information about a bank's customers and make personalized offers of goods and services.
Digitalize your services wisely and boost customer engagement!
Contact us →
Creating a customer journey map (CJM) about their target audience allows banks to:
• Increase customer loyalty, reducing churn and increasing the percentage of repeat purchases.
• Shorten the sales cycle and increase conversion rates. A CJM helps remove unnecessary points of interaction and simplify the customer journey. The faster customers reach their goals, the more likely they'll receive quality service.
• Increase the customer focus on the bank. Every employee understands how the bank interacts with customers and how their actions affect the customer experience. A CJM helps shift the focus from organizational issues to customer interaction issues for proper attention and resolution.
• Reduce the risk of product failure. A CJM acts as a research tool for future customer needs. Enables banks to identify and eliminate potential problems in advance.
• Find growth points for existing products and services.
5. Chatbots
As operational digitalization and customer satisfaction are closely connected, integration of chatbots is mandatory to free up time for bank employees and provide more efficient service delivery.
Today, 90% of banks boost customer engagement with the help of AI chatbots.
Banking institutions are testing different approaches to proactively provide information about customers based on their transaction history and digital profile.
In that regard, they're using chatbots to:
• Recommend investment options based on bank balances and risk profiles.
• Provide news related to the market.
• Suggest ways to use credit card reward points.
• The chatbot can answer daily questions and requests sent to the support department.
• Bots collect all the personal information they get. This information can shift general advertising based on the customer's profile.
6. APIs and partnerships
Open finance and open banking technologies allow banks to partner with other financial institutions like insurers, retailers, and fintech service providers.
An example of API use can be mobile banking applications that allow customers to check their balance, make a payment, and perform other banking transactions directly from their mobile device.
This is how API can boost digital customer engagement in banking:
• Banks will expand their financial products and services distribution channels through third-party organizations and information systems.
• Expansion of distribution channels is the potential to increase a bank's customer base.
• Banks will get access to information and services from third-party organizations, which will give them a better understanding of trends in financial services.
If you're looking for banking software development services or simply seek consultation, feel free to contact our experts at info@computools.com.
Computools is an IT Consulting and Software Solutions Development company that helps businesses innovate faster by building the digital solutions or bringing the tech products to market sooner. Discover our collaborative approach and industry expertise that spans finance, retail, healthcare, consumer services and more.
Contact us →