Many businesses today rely on professional UX/UI design services to ensure their digital products are user-friendly and visually appealing. However, the concept of human-centered design, or HCD, is often used as a buzzword without fully understanding its meaning or how it differs from traditional design methods.
While most developers and designers claim to consider the human element in their creations, many applications and technology-driven products, unfortunately, disregard prioritizing the user's needs. So, today we would like to clarify the fundamental principles of HCD, distinguish it from design thinking, provide examples of its application in real-life scenarios, and share some motivational advice.
Human-Centered Design: What Is It?
To put it short, human-centered design is a unique problem-solving approach focused on prioritizing the user's needs. When it's decided to adopt this method into your creative process, you should dive deep into your target audience, empathize with their real-life challenges, and provide solutions they would readily benefit from. As a rule, the human-centered design process aims to create products that facilitate your consumer's difficulties and enhance the user experience by making it more convenient and effortless.
How Does it Work?
The product design industry has experienced a significant transformation in recent years. Nowadays, it comprises all facets of product development, from market research to design completion. In addition, the visual aspect of the product is integrated into the overall design process, blurring the line between design and development. As a result, design is no longer a specific activity that begins after product development. Human-centered design for business is the foundation of the user, customer, and service experience. But how does it finally work? Let's see!
• Empathy: Initially, when designers work directly with their clients, empathy is a new must to develop an ethical design that values privacy. Designers can identify and implement solutions to boost business development by sincerely empathizing with clients.
• Loyalty: Human-centered design ensures the feeling of being understood, eventually increasing customer loyalty. When customers feel part of the process, the product becomes more meaningful, and they invest more in it.
• Opportunity: The research methods used in human-centered design facilitate the identification of new opportunities for businesses. It covers the creation or discovery of new products for existing markets. Companies can stay abreast of ever-changing needs and preferences by consistently keeping in touch with users.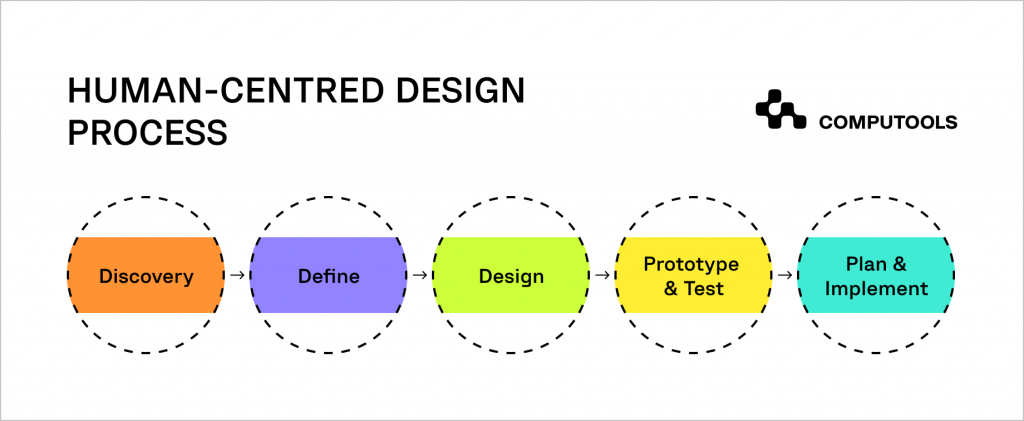 Key Phases of Human-Centered Design
Now, when the concept of human-centered design is clarified, you may be curious about the specific stages involved in this process.
Let's explore the key phases together:
Inspiration: The first phase brings about researching the needs of your customers, also known as audience research. This stage is critically important as it enables you to tailor your product to meet the current market demands rather than relying on assumptions about user needs. Through this process, you can obtain first-hand information from the target audience regarding their challenges, the software functionalities that can address emerging issues, and the specific occasions when the end user will find your product a necessity.
Ideation: It involves assessing user needs against your existing ideas or developing a product concept from scratch based on audience requirements. Here, conducting brainstorming sessions with your team and engaging them in generating the most out-of-the-box ideas is reasonable. Among the numerous concepts developed, select the most relevant ones, and continue to improve the ideas until the solution is on the table.
Once you agree on a software idea, the next step involves creating prototypes for the user experience and interface design. These prototypes should be tested with real users, and their feedback should be collected and analyzed to identify areas for improvement.
Implementation: When confident that your idea has a chance for success, you should get to the implementation stage. This phase relates to developing a complex design and launching your product into the market. You should consistently analyze user feedback to ensure your digital product remains applicable.
Revolutionize the industry with a human-centered design!
Contact us →
Human-Centered Design Examples
1. Duolingo
Bet you have tried Duolingo at least once! With over 120 million users globally, it's the most popular language-learning app that almost everyone has used at some point in their lives. The app has gained a cult following with its adorable owl mascot in addition to entertaining marketing strategies. Now, Duolingo offers courses in 19 languages, making it an inevitable tool for language learners around the globe.
If you have tried the app, it becomes apparent that Duolingo employs gamification principles that engage users. The app features a simple and clear user interface that only allows progression after completing a task or passing a test. This design creates a sense of accomplishment among users, motivating them to keep learning. The app is simple and designed with people in mind.
2. Netflix
Do you remember how people had to rent movies or pay for cable to watch TV shows or movies until Netflix appeared? Now, you can enjoy a vast library of shows, movies, documentaries, and cartoons. One of the most appealing aspects of Netflix is its ability to exceed expectations by offering a more user-friendly experience.
Netflix's success is associated with its simple user interface and personalized recommendation algorithm. The company's entertainment strategy relies on catering to individual customer preferences. It's supported by its algorithm-generated recommendation lists, easy-to-use interface, and seamless user experience across various platforms, including web, mobile, and TV applications.
3. Uber
Since Uber appeared, it has changed how we live and move across the city. Unlike other services, Uber offers real-time tracking of the driver's location and estimated arrival time, ensuring you always have a clear idea of your taxi's location. Additionally, Uber drivers cannot refuse to take you to your desired destination, and the pricing is transparent, so there are no surprises or additional charges.
With these features, Uber has provided a hassle-free mode of transportation that many people have come to rely on.
Uber utilized empathy in its UX design to address these customer concerns. As a result, Uber stands out as a human-centered product due to its efficient customer support that offers a flexible solution to users' problems.
Human-centered design thinking enables companies to create and shape shared vision and behavior systems that embody the purpose and value of the business.
Why is Human-Centered Design Critical for Businesses?
Each business relies on people, both employees and customers, to be successful. At the same time, many businesses are now investing in professional UX/UI design services to create intuitive and visually appealing digital products. Human-centered design thinking enables companies to create and shape shared vision and behavior systems that embody the purpose and value of the business.
By using this approach, companies can effectively communicate with their users in a way that resonates with them, strengthening their brand and increasing their competitiveness in the marketplace. The advantages of incorporating human-centered design into your business development process extend to all stakeholders.
So, human-centric design can:
• Boost sales and profit margins since customers tend to be more engaged in buying a product or service that satisfies their requirements. Increase conversion rate with an app redesign and see what happens next!
• Increase competitiveness if your product meets customers' needs, so the customers are less likely to choose products from other companies.
• Secure a positive user experience to ensure loyalty and a good reputation for your business or brand.
• Help generate insights and ideas, which can lead to developing innovative products or services.
• Save time and money by testing with end-users when making changes is still cost-efficient.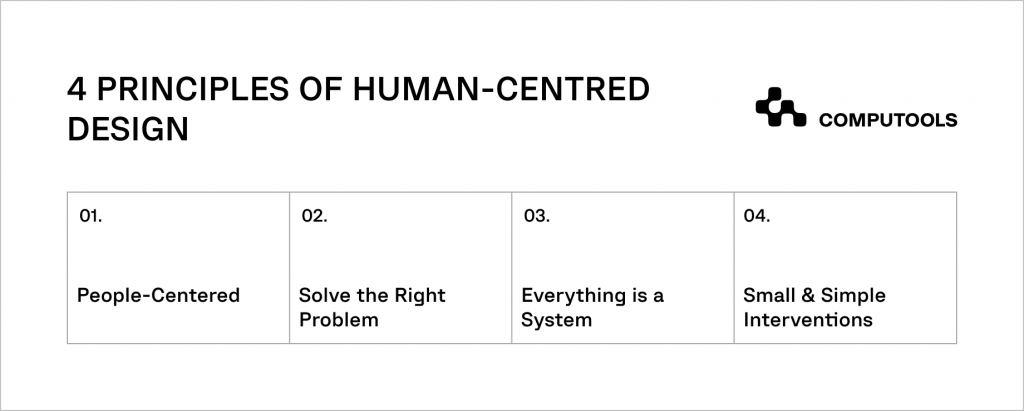 Key Principles and Recommendations
People first: At the heart of the human-centered design principles lies the people-centered approach, where the design process goes around the users' needs. Don't treat your customers as faceless "users" but instead as individuals with goals and aspirations.
Identify the problem: It's essential to distinguish between two types of emerging problems: fundamental issues and other problems. Solving a real problem is key because it addresses the root cause. Sometimes it makes sense to consult with a subject matter expert to get a better understanding of this complex issue.
Systematize everything: User experience design should address all aspects of the interaction with the product or service, providing a positive experience. Therefore, ensuring that all aspects of the user journey are designed with the user in mind is crucial. Besides, by improving the user experience, UX helps businesses increase profit, increase customer satisfaction and loyalty.
Iterate solutions: Every business should observe how users interact with a product. At the same time, user feedback can help product designers refine the prototype. This feedback should be integrated into the design process, where the product team evaluates it, addresses design problems, creates a new prototype, and tests it again. Repeat this cycle to get a well-designed and user-friendly product.
What's Next for Human-Centered Design?
The COVID-19 pandemic and the related restrictions have forced businesses to quickly and drastically change how they function. Today, many companies are adapting and exploring new and creative ways to meet the needs of their customers. The next challenge is to build upon this trend and continue to innovate in the face of ongoing uncertainty and ever-changing situations.
By understanding users' needs and behaviors, designers can focus on creating solutions that work effectively in the new digital reality. They can discover the user's point of view and use that perspective to drive innovation, creating products and services that meet people's needs more effectively.
The pandemic appears to have catalyzed companies seeking to accelerate their digital transformation. Businesses can better prepare themselves for the future by utilizing human-centered design methods. This approach provides a strong foundation for long-term growth and prosperity.
Embrace the power of human-centered design to create meaningful solutions! Schedule a consultation with Computools's experts at info@computools.com to drive innovation together.
Computools is a full-service software company that helps businesses innovate faster by building the digital solutions or bringing the tech products to market sooner. Discover our collaborative approach and industry expertise that spans finance, retail, healthcare, consumer services and more.
Contact us →