With the growing complexity of business processes, the availability of new technologies, and higher customer expectations, distributors need accurate logistics, quality inventory management, and a clear structure of relationships with suppliers and customers. Therefore, automation of different operations across different departments is paramount for distributors today.
Control your entire sales system, from inventory management to the timely shipment of goods, and learn more about the features and benefits of ERP software for distributors.
The challenges distributors face on the day to day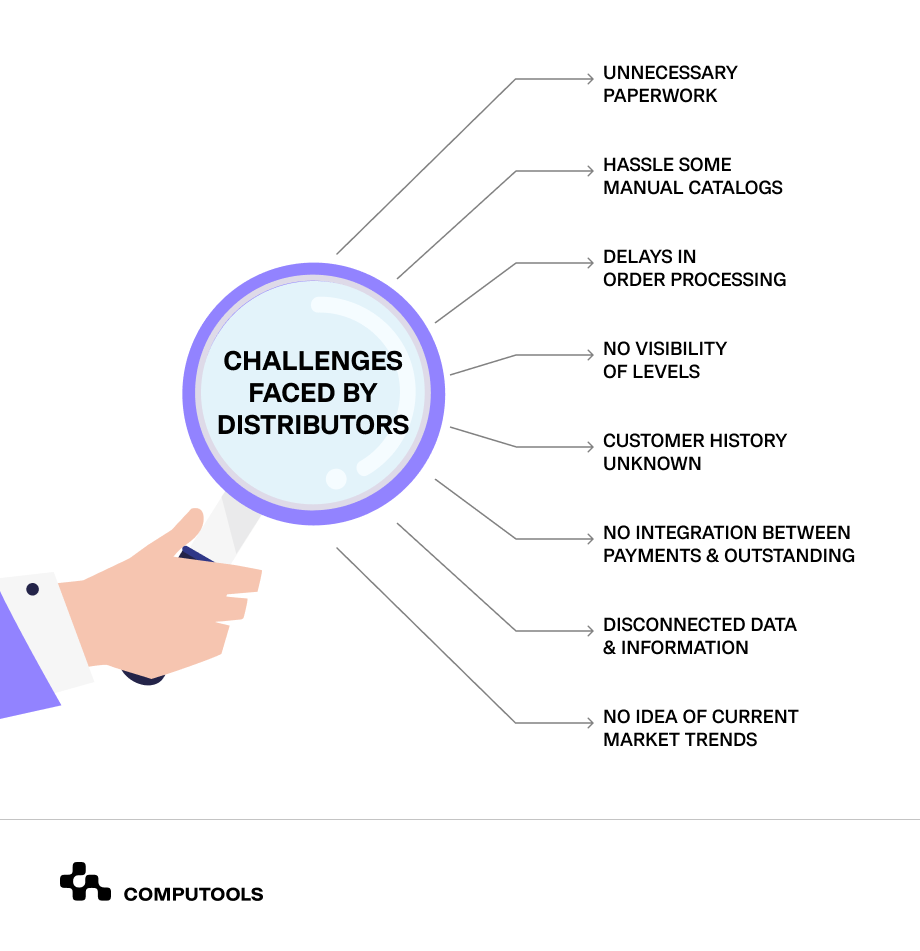 Distributors promote and sell products that have already been developed. As a result, only distributors can provide complete and accurate information about the product in the wholesale and retail markets. To obtain this information, they must keep correct records and control and analyze the movement of goods from the manufacturer to the end consumer.
Additionally, distributors should focus on customer satisfaction too. That requires a personalized approach to each customer, well-arranged delivery, precise distribution planning and demand forecasting tools, pricing, and decreased stock.
The distribution business is complex and diverse. Distributors face challenges such as poor inventory management, growth in operating expenses, and heavy competition.
To maintain leading positions, distributors need to develop sales channels successfully, take measures to reduce operating costs, enter new markets, and thus, effectively manage critical business processes, such as:
• Procurement and the movement of goods from manufacturers;
• Monitoring and maintaining inventory levels;
• Management of assortment, customer loyalty, prices, and discounts;
• Analysis of information for operational management.
ERP software for distributors: main modules and benefits
Companies resort to ERP software development to streamline all the processes mentioned above and achieve the required level of automation. It offers effective tools for dealer network management, flexible price and assortment policy, and business-processes optimization.
According to statistics, an ERP reduces inventory levels by 10-30%, expenses on logistics by 3-5%, and provides real-time access to crucial information.
Here are seven main modules and benefits of ERP software for distributors that can be crucial.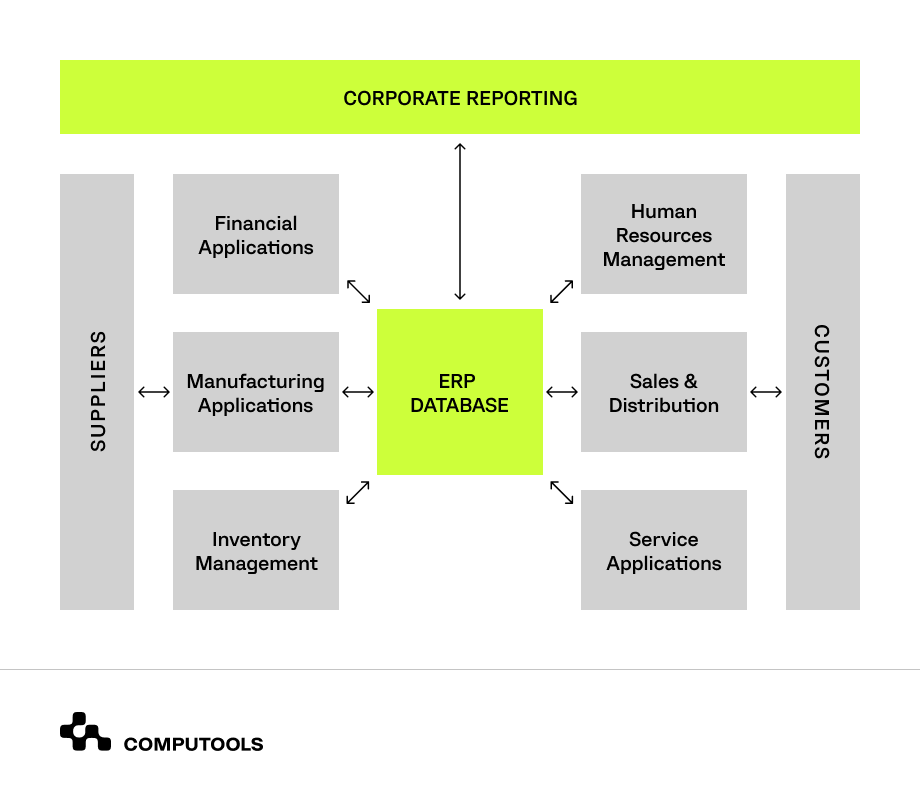 1. Decision-making around the management of control functions
ERP for distributors contains the information necessary for making management decisions, which allows for enhanced coordination, monitoring, and optimization of all an organization's processes, including accounting.
2. Accounting
ERP software simplifies accounting management by following the laws of different countries. It can include all necessary accounting tools and provide the ability to reflect the entire life cycle of fixed assets from the time of order to its disposal, calculate the planned depreciation to the end of the fiscal year for each product, and automate periodic reports.
3. Procurement flow management
The procurement of supplies is automated by several integrated features, such as the maintenance of contracts, processing of applications and purchase orders, receipt of products in the warehouse, and control of supplier invoices. An ERP system helps distributors control the entire product lifecycle, manage relationships with suppliers on strategic and operational levels, and reduce operational costs.
4. Sales and distribution
ERP for distributors streamlines the entire client management process from receipt of orders to shipment and registration of invoices. It automates many processes associated with different sales channels, which is especially important for geographically distributed companies. Detailed analysis of distribution costs and efficient product placement eliminate human errors during the shipment of goods. This improves customer retention and increases customer loyalty and, as a result, additional revenue. 
5. Logistics and inventory management
This module supports demand analytics for certain product categories, allowing distributors to react flexibly to market trends. It makes it possible to manage inbound and outbound supply processes, optimize the use of transport fleets and avoid an accumulation of excess goods, and maintain stock at a cost-effective level. In addition, the solution can include additional features such as direct delivery to customers and joint inventory management with the supplier.
6. Partner and vendor relationships
The solution provides partners with various financial services, such as centralized invoice management and factoring, and helps them optimize financial agreements with suppliers and track expenses based on invoices. This, in turn, makes it possible to increase cost transparency, significantly reduce financial and operational costs and more accurately calculate the profitability of business relationships.
7. Customer relationship management
The solution includes additional wholesale distribution marketing and sales management services, such as online sales, customer relationship management, and order picking per customer specifications.
Main Benefits of ERP for distribution
Main Benefits of ERP for distribution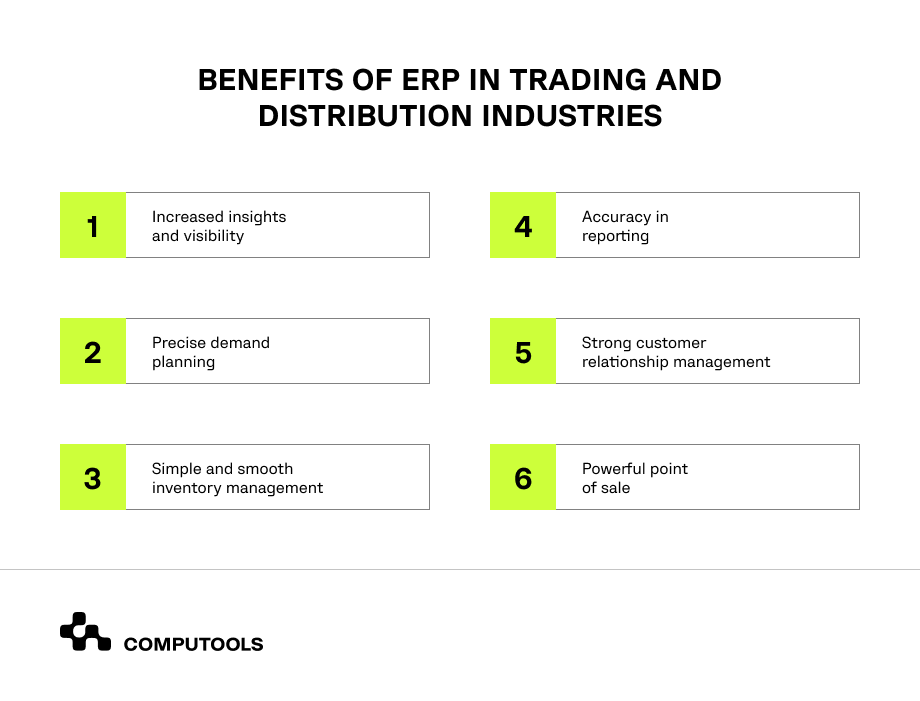 ERP software for distributors offers the following business benefits:
• Optimization of day-to-day operations, such as purchasing, payments, order placement
• Increased profitability by optimizing relationships with suppliers and clear organization of sales;
• Improving the efficiency of logistics, sales, finance, marketing, and other business processes by reducing operating costs and automating processes;
• The ability to analyze the economic efficiency of various business processes in real time;
• Making informed strategic decisions based on complete and up-to-date business information;
• Support of business growth and development strategy.
Of course, the functionality of an ERP system is important, but matching the system's capabilities to the specifics of the distribution industry is a critical factor to consider.
Wrapping up: considering ERP software
ERP software development is a complex task requiring a close examination of the organization and a precise formulation of system requirements.
Traditionally, the choice of software is determined by such factors as compatibility with existing information systems and adaptability to the company's specific needs. Of course, the functionality of an ERP system is important, but matching the system's capabilities to the specifics of the distribution industry is a critical factor to consider.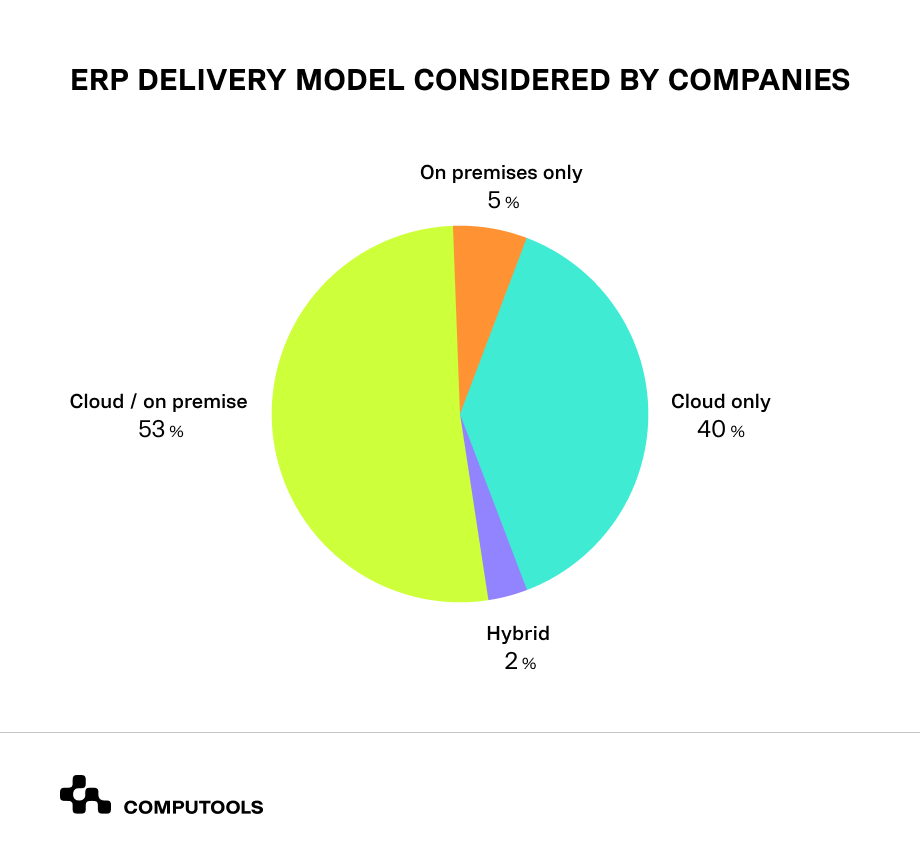 If you are looking for a more detailed analysis or guidelines for your project, you can contact our experts at info@computools.com to get a free consultation and explore more opportunities for ERP software integration or development.
Computools is a full-service software company that designs solutions to help companies meet the needs of tomorrow. Our clients represent a wide range of industries, including retail, finance, healthcare, consumer service and more.
Contact us →